Kit Kat Has Good News For White Chocolate Lovers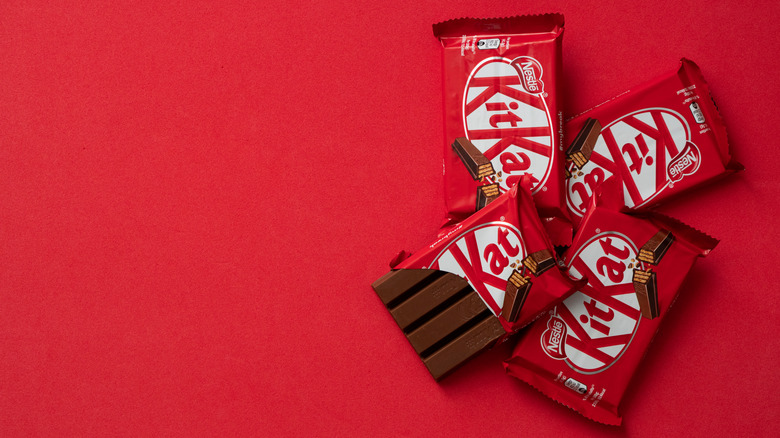 Yourweekendphotographer/Shutterstock
There is no denying the popularity of the Kit Kat. A Ranker survey named it the world's best chocolate bar, while Time called the "global obsession" one of the 13 most influential candy bars of all time. The first candy to have a marketing campaign centered around sharing, crispy Kit Kats are made in a variety of seasonal flavors inspired by cuisines around the world, Hersheyland confirms.
American customers may not know that Kit Kat flavors sold outside of the United States go far beyond the confines of milk chocolate. In the United Kingdom, for example, the candy comes in a pink-hued ruby chocolate flavor, The Travel notes. Japan, where the candy is especially popular, produces more than 40 types of Kit Kats — including wasabi and strawberry cheesecake (via Nestlé) — and even has a store dedicated to the confection in Tokyo, reports Japan Today. However, the U.S. may finally be getting a flavor that some overseas shoppers have already had the chance to taste.
It's a regular Kit Kat, but extra thick and covered in white chocolate
As a Reddit thread points out, thicker Kit Kat bars with extra layers of chocolate and wafers are known as Kit Kat Big Kats in the U.S., where they're only available in milk chocolate. In international markets, however, they're named Kit Kat Chunky and are sold in flavors including cookie dough and salted caramel popcorn (via Kit Kat U.K.). Finally, these discrepancies are about to be righted, as a white chocolate Kit Kat Chunky bar may soon be available in the U.S., based on a tweet by the brand.
"Classic KITKAT wafer meets delicious white chocolate!" the post, complete with a clip showing a regular milk chocolate Kit Kat being enrobed in white chocolate, reads. Earlier this month, the brand shared a similar video of a Kit Kat Chunky peanut butter bar. It's unclear from the tweets when and where the bars will be released, but if Americans will be able to purchase them stateside, they will be a pretty significant addition to the U.S. Kit Kat lineup. Who else can't wait to break off a piece of that white chocolate bar?