Kellogg's New Blue Narwhal Waffles Come In This Fruity Flavor
Bloomberg/Getty Images
Whether you are in a hurry or not, few breakfasts are easier than tossing a couple of waffles into the toaster. Yet, Kellogg's has really amped up the options when it comes to whimsical flavors and colors lately. In fact, you might find yourself reaching for the frozen box in the afternoon for a snack, too. Over the past year, Kellogg's has added cotton candy-flavored Unicorn Waffles, Birthday Cake Waffles, and blue raspberry-flavored Mermaid Waffles to the product line (via Best Products). Now, Narwhal Waffles have hit shelves at Walmart (via News Break).
As Best Products pointed out, the Narwhal Waffles are reminiscent of the movie "Elf" for many, which makes these a great treat for kids of all ages as we head into the holiday season. Apart from the precious packaging, the flavor of the blue waffles might be a little surprising once you bite into them. Their color and flavor don't exactly match up.
The Narwhal Waffles are this fruit flavor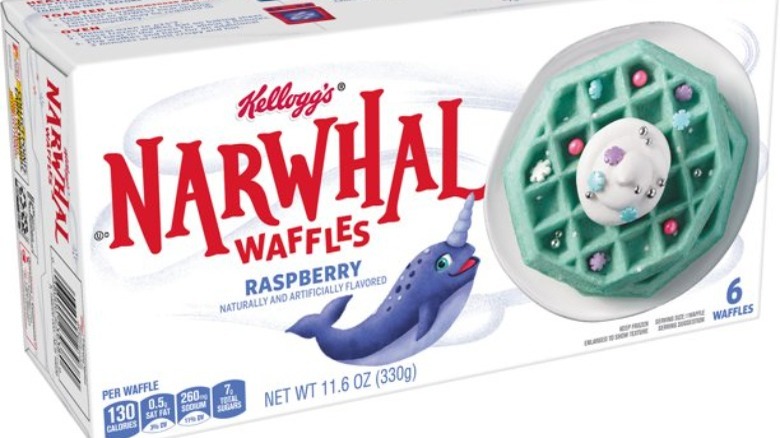 Kellogg's
Fans might have guessed flavors like blueberry, but they will quickly find that the blue Narwhal Waffles from Kellogg's are actually raspberry when they take a bite (via Best Products). Perhaps they wanted to offer a new flavor, since blue raspberry was already used for the Mermaid Waffles. Regardless, they are sure to be delicious. You might even want to try eating them with sweet toppings like whipped cream and ice cream for a fruity, tasty spin on dessert.
The new edition of Kellogg's waffles are a steal, too. They're just $2.96 per box of six waffles at Walmart. With a price that low, you might want to go ahead and pick up a couple of boxes to enjoy. You can always mix and match with your other favorite Kellogg's waffles to have an array of colorful waffles with unique flavors on hand. So, stroll down the frozen breakfast aisle the next time you're in Walmart and keep an eye out for these cute waffles.