Sun-Maid's Haunted House Is Making Trick-Or-Treating Nightmares A Reality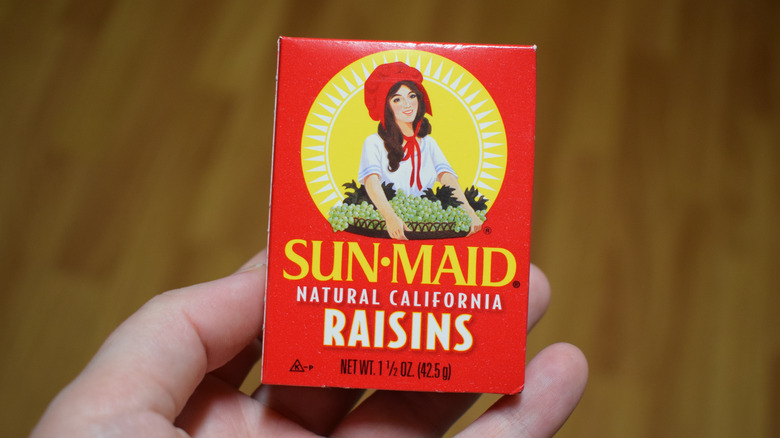 SiljeAO/Shutterstock
Some seriously scary haunted houses have popped up around the country in recent years. Pure Wow reports that haunted hayrides, trails, houses, and hotels pop up over the course of October across the U.S. that guarantee to deliver some real scares to anyone brave enough to cross the threshold. While these spooky locales can give anyone a fright, one up-and-coming haunted house plans to shock patrons with an incredibly insidious Halloween treat.
According to Food & Wine, Merchantville, New Jersey now lays claim to what might end up ranking as one of the scariest haunted houses in America — the Sun-Maid Raisin House. As Halloween rolls around, trick-or-treaters from across the country collectively cross their fingers, hoping that houses don't plan on handing out boxes of raisins. Sun-Maid identified this fear and has decided to wholeheartedly embrace it in the form of a Halloween attraction dedicated to giving out raisins instead of candy. "We know there are a lot of occasions for eating better-for-you snacks like whole fruit raisins — we just recognize that Halloween certainly isn't the preferred time," Harry Overly, president and CEO of Sun-Maid, said, per Food & Wine. "This year we're acknowledging that there's perhaps nothing scarier than getting raisins on Halloween — except being the house that hands them out."
What goes on in a raisin-themed haunted house
Anyone looking for some real scares this Halloween can swing by New Jersey's Sun-Maid Raisin House. Food & Wine reports that the raisin company intends to make the attraction as interactive as possible, featuring an interactive hand sampling wall with prosthetic and real hands that give out raisins. There's also a scare corridor featuring zombies wearing red bonnets that hand out boxes of raisins. The same zombies also will participate in the town's annual Zombie Run event and plan to hand out raisin samples as they make their way along the marathon route.
Anyone who feels ready to embrace the terror of sun-dried grapes can head over to 3 East Cedar Avenue in Merchantville and take on this terrifying attraction. At the very least, you can see these ghoulish treats for what they really are and appreciate the fact that Sun-Maid knows that their products inspire real nightmares in trick-or-treaters everywhere. With any luck, this haunted house might truly make raisins the scariest aspect of your Halloween this year.