How Ali Khan Always Cooks Wagyu Beef
Food television personality and writer Ali Khan has made a definite impact on the food industry with his work. Per The St. Louis Post-Dispatch, he got interested in food when he was little. He believes that his Bangladeshi roots played a crucial role. "Food is very important in Bangladesh. Growing up with parents who are from the other side of the world and growing up in St. Louis, I was already exposed to all sorts of foods," Khan explained.
As a television star, Khan is generous with his cooking tips, inspiring fans with cooking hacks that he's picked up over the years. For example, last month, Khan posted pictures of his take on pad thai that he prepared using carrot noodles and marinade, making it a perfect meal option to turn to after a tiring day (via Instagram). By the way, his tip for making perfect beef wagyu is straightforward.
Ali Khan has good advice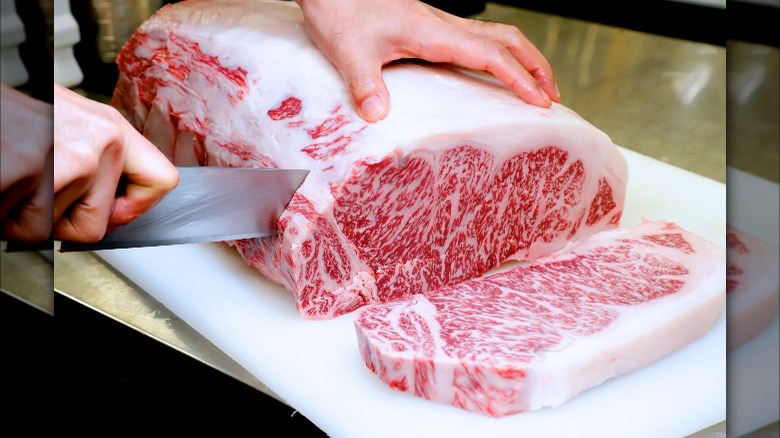 Osacr_Y/Shutterstock
Ali Khan wrote about how he prepares wagyu beef on Twitter. "My new beef cooking policy: if it's any kind of Wagyu: I'm going with a cool center," he tweeted. He is pretty passionate about this ingredient. 
On Ali Khan Eats, he compared wagyu steaks that he picked up from butcher stores in Austin, Texas. Here's what he learned from his experiment: dry-aged meat is worth the price. "Dry aging adds a complexity to the beef that ultimately stands out from your typical grocery store cuts," he wrote. As far as seasoning is concerned, Khan likes simplicity and uses classic ingredients such as salt and black pepper. Additionally, while cooking beef, he likes to aim for a result that's "somewhere between medium rare and rare." If you're aiming for a rare steak with a cool center that's distinctively red like Ali Khan, consider cooking the meat at 95 degrees for the best results (via Chef John Howie).