Martha Stewart's Halloween NFT Has Instagram Users Confused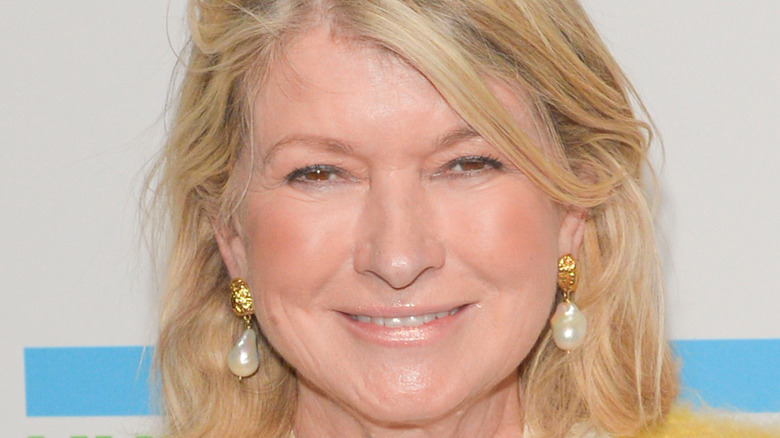 lev radin/Shutterstock
Martha Stewart may have made a name for herself as a homemaker and lifestyle queen, but as Insider points out, she is also fairly tech-savvy. Back in 2014, when Facebook Live was just taking off, her team appears to have scored early access to the feature so that she could be among the first to go live to her nearly 2 million followers. At the time, her director of content marketing, Marci Greenfield, had just this to say: "Martha is an innovator and wants to be able to do things first."
If we needed any proof of Stewart's interest in tech along with her ability to innovate, we only need to visit her on social media, where she's promoting her latest project: the creation of non-fungible tokens (NFTs). The image of Stewart and an intricately carved pumpkin on Instagram came with the caption: "A new and exciting venture! ... This digital art piece is the first of many NFTs, personally curated by myself that will be launching today on my new digital boutique, FRESH Mint. In partnership with leading NFT provider Tokns, I will be collaborating with world-class designers, photographers, and artists as well as up-and-coming creators in the NFT community to share with you little (and some well-known) pieces from my world!"
Some fans are unimpressed
Martha Stewart also directed followers to go to her site, which featured digital images of ornately carved and styled pumpkins. Some images were priced at an affordable $16. Others were tagged with the more eye-watering price tag of $666. More than a few items had been snapped up and marked as "sold out" (via Fresh Mint).
While some of Stewart's fans applauded her latest foray into the digital space, others were left baffled by her decision to start trading NFTs. "Please explain further, I don't understand any of this," remarked one Instagram user. " Another person wondered why it wouldn't make more sense to take a screenshot "and save myself $7,000," adding, "i just don't understand why id want to own a PICTURE of martha carved into a pumpkin."
The idea that we can not only "own" a digital image that someone could copy and paste might not make sense at first glance. But when treated as an asset, the NFT is definitely more than what you see. As Fordham Law School expert on crypto-digital assets Donna Redel explained, "The underlying thing that you're buying is code that manifests as images. You're buying a different format of art" (via Portion). Today, NFTs are being positioned as the next step in collecting fine art (via The Verge).
What does it really mean to buy Martha Stewart's NFTs?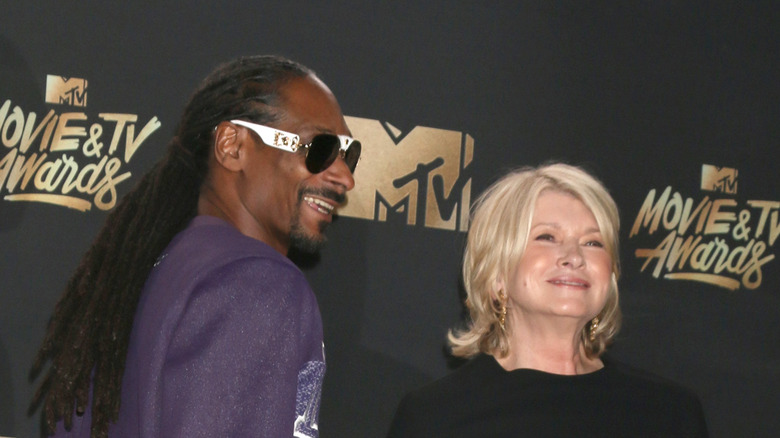 Kathy Hutchins/Shutterstock
Bear in mind that where NFTs are concerned, copying a digital image is still okay, just as prominent art galleries around the world would have no trouble with the idea of you taking photos of the classics by da Vinci or Monet. But the copy that you keep wouldn't have the same worth as the original artwork, and you wouldn't own any rights to the image (via The Verge). To put it another way, when you invest in an NFT, "You're not buying the picture, you're buying the property rights to the picture." says Jake Brukhman, who founded a cryptocurrency investment firm (via Portion).
Martha Stewart wouldn't be the first celebrity to move into the NFT space. Her friend and fellow TV personality, Snoop Dogg, has released a line of collectibles. So have artist Damien Hirst (of the animals-in-formaldehyde fame), skateboarder Tony Hawk, and actress Lindsay Lohan (via Decrypt). And judging from the early sales on Stewart's site, she could have another moneymaking winner in her hands.