Spicy Ketchup Recipe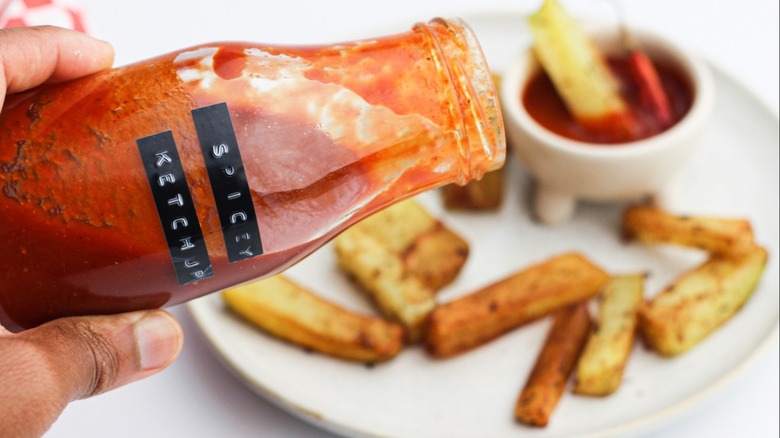 Susan Olayinka/Mashed
Ketchup seems like the All-American condiment, doesn't it? You wouldn't dream of eating burgers or fries without it, and you may also use it to make meatloaf or barbecue sauce or cocktail sauce or even ketchup cupcakes. (Seriously, those are a thing.) Despite its ubiquity in the U.S., ketchup is very popular overseas, as well, although their versions may vary. In Germany, they love curry ketchup with their fries, while spicy ketchup variants are also quite popular in the U.K. where recipe developer Susan Olayinka is based.
Olayinka's recipe doesn't just involve adding spices to a bottle of store-bought ketchup, though. No, she actually makes her own ketchup from canned tomatoes, adding a variety of different spices and seasonings. She says of her recipe, "I would say that it's just like ketchup but much spicier... Everything is better spicier, right?!" We couldn't agree with her more, and if you feel the same way, you're going to love this ketchup as much as we do.
Check your pantry for the ingredients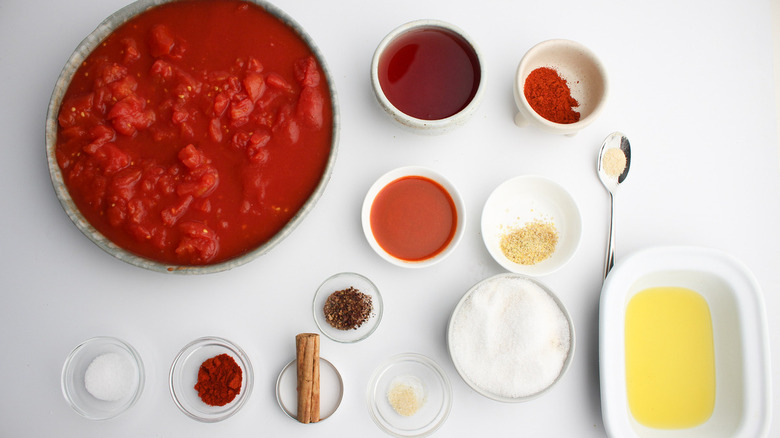 Susan Olayinka/Mashed
This ketchup, as we mentioned, starts with canned tomatoes, the kind that come pre-diced. If you want to make extra-spicy ketchup, you could even use the kind that include diced green chiles. You'll also need olive oil, red wine vinegar, sugar, hot sauce, and a bunch of different spices: cinnamon (whole sticks), mustard seeds (not prepared mustard!), allspice, paprika, salt, and cayenne pepper. Olayinka says of these seasonings, "Cayenne pepper adds a smokiness and spice, and the hot sauce was needed for extra flavor [and because] it complements the ketchup."
The ketchup needs to cook low and slow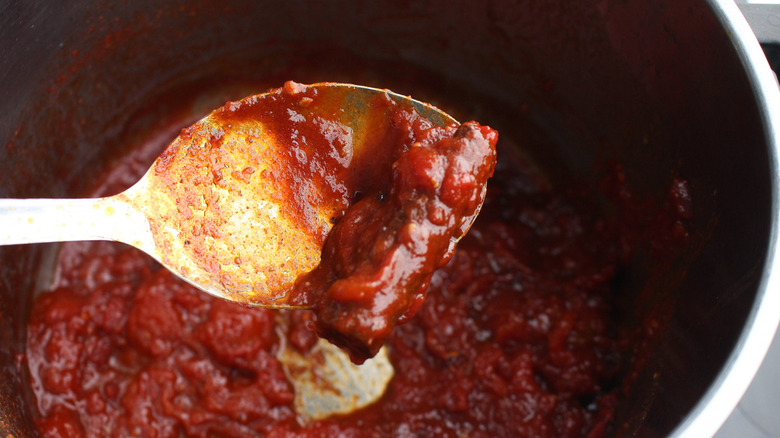 Susan Olayinka/Mashed
Open the tomatoes and pour the contents of the cans into a saucepan. Add the oil, vinegar, hot sauce, sugar, and all of the different spices. Stir everything up until it is well combined — well, all except for the cinnamon sticks, since those don't really lend themselves too well to combining.
Turn the stove burner to low, and simmer all of the ketchup ingredients for 50 minutes. At the end of this time, the pan contents should have reduced down to the point where they resemble a thick marinara sauce. Olayinka explains that "Slow cooking [will allow] the liquid [to] evaporate, and we want this to happen so it's nice and thick and shiny."
Blend and strain the ketchup to make a smooth sauce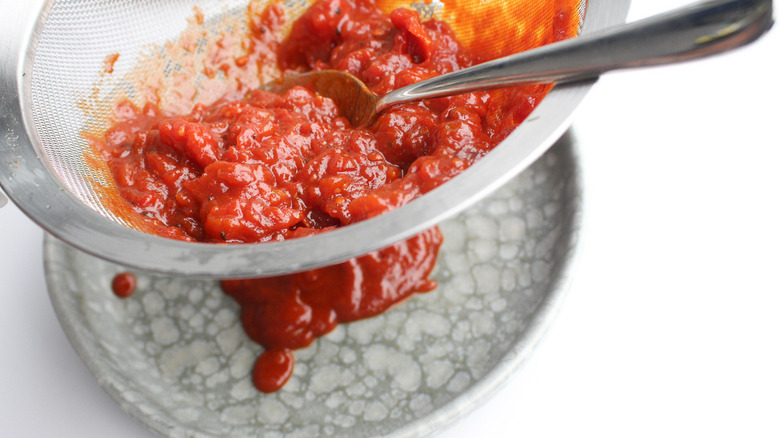 Susan Olayinka/Mashed
Allow the ketchup to cool down once it's done cooking. You want it to be well and truly cooled, a process that Olayinka says may take a full 30 minutes. After half an hour or so, it will be time to blend the ketchup. Olayinka uses a hand immersion blender, but if you've only got the standard upright kind, that should work, too, now that the ketchup is cool. (Hot liquids + blenders = not so good.) As a final step, strain the ketchup through a fine-mesh sieve, using a spoon to push it through the strainer.
Enjoy the ketchup while it lasts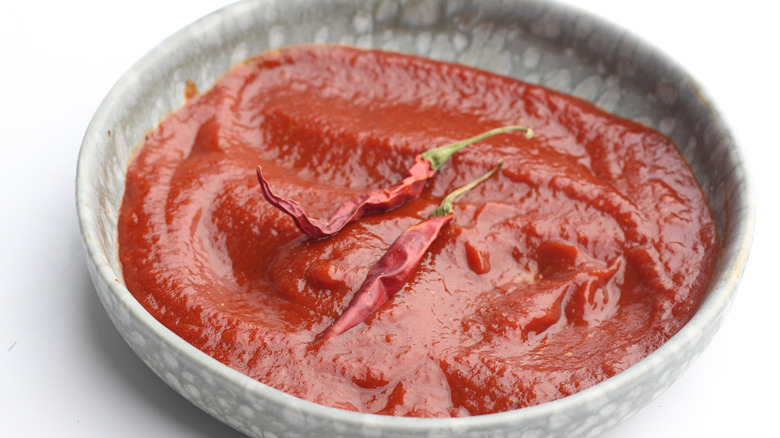 Susan Olayinka/Mashed
This ketchup, like all good things, will not last forever. Olayinka does say, though, that if you refrigerate it and store it in an air-tight container, it can last for up to a month. She suggests using it for all of your standard ketchup applications, e.g. burgers and fries. You can also use it as a meat glaze or marinade (try it on ribs or wings!) or to spice up your baked beans or as a sauce for meatballs ... So many possibilities, and all of them are bound to be delicious!
Spicy Ketchup Recipe
We absolutely love this recipe for spicy ketchup. Olayinka's recipe doesn't just involve adding spices to a bottle of store-bought ketchup, though.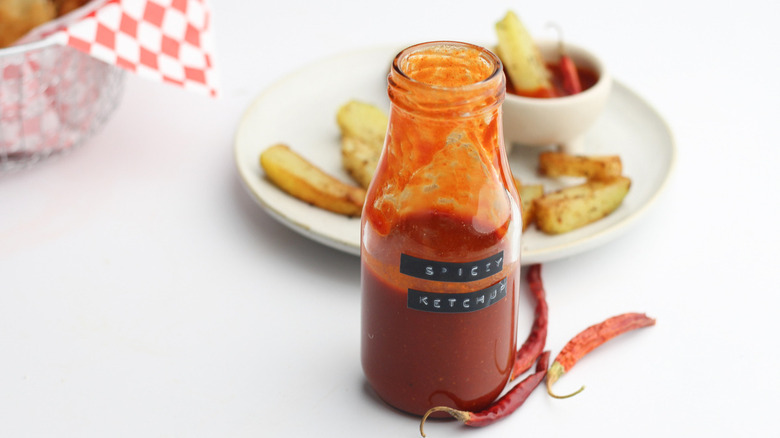 Ingredients
2 (15-ounce) cans diced tomatoes
2 tablespoons olive oil
½ cup red wine vinegar
½ cup granulated sugar
2 sticks cinnamon
¼ teaspoon mustard seeds
¼ teaspoon allspice
1 teaspoon paprika
4 teaspoons cayenne pepper
1 teaspoon salt
4 tablespoons hot sauce
Directions
Mix the tomatoes with the oil, vinegar, spices, and hot sauce in a saucepan.
Simmer the ketchup over low heat for 50 minutes.
Allow the ketchup to cool down completely.
Blend the contents of the saucepan until smooth.
Strain the ketchup through a fine-mesh sieve and store it in an airtight container.
Nutrition
| | |
| --- | --- |
| Calories per Serving | 418 |
| Total Fat | 15.6 g |
| Saturated Fat | 2.2 g |
| Trans Fat | 0.0 g |
| Cholesterol | 0.0 mg |
| | |
| --- | --- |
| Total Carbohydrates | 70.4 g |
| Dietary Fiber | 11.0 g |
| Total Sugars | 61.7 g |
| Sodium | 1,359.3 mg |
| Protein | 4.3 g |