This Lindt Advent Calendar At Costco Is Turning Heads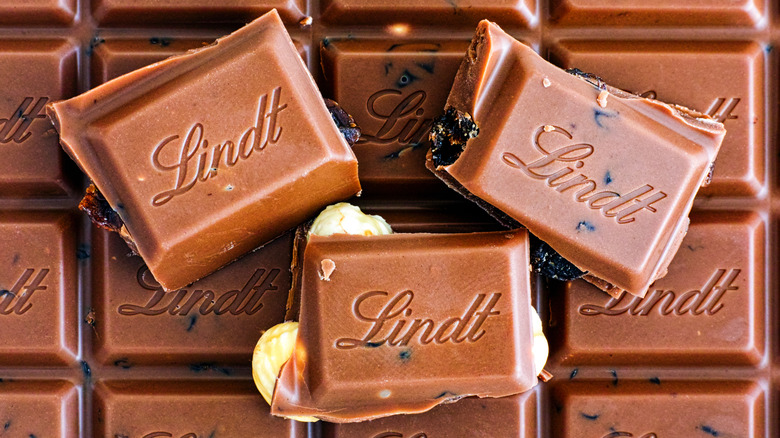 Ekaterina_Minaeva/Shutterstock
Whether it be their peppermint truffles or their gingerbread chocolate, Lindt's holiday flavors are as festive as it gets. The Swiss chocolatier may be known for its superior quality chocolate, but there's no denying that the red and green Christmas-themed packaging can easily put you in the holiday spirit too. This year, Lindt is bringing back its advent calendar to its seasonal collection, and excited chocolate-loving customers have already spotted it at Costco, according to Instagram account @costcobuys account @costcobuys. 
According to the listing on the Lindt website, the Classic Santa Advent Calendar is an updated version of the bestselling original, and each compartment features individually wrapped milk chocolates in the shape of various Christmas figures, including Santas, snowmen, and elves. If you purchase the advent calendar directly from Lindt, it'll cost you $29.99, but if you get it from Costco, you'll get a much better deal. One shopper shared that it's priced at $16.99 in California (via Instagram), while another commented that it sells for $17.99 in New York.
Costco fans can't wait
Costco shoppers were excited to spot this seasonal fixture. "YES PLEASE," one Costco fan commented. Another user shared: "Got two for my older kids, a little expensive, but a nice gift for someone who enjoys good chocolate!" (via Instagram). One Instagrammer pointed out that the best deal of all could be found at Costco.
Lindt may distribute chocolate on an international scale, but that doesn't mean all the products that are offered are exactly the same in every country, and the Classic Santa Advent Calendar is no exception. The reason for this, the brand explained, is that "chocolate products by Lindt & Sprüngli are made at 11 of its own production sites in Europe and the USA" (via Lindt & Sprüngli). Every branch, therefore, operates independently.
A glimpse at the various Lindt websites, from Lindt Italy to Lindt France, and you'll discover that if you're shopping anywhere else besides the U.S., unfortunately, you won't be able to get your hands on this particular advent calendar. Not even one of Lindt Germany's 20 different advent calendars resembles the one sold at Costco. Clearly, the chocolatier takes its advent calendar designs seriously, adjusting them depending on the market. But no matter the packaging or country, Lindt chocolates will taste just as delicious — maybe even better when eaten out of an advent calendar.