The Dish Daphne Oz Loves To Cook For Her Family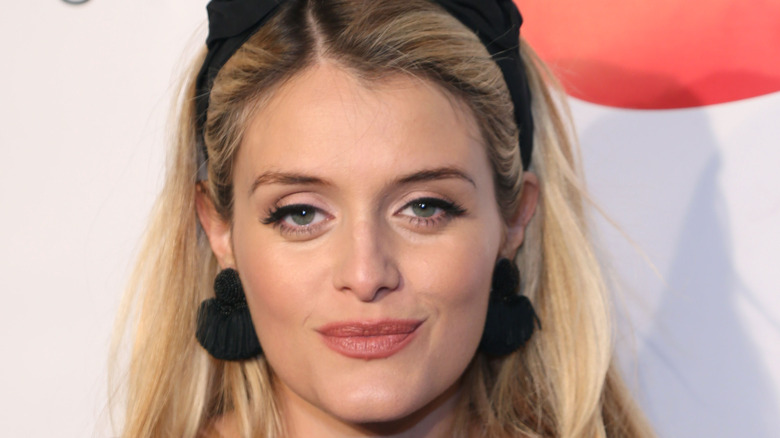 Manny Carabel/Getty Images
Cookbook author and TV personality Daphne Oz has lots of special memories attached to food. She told Eating Well that dishes like her mom's spaghetti, Caesar salad prepared by her grandmother, and her grandfather's stuffed artichokes are incredibly comforting for her because they remind her of home. 
Oz also revealed that as far as desserts are concerned, she enjoys making them on her own. Her kids are especially fond of freshly baked cookies. "Honestly, the only desserts I really think are worth it are ones I make at home," Oz said. She also makes homemade pizza a weekly affair by preparing a fresh batch in an electric pizza oven. Some dishes that make a regular appearance in her eating plan are scrambled eggs, smoothies, veggies with low-fat yogurt, stews with chicken or fish, popcorn, and more.
And yes, Daphne Oz is partial to one wholesome recipe in particular that she really enjoys making for her family (via PeopleTV).
She loves salmon salad with fresh veggies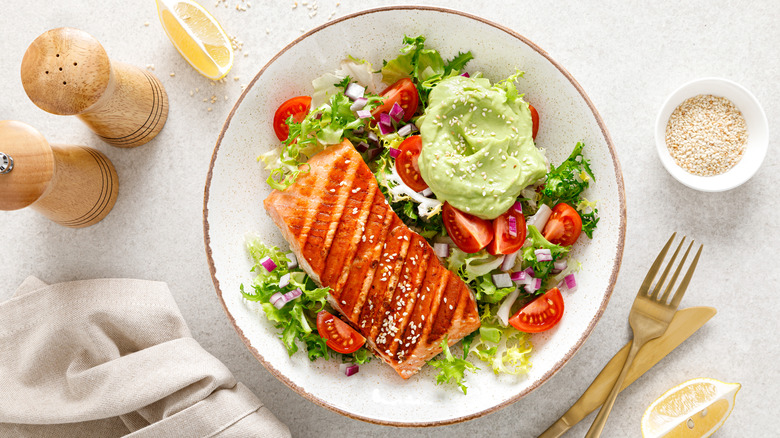 Sea Wave/Shutterstock
For Daphne Oz, nothing beats a fresh salad. "It's not a ton of ingredients but really about being thoughtful about the ingredients that you pick, so the simple meal still feels like a celebration," she said (via PeopleTV). Her go-to meal? A smoky salmon and avocado wedge salad for the family. Also, the chef likes to prepare a delicious buttermilk dressing for the salad and uses fresh ingredients such as parsley, chives, cherry tomatoes, iceberg lettuce, smoked paprika, and more.
Oz explained that thanks to her father's Turkish roots, they got to eat a lot of Mediterranean food. It left a deep impact on her, and she still likes plenty of nuts, herbs, and fresh flavors in her meals. Also, the salad lets Oz take care of her BLT cravings in the best way possible. The author said that the smoked paprika and sweet maple syrup really add to the salad's overall flavor.