Marinated Carrot Salad Recipe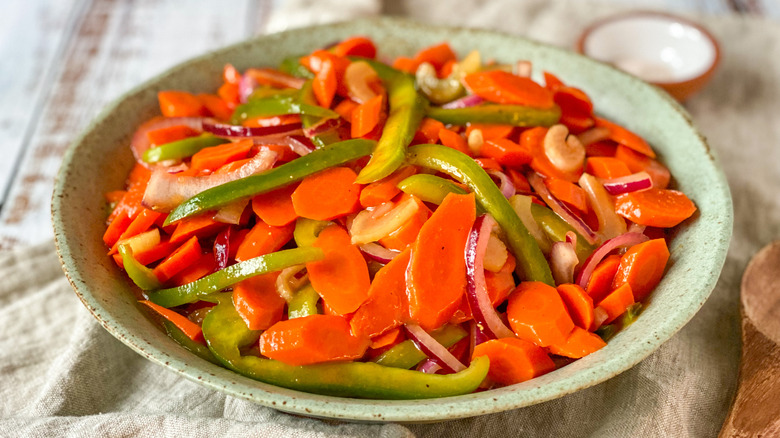 Hayley MacLean/Mashed
Are you looking for a hot new salad recipe that checks all the boxes? Healthy? Check. Flavorful? Check, check. Deliciously crunchy? Check, check, check. This salad is the perfect addition to any dinner, and you could even enjoy it for lunch if you wish. Maybe the best part about it is that it's really easy to make, affordable, and is also something that you can feel good about putting in your body. This salad does involve a lot of delicious veggies, after all. Trust us: there aren't a lot of these kinds of recipes out there, so you'll undoubtedly want to try this!
Recipe developer Hayley MacLean came up with this wonderful dish. "What I like most about this recipe is how bursting with flavor it is!" she says. "The bright tomato and tangy vinegar are perfectly balanced by the sugar, and all of the veggies just go so well together. Renditions of this salad have been around for generations — and it is easy to see why!"
Why not join in on that tasty tradition and see for yourself why everyone loves marinated carrot salad? Keep reading to find out how to make this excellent meal.
Gather the ingredients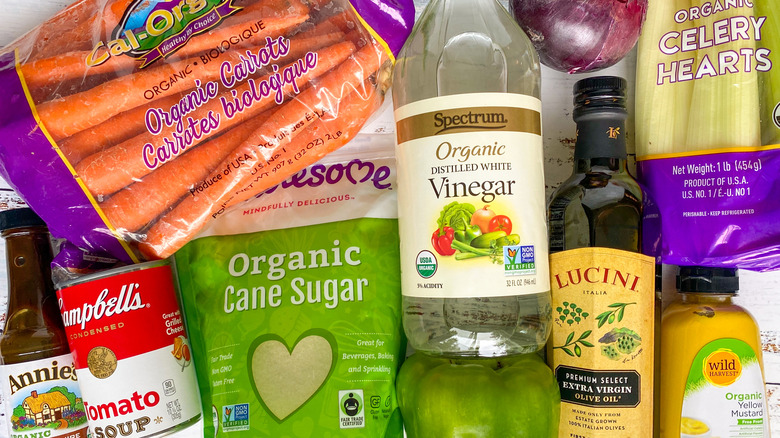 Hayley MacLean/Mashed
Of course, you'll need to start off the salad-making process by securing all of the ingredients, though you may well have some already waiting for you in your pantry or fridge. You'll need some carrots and condensed tomato soup. The recipe also calls for white vinegar, sugar, and olive oil, along with yellow mustard and some Worcestershire sauce.
Finally, make sure to pop by the produce section of your local store and get celery, red onion, and green bell pepper. Take a couple of minutes to thinly slice the celery, onion, and pepper. Salt and black pepper are the only remaining items, though you almost certainly have them at home already.
Boil water and add carrots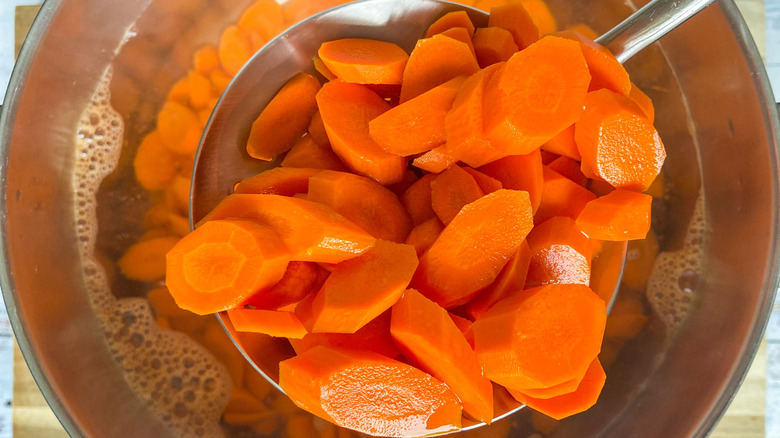 Hayley MacLean/Mashed
Next, grab a large pot and fill it up with water. Place the pot on your stove, then bring it to a boil over high heat. Once you see bubbles start to hit the top of the pot, that means it's time to add in your star ingredient — the carrots. Dump them into the boiling water and cook for about 5 minutes. Don't go any longer, however, as we don't want mushy boiled carrots!
Once the carrots turn tender-crisp, take them out. As to how, exactly, you're supposed to define "tender-crisp," MacLean has got you covered. "To check that the carrots are tender-crisp, you can either pierce one with a fork, or cool one down and try it," she says. "It should be soft on the outside with a slight crunch still in the center!" That's just about perfect for salad making.
Whisk the sauces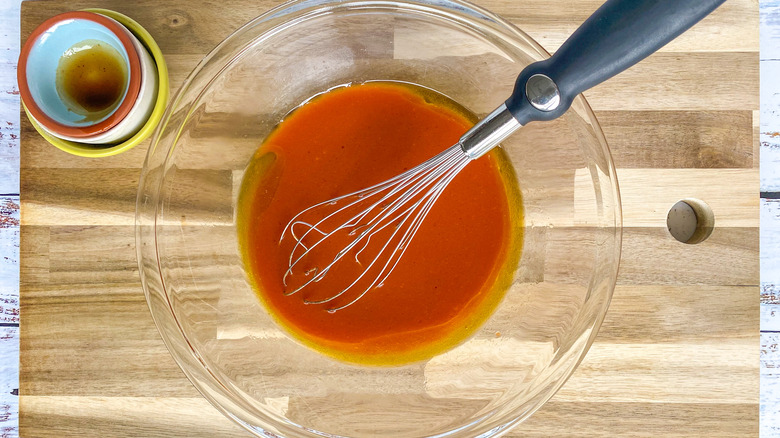 Hayley MacLean/Mashed
As your carrots cook, you can do a little bit of multi-tasking and get that marinade ready. To do that, grab a bowl and add in the liquids that you purchased from the store. Namely, start with the tomato soup, followed by white vinegar, sugar, and olive oil. Then, toss in the mustard and the Worcestershire sauce. Use a whisk to mix all of the ingredients together until everything is fully incorporated.
And while a spoon would work okay here, really try to use a proper whisk to make your life just that much easier. "I find that whisking sauces evenly disperses the ingredients better than other stirring methods," MacLean notes. "However, either will work just fine – just make sure things are thoroughly mixed!"
Drain and dress the carrots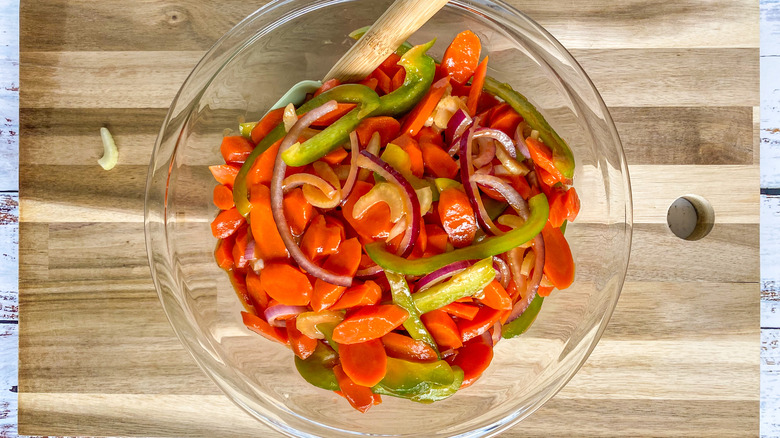 Hayley MacLean/Mashed
Once the carrots finish cooking, grab a colander and drain them. Then, dump the tender-crisp carrots into the same bowl as the marinade you've just mixed. Be sure to add the carrots to the bowl while they are still hot, as that helps the marinade really get into the veggies. Then, add in your thinly sliced celery, onion, and bell peppers.
Next, cover the carrot mix with plastic wrap and stick it in the fridge to chill for 4 hours. Yes, there's no real way of getting around the time necessary here, but believe us when we say that this step is really worth the wait. "Chilling and allowing the salad to marinate allows the sauce to come together and fully coat the veggies," MacLean says. "In addition, it helps tenderize the veggies and allows all the flavors to meld into smooth deliciousness!"
Add salt and pepper and serve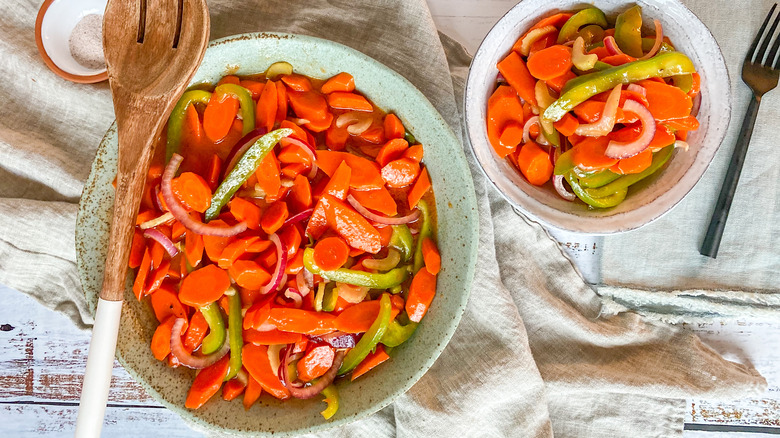 Hayley MacLean/Mashed
Once the timer goes off, grab the mixture from the fridge and sprinkle a little bit of salt and pepper on top to taste. Then you're ready to dig in!
As for serving tips, there are plenty of things that work well alongside this healthy dish, and MacLean gives a few great suggestions. "This salad would be great served as a side to any BBQ lunch or dinner — or even as a refreshing addition to a holiday meal," she says. "The flavors are so versatile and can really match up with any type of cuisine."
And if you have anything left behind after mealtime, this marinated carrot salad keeps quite well under the right conditions. "Leftovers are good for 1 to 1.5 weeks in the fridge in an airtight container — so you can definitely make this ahead of time and serve later," MacLean notes. "The longer it marinates, the better it gets!"
Marinated Carrot Salad Recipe
Why not join in on some seriously tasty tradition and see for yourself why everyone loves marinated carrot salad? Here's how to make this excellent meal.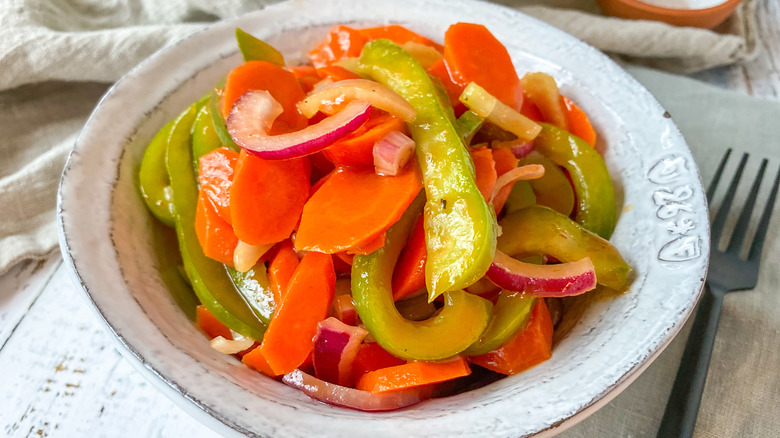 Ingredients
2 pounds carrots, peeled and sliced
1 10.75-ounce can condensed tomato soup
½ cup white vinegar
¼ cup sugar
¼ cup olive oil
1 teaspoon yellow mustard
1 teaspoon Worcestershire sauce
½ cup celery, thinly sliced
½ small red onion, halved and thinly sliced
1 green bell pepper, thinly sliced
Salt and pepper to taste
Directions
Bring a large pot of water to a boil over high heat. Add the sliced carrots and cook for 5 minutes, until tender-crisp.
While the carrots are cooking, whisk together the tomato soup, white vinegar, sugar, olive oil, mustard, and Worcestershire sauce.
When done cooking, drain the carrots and add them to the dressing while hot. Add the celery, red onion, and bell pepper and toss to coat.
Cover with plastic wrap and place in the refrigerator for at least 4 hours to chill and marinate.
Salt and pepper to taste before serving cold.
Nutrition
| | |
| --- | --- |
| Calories per Serving | 224 |
| Total Fat | 9.7 g |
| Saturated Fat | 1.3 g |
| Trans Fat | 0.0 g |
| Cholesterol | 0.0 mg |
| | |
| --- | --- |
| Total Carbohydrates | 33.0 g |
| Dietary Fiber | 5.6 g |
| Total Sugars | 20.6 g |
| Sodium | 640.4 mg |
| Protein | 2.6 g |