Dough's Boozy New Donuts Support A Meaningful Cause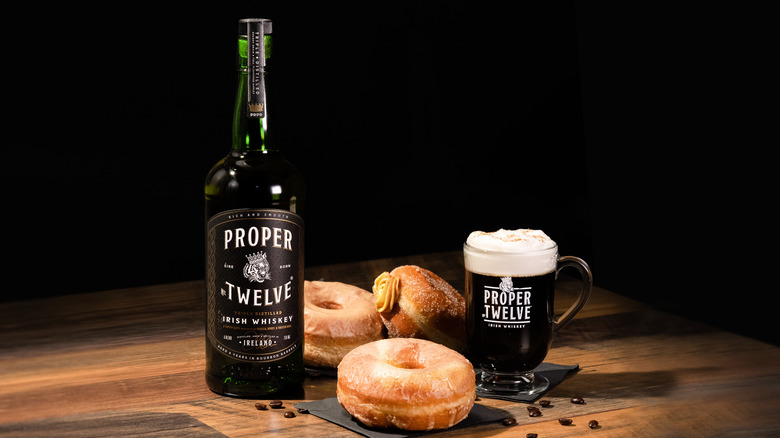 Dough
First responders boldly go to support our communities where others may hesitate, but this bold response can take a toll with long hours, high stress, and strain (via OHS Online). Since the onset of the COVID-19 pandemic, first responders have been under even more stress than usual. This year, Dough artisan donut makers have teamed up with Proper No. Twelve Irish Whiskey makers to create a line of boozy donuts to help give back with a deliciously sweet excuse for a break. According to a press release shared with Mashed, Dough will be offering their whiskey-themed donuts from National Coffee Day on September 29 to National First Responders Day on October 28, and a portion of each purchase will be donated to first responders worldwide through the Tunnels to Towers Foundation.
"We are thrilled to team up with Conor McGregor and Proper No. Twelve on another project," Tunnel to Towers Foundation Chairman and CEO Frank Siller said. "Their commitment to first responder families is unwavering and rare. We first began working with Conor and the team in March 2020 and have remained loyal partners ever since. We couldn't be more honored to work with them again on this campaign — our most delicious one yet."
Now, what's in those boozy donuts?
Two different whiskey-infused donuts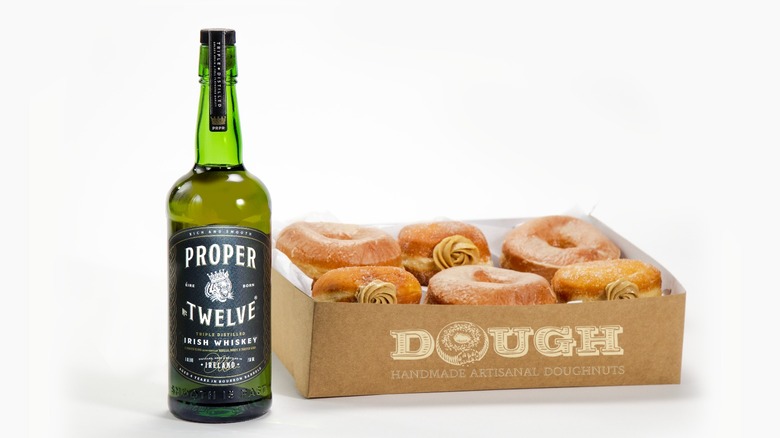 Dough
Using the flavors of MMA fighter Conor McGregor-approved Irish whiskey, Dough has created two different boozy-themed artisan donuts. The Proper Irish Coffee Cream-Filled Doughnut is a yeast-dough filled with a whiskey-infused buttercream with hints of vanilla and rolled in orange sugar. The Proper Irish Coffee Glazed Doughnut is also a yeast-based traditional variety, with a cold-brew Irish coffee glaze. As fans commented on one Instagram announcement, "INCREDIBLE", "OMG", and "Sooo delicious" (via Instagram).
These donuts are available for in-person purchase at Dough's retail locations in New York City or available to order online from the Dough website. The cream-filled variety costs $5.75 each or $45 per half dozen while the glazed are sold for $5.50 each or $43 per half dozen. There do not appear to be any age restrictions to enjoy this treat. Dough has a history of offering additional innovative doughnut flavors such as "Cherry Greek Yogurt with sour cherry infused parfait" (via Instagram) but with all things good — these Proper No. Twelve flavors won't last long, so grab a box while you can and support your first responders too.