Some Costco Shoppers Are More Excited About This Tea Tin Than Its Contents
It is the perfect time of year to cozy up inside with a warm blanket and a cup of your favorite hot beverage. For many people, their cold-weather drink of choice is tea. Whether you prefer winding down at night with a relaxing cup of herbal tea, or starting your morning with a delicious mug of Earl Grey, tea is a great way to take a little time for yourself during a hectic day. And now, Costco has the perfect new way for tea lovers to indulge in their favorite drink. 
The popular chain has just released a tin of full-bodied, aromatic traditional English Breakfast black tea, imported from Sri Lanka (via Costco). Each container comes with 240 foil-wrapped tea bags for just $11.99, and according to Instagram account @Costcobuys, tea aficionados can't get enough of the new item. But it's not just the tea — or the price — that has people excited. These 240 tea bags come in an adorable vintage forget-me-not tin that shoppers will definitely want to save long after all the tea has been drunk.
Shoppers can't get over the unique vintage tin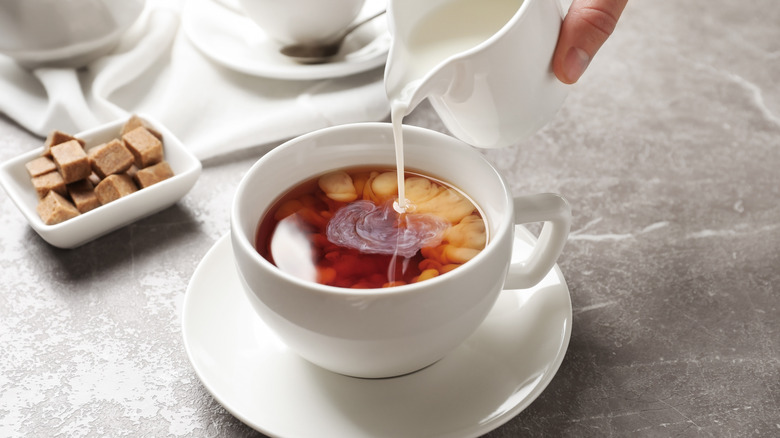 New Africa/Shutterstock
Costco fans couldn't stop raving about how cute the mint-green English Breakfast tin, decorated with gold accents and Forget-Me-Not flowers, would be as a piece of kitchen decor, storage container, or gift for any tea-loving friend or family member. Costco fan @costcobuys made a post on Instagram raving about the new product: "New English breakfast tea is a great way to start the morning! This comes with 240 teabags in a super cute tin!"
Their followers were quick to chime in with their own positive reviews of the new item. "This tin is adorable," posted @targetgems. @performerjules agreed: "This is cute just for the tin alone." But although many fans may have been tempted to buy the item exclusively for tin, some followers confirmed that the tea itself is also worth the purchase. "We love this tea!! We go through it quick," one follower wrote. Featuring a delicious beverage and adorable, reusable container all in one, tea fans will definitely want to get their hands on this new English Breakfast tea on their next trip to Costco.