Instagram Is Loving This Buddy Valastro And Guy Fieri Family Meet Up
Instagram is simply loving this family meetup between the Fieris and the Valastros. Like any food celebrity family reunion, this pic is giving us all the good feels. Cake Boss Buddy Valastro shared a pic on his Instagram when he took a trip to Flavortown at Guy Fieri's Las Vegas restaurant. "Taking a trip to #Flavortown with my friend @guyfieri at Guy Fieri's Vegas Kitchen & Bar @thelinq @vegas," Valastro wrote.
The picture features elder sons Hunter Fieri and Buddy Valastro, Jr. and, of course, their famous fathers. Fans are loving this meetup — 1997marcodiaz writes, "Cool! Two of my favorite people from the chef world!" and fellow fan buddyvscakeslice adds, "The most handsome gents." The meetup happened at Fieri's Vegas Kitchen and Bar at hotel resort The Linq. Specializing in Flavortown comfort food that ranges "from a Tatted-Up Turkey Burger to Jack Daniels steak," the restaurant also advertises a 6,500 square foot patio with views of the Strip.
Fans of both Fieri and Valastro may be delighted to see these family photos, but the multigenerational food experience should come as no surprise.  
For Fieri and Valastro, food means family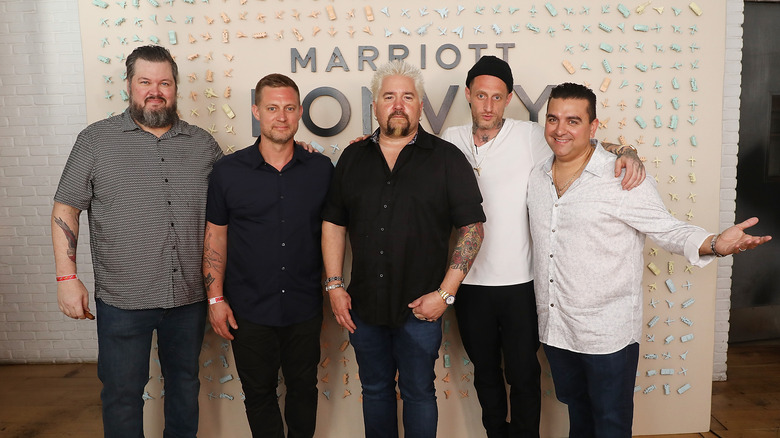 Aaron Davidson/Getty Images
Both celebrity chefs have long had a history of food, family, and film. "Valastro Family Vacation," a Food Network special from 2016, featured the entire Valastro family including both Buddys, younger sons Marco and Carlo, daughter Sofia, and Valastro's wife Lisa (via The Sun). You'll find Buddy Jr (technically Buddy III) credited in other episodes of his dad's work as well (via IMDB).
Hunter Fieri is currently supporting his famous dad as a co-host in "Guy's Grocery Games," but has additional credits as a producer on "Diners, Drive-ins, and Dives" among other appearances as the "Prince of Flavortown" alongside his famous father (via IMDB). Fieri's other TV shows have also included experiences he's had with other family members, such as getting tattooed with his nephew Jules in Hawaii.
As for Fieri and Valastro's fans? We simply love these great family photos, and hope we'll see more famous food and family collabs soon.