The Reason Pumpkin Reese's Taste Different From Normal Reese's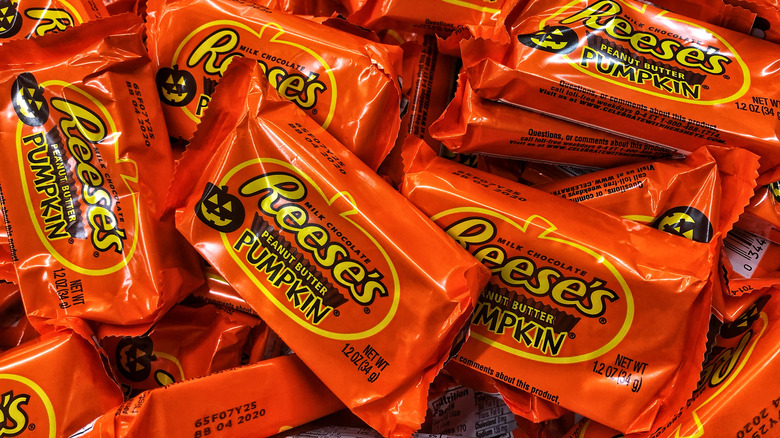 Wendy van Overstreet/Shutterstock
With Halloween just around the corner, we're salivating over the prospect of stuffing our faces with all the holiday candy, from classic minis like Kit Kats to outliers like pork-flavored Bacon Beans. Opinions vary when it comes to ranking Hallow's Eve treats, but one candy that consistently out-ranks its competitors is Reese's Peanut Butter Cups, those beguiling milk chocolate shells stuffed with sweet, creamy peanut butter. According to a Monmouth University poll, 36 percent of Americans ranked the treat as their favorite Halloween candy, beating out other top picks like Snickers and M&Ms.
We love Reese's Peanut Butter Cups as much as anyone, and even science has explained the irresistibility of this snack — not only are chocolate and peanut butter a flavor match made in heaven, but "dynamic sensory contrast," or the textural differences between the chocolate and the filling, make this candy an almost universally pleasing treat (via Mic). One other thing we've noticed about peanut butter cups? The Halloween-themed pumpkin-shaped cups seem to taste even better than the originals offered year-round. 
It all comes down to the chocolate ratio
If you love Reese's Peanut Butter Cups and your purchase of them isn't limited to Halloween when they suddenly seem to be everywhere, you may have noticed that the traditionally-shaped cups seem to taste different than the pumpkin-shaped treats sold exclusively around Halloween (via Hersheyland). Since the candy is still just a milk chocolate shell stuffed with peanut butter filling, why would it taste different depending on its form?
According to Better Homes & Gardens, it all comes down to the ratio of the chocolate to the peanut butter. While both shapes use the same amount of chocolate, the pumpkins are a larger candy, meaning that there's more peanut butter filling in comparison to the chocolate. So if you absolutely love peanut butter, your taste buds are more likely to thrill to the seasonal variety of peanut butter cups. If, on the other hand, you're more of a chocolate lover, you're probably more into the regular ol' cups. Since both are available at Halloween, it's sure to be a sweet time for you — no matter which camp you fall into.