The Massive Amount Of Commercials Wendy's Founder Dave Thomas Starred In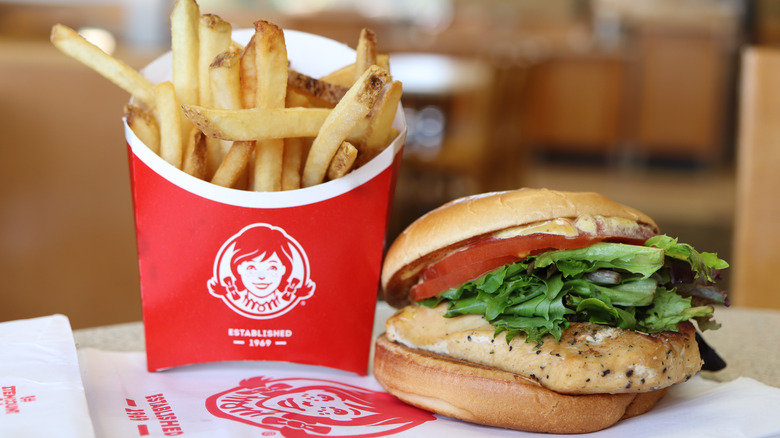 Deutschlandreform/Shutterstock
With his white hair, thin-rimmed glasses, and ever-present tie, and oft-worn apron, few restaurant founders are as recognizable as the late Dave Thomas. According to Wendy's website, the first location of the popular fast-food chain was opened in 1969 by Thomas in Columbus, Ohio, and through his leadership, the company was able to open over 1,000 restaurants in their first nine years alone. But, of course, that isn't the only reason why this successful businessman became such a familiar face.
Thomas began appearing in Wendy's TV commercials in 1989, according to Celebrity Net Worth, and as the ads got funnier, Americans began to recognize him. The site points out that in the 1990s a survey found that an astonishing 90% of Americans knew who he was! So, if you had a television set in the nineties, there is a good chance you remember some of his ads. But, just how many commercials did Dave Thomas star in?
Dave Thomas starred in over 800 commercials
Thomas' commercial career spanned an incredible 13 years and included more than 800 commercial appearances, according to Celebrity Net Worth. That's a lot of burger ads! One strength of Thomas' ads for Wendy's is that the commercials spoke to parents, rather than their children, like some competitors' advertising.
After Thomas' death in 2002 (via Wendy's), the mic was eventually passed to another family member, and this time it was to the chain restaurant's namesake. According to Just Richest, Thomas' daughter Wendy appeared on-camera in a Wendy's commercial in November 2010 and was featured in the "That Wendy's Way" commercials that launched in 2012. Wendy's real name is Melinda Lou Thomas-Morse and the nickname "Wendy" was born out of her difficulty pronouncing Ls and Rs as a young child. In one of her commercial appearances, she says "Years ago my dad started a hamburger chain and named it after me, I love that about Dad" (via YouTube). So do we, Wendy, so do we!