Chef Jernard Wells Reveals How He Lost 60 Pounds - Exclusive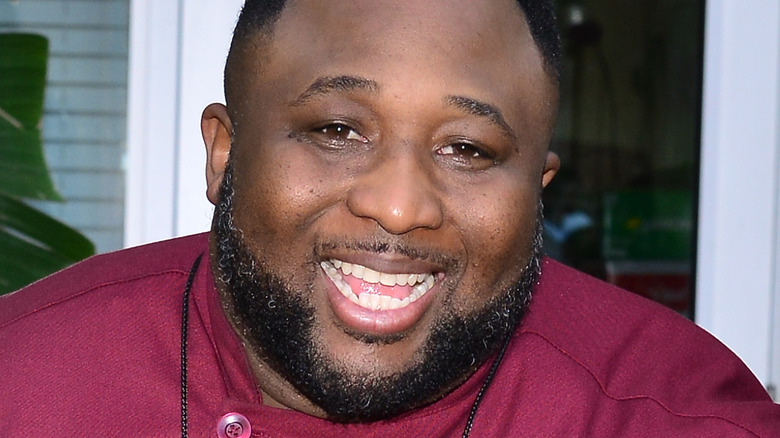 Johnny Louis/Getty Images
We may receive a commission on purchases made from links.
If you've tuned into his show "New Soul Kitchen," you know that chef Jernard Wells has thrown down some pretty decadent interpretations of soul food classics — whether it's his drool-worthy smoked gouda grits, or a buttery, gooey grilled cheese sandwich that has just the right pull (via Cleo TV). So how did Wells recently lose 60 pounds while preparing his signature soul food favorites? Does this chef no longer taste what he creates? 
In an exclusive interview with Mashed, Wells explained that while he still enjoys his favorite foods — like his famous lobster macaroni and cheese — he does modify some of the recipes somewhat. Sometimes, it just takes a few ingredient swap-outs, as Wells shares in his cookbook, "Southern Modified." Plus, he stays aware of his portions. "I know what I love. I know what I like to eat," Wells said. "I do believe that we can have our cake and eat it too, but it's about eating in moderation and the key is not to overeat. You have to garner or gain some form of discipline, where I want to eat what I enjoy, but I need to know where to stop," Wells explained, adding as an example that if he eats lighter in the morning, "I can 'fluff' a little bit during the daytime."
Wells' career made him reconsider his diet
Wells said that as his star as a professional chef rose, so, too, did his size. "Earlier on in my career, when I first started, I finished culinary art school [and] I won a chef's competition at the Resorts Casino," he explained, "and part of winning that competition was I got to create everything, the recipes and dishes, that were on the menu. Of course, with creating, it's all about consistency. The way I create it, I have to train all the staff, 50 some chefs, to create it to taste the same way. That means I have to taste it over and over ... and over!" Wells said. "So, going through tasting 30 to 40 dishes a day, just because you're putting a spoonful in your mouth, in my mind, I'm thinking, 'Man, I ain't even ate dinner!' Then when I get home, my wife had cooked a full meal," he added. Wells continued: "One day I just woke up and had blown up big as I don't know what," he quipped.
While Wells has lost weight by modifying recipes and watching portions, he doesn't like to think of this change in his approach to eating as a "diet," or a quick fix that he'll stop doing once he reaches a specific number on the scale. "Weight can fluctuate, go up and down. When you're on a lifestyle journey, what you do is you change your whole lifestyle," Wells explained. "You change everything that's around you. Even change the way you grocery shop, the foods that you bring in, the stuff that you eat, how it's breaking down in your body."
You can find chef Jernard Wells' book, "Southern Modified," on Amazon. The fourth season of "New Soul Kitchen" airs on October 27 on the Cleo Network.