What Aldi's 'Charcuterie Board Of Directors' Really Does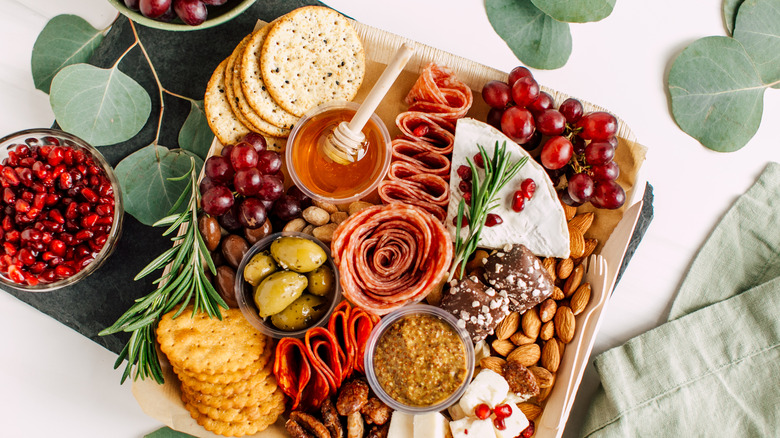 Katheryn Moran/Shutterstock
Aldi and charcuterie boards have both been trendy for quite some time, and now they're coming together like never before. According to a press release from the popular grocery store chain, Aldi has announced its first-ever "Charcuterie Board of Directors" that will guide shoppers to making the best food displays, just in time for the holidays. As Aldi notes in the release regarding their inspiration for the idea, they say, "As the culinary trend progresses, the quest for inspiration and guidance grows." 
In fact, in the last year alone, the popularity of the cured-meat-and-accoutrement combo has exploded, with online searches for the term "charcuterie" up by almost 300%, per Aldi's announcement. Food experts like Professor Ken Albala, with the University of the Pacific, have also talked about the comforting aesthetic and appeal of charcuterie that has taken off in the highly photographic social media era. Not only are boards visually appealing but, "I think it has been part of the rise of the interest in do-it-yourself artisanal craft food," he told Business Insider.
Given the buzz, Aldi has found an apt opportunity to assemble its own panel of aficionados to help lead would-be charcuterie crafters toward creating "the most innovative and festive boards this holiday season." The Charcuterie Board of Directors is made up of a panel of seven experts on "food, wine, and all things delectable." However, whereas in the corporate context, a classic board of directors is responsible for the company's big picture (like overseeing business strategy and conduct), Aldi's board is concerned very much with the small picture — as in the various beautiful and delicious tableaus that shoppers will be creating in the months to come. Here's what this new board will actually do in this role.
Aldi's Charcuterie Board of Directors is charged with these important responsibilities
Aldi's new seven-person panel of experts that will act as its Charcuterie Board of Directors, per a recent press release, has been tasked with helping to ensure that Aldi's customers are fully up to speed on how to pick the right foods and put together the most attractive and edible charcuterie boards. "Whether someone is looking for tried-and-true pairings for their first board or is a confident foodie who wants to experiment with new combinations, our aim is to inspire board builders of all experience levels with impressive, approachable, affordable ideas," said one of the board members, "Cheese Queen" Kim Brazington (who also happens to be Aldi's cheese buying director) in the announcement. 
Other board members include "Sweet Talker" Sarah Crawford (a blogger behind Broma Bakery and founder of the Foodtography School), "Charcuterie Chef" Gaby Dalkin (recipe developer and author behind the brand "What's Gaby Cooking"), "Family Foodie" Rosalynn Daniels (lifestyle expert), "Recipe Realist" Kasim Hardaway (an "environmental scientist-turned-foodie" and food photographer), "Spread Stylista" Marissa Mullen (author and stylist who created the Cheese By Numbers method), and "Wine Whisperer" Sarah Tracey (a sommelier who is great at pairing).
So, how exactly will Aldi's Charcuterie Board of Directors accomplish this formidable task? As noted in the release, they will be creating fun, colorful, instructional content, including tips and tutorials through "stop-motion videos, virtual demonstrations, and an array of build-by-number templates" (all of which can be found on Aldi's website). In addition, the foodie team will curate "Charcuterie Board Must-Have" guides for customers while in store (where they can find tags on specially marked meats, cheeses, and more to make shopping easy). And board members will be updating their Instagram pages to provide limitless inspiration as well.