This International Burger King Location Just Went Totally Meat-Free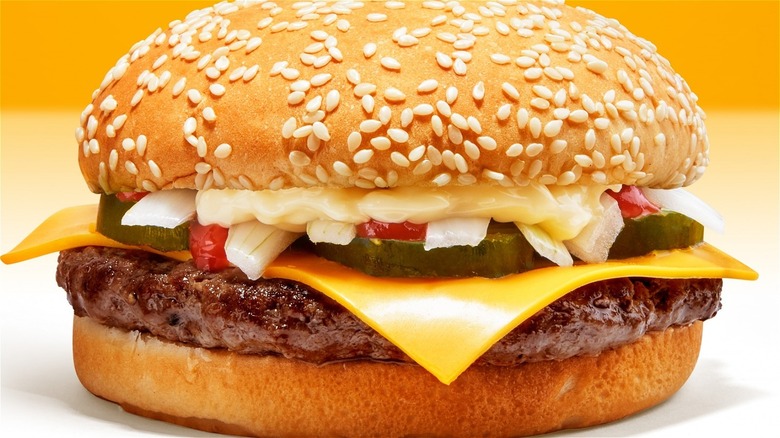 Fierman Much/Shutterstock
For the food and restaurant industry, the last couple of years have been a struggle, to say the least. In fact, when restaurants began to temporarily shut their doors in early 2020, the industry furloughed three decades' worth of employees in a mere six weeks, according to Restaurant Business Magazine. But despite the significant obstacles that the restaurant business has faced, we've also seen pivotal food trends emerging around the globe, particularly within the plant-based food space. The word "vegan" is popping up on menus more than ever before, and veganism and plant-based eating are on the rise, with the statistics to prove it. According to Food Revolution, over the course of the past three years, there's been a 600% increase in people identifying as vegan across the United States. Per a GlobalData report, in 2014, only 1% of American consumers declared that they were vegan, but by 2017, this figure climbed to 6%.
The consumer shift to plant-based eating isn't only occurring in the United States, either. From 2004 to 2018, a global increase in veganism has occurred across the globe in nations such as Australia, Canada, and Austria. Another country that is hopping on this plant-based food wagon? Spain. Interestingly, a Burger King located in Madrid, Spain, is debuting a completely plant-based menu for an entire month, according to VegNews.
Burger King's meatless pop-up in Madrid is just the beginning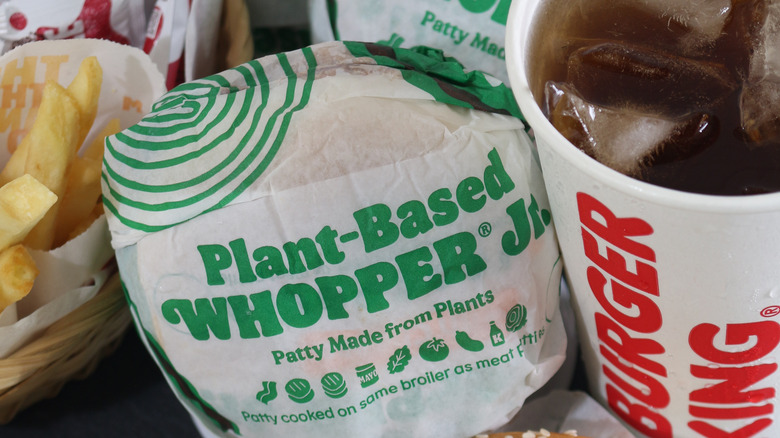 deasy.taciku/Shutterstock
Yes, you heard that correctly — Burger King has officially opened a veggie-only restaurant in Madrid, Spain. To promote this rebranded "Vurger King," the fast food giant remodeled the interior of the restaurant to include a green plant mural and lush hanging plants (via Veg News). For one month only, customers will be able to purchase food items such as a plant-based Whopper, vegan chicken nuggets, and the Long Vegetal. The latter is a menu option featuring "meat" from The Vegetarian Butcher, a Dutch brand that produces high-quality vegetarian meat.
According to Totally Vegan Buzz, this plant-based pop-up is a response to the increasing worldwide demand for climate-friendly and healthier food options. To meet this appeal, Burger King has partnered with The Vegetarian Butcher to include plant-based burgers on menus in 25 countries, including Germany, France, Mexico, and China. In Spain, about 13% of the country's population eat a fully or mostly vegetarian diet. More specifically, approximately 8% of this number are entirely vegetarian, and a quarter are vegan, making this European nation a prime location to test-drive a fully plant-based menu.
"We want to reach both people who base their diet on vegetable products and those who do eat meat but want to reduce their consumption," said Borja Hernandez de Alba — the general director of Burger King parent company Restaurant Brands Iberia in Spain and Portugal — in an interview with 20 Minutos. Will fully meatless menus be the future for Burger King? Only time will tell.