Guy Fieri Fans Are Loving This Look-A-Like Photo From His Son's School Celebrity Day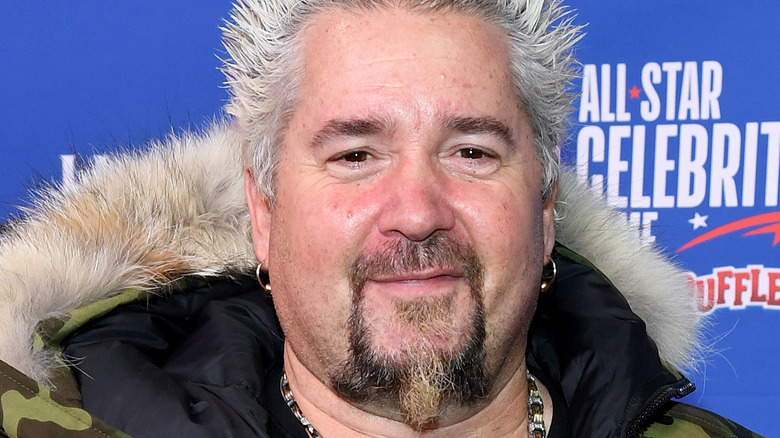 Kevin Mazur/Getty Images
When a teacher asks who your hero is, typical responses usually include your parents. Guy Fieri's son, Hunter, is so inspired by his dad that he's now following in his footsteps. Hunter not only attended the same university as his father, he also travelled with the food personality after his high school graduation to be featured on "a five-episode special called Guy and Hunter's European Vacation" (via Cheatsheet).
Guy's other son, however, is busy just being a teen and figuring it out as he goes. As Celeb Suburb notes, Fieri's youngest son, Ryder, is still deciding where he wants life to take him and Fieri's most recent Instagram post seems to show a bit of an idea as to where pops wants his son to pivot. The host posted a picture with his son dressed up as him that read, "It's celebrity day today at @ryderf05's high school.I think he looks just like @buddyvalastro the Cake Boss!!"
Seeing double
Guy Fieri played the proud dad, taking to Instagram to brag that his son dressed as none other than the culinary dynamo himself for celebrity day at his high school. The picture features a kitchen background with Fieri, his son Ryder holding tongs and what appears to be another student, all dressed alike. The post was a huge hit with fans of the famous chef, who have given it nearly 13,000 likes and left more than 100 comments. 
One Instagram follower wrote, "he looks just like the mayor of Flavortown!!" Another commenter said they couldn't believe how tall his son had gotten. While a different user joked, "Who's the guy in the middle supposed to be?" And while Ryder may not display the same affinity for the kitchen that his brother Hunter has just yet, there's certainly no telling where his future path will lead. He certainly pulls the look off well enough!