Apple Cider Slushie Recipe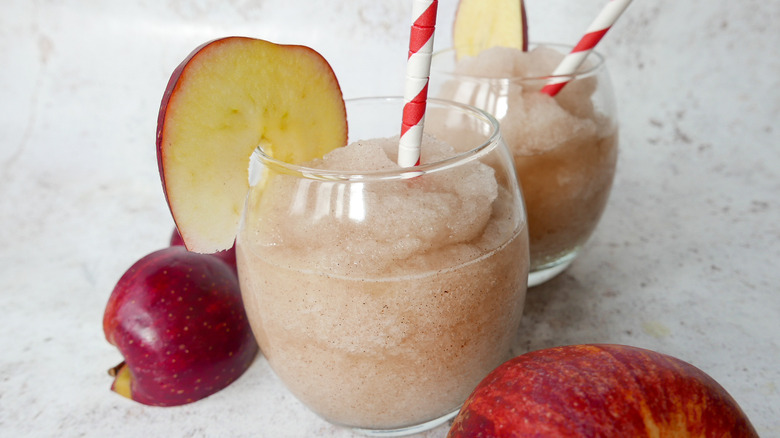 Ting Dalton/Mashed
There are plenty of ways to enjoy apple cider, and one of them is in the form of a slushie. If you are a lover of fall and all things apple-flavored, then we have the perfect recipe for you. This yummy apple cider slushie tastes incredibly refreshing and delicious, and there's plenty to love about it. Recipe developer Ting Dalton of Cook Simply came up with this crisp drink that pairs well with anything and everything. 
"I think this would work well as an aperitif at a dinner party or party, as it's so quick and easy to make — or for a BBQ or summer party," Dalton says. "When your guests arrive, you can throw everything in or make ahead of time, freeze, and let thaw for an hour before they arrive." As for her favorite part? "What I love most about this drink is that it is so easy to prepare — you can whip it up in minutes," Dalton notes.  
Keep scrolling to find out how to make this tasty dish.
Gather the ingredients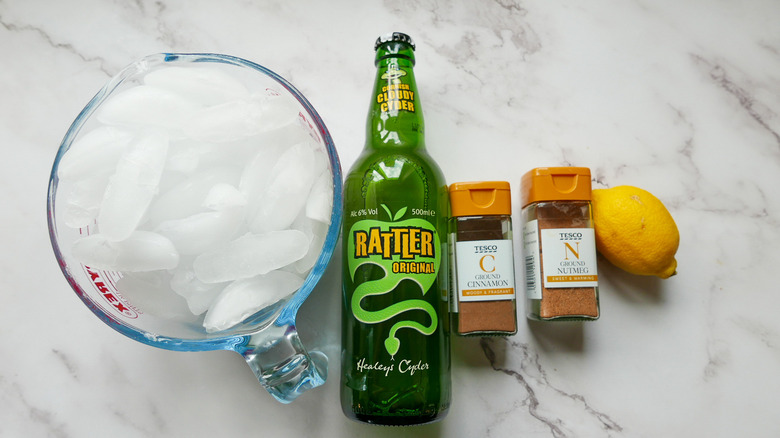 Ting Dalton/Mashed
If you're ready to treat yourself to this little taste of fall in a glass, then keep reading. The first thing you need to do before any prep work takes place is to make a list of ingredients that you will need to get at the store. Start by grabbing a few cups of apple cider. "Apples are great for adding to your fruit consumption, [as they're] good for antioxidants, fiber, and [other] nutritional benefits," Dalton shares. In addition, be sure to pick up some ice if you don't have any at home already.
Then, move onto the spice aisle and pick up cinnamon and nutmeg. The last item you will need is some lemon juice. That's it! We told you it was easy. 
Add the ingredients to a blender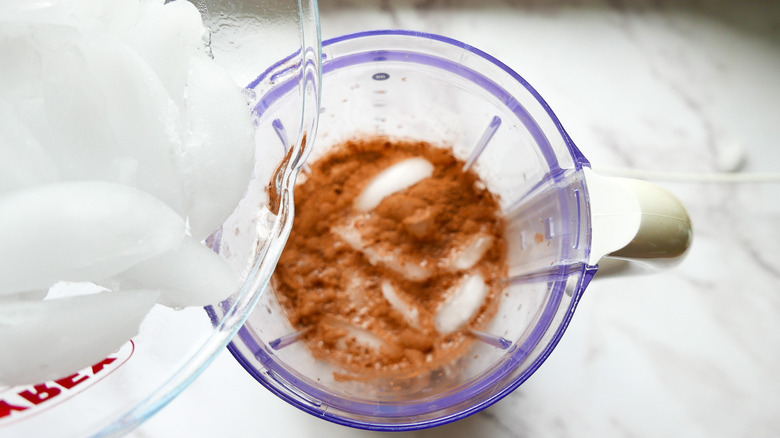 Ting Dalton/Mashed
Once you have all of the items gathered in front of you, you can get started on making this festive drink. Grab a blender and place it in a safe spot on your counter where the kiddos and any pets can't grab the cord. Then, throw in all of your ingredients. Start with the apple cider, followed by the ice. Then, add the cinnamon and nutmeg to add even more flavor to this delicious drink. The last thing you need to add in is lemon juice.
And if you don't have a blender? "Yes, absolutely, a food processor will work too," Dalton says.
Add any extras and blend the slushie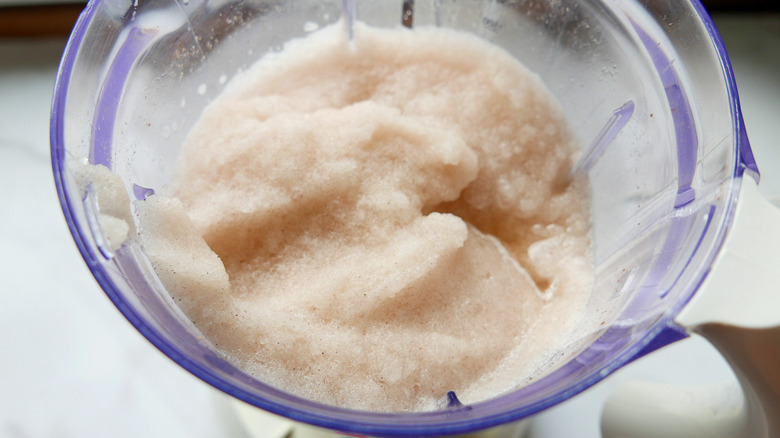 Ting Dalton/Mashed
If you want to add anything else to the slushie, now's your chance. "Dependent on the sweetness of your apple cider, you may want to add a few tablespoons of maple syrup or brown sugar to sweeten the slushie," Dalton says. She also states, "I personally love the tartness of the apples and the lemon," so if you don't want to add anything more, that's fine too. 
Now, turn on the blender and mix everything until it's smooth. This shouldn't take more than a few minutes to do, and it's fun to watch all of the ingredients transform from ingredients to slushie.
Serve and enjoy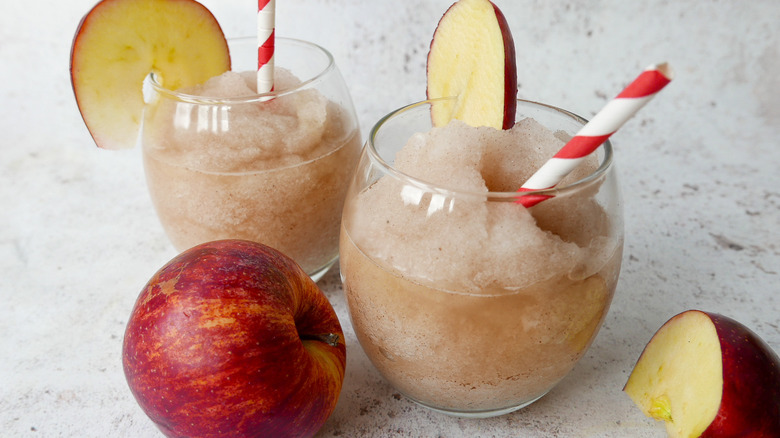 Ting Dalton/Mashed
Now that you've blended the slushie, you can pour it from the blender into glasses of your choice. This slushie would be cute served in little mason jars or stemless wine glasses. You could also get creative and serve it in another way ... it's totally up to you, so feel free to be creative. 
Then, you can use a spoon to get the slushie out of the glass, or else use a straw. You can even just sip it straight from the glass. There are a ton of different options here, and it's all based on preference.
Saving it for later?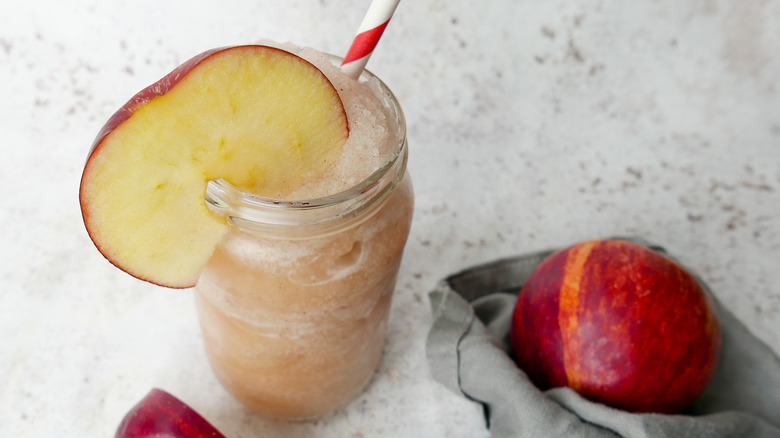 Ting Dalton/Mashed
You may be wondering if you can save this slushie for later. However, it's probably a good idea to enjoy it right away. "Yes, otherwise it will melt," Dalton says. However, if you really want to make it ahead of time, you can. Dalton says, "You can freeze the [leftovers] and use at a later date. Just make sure to thaw before serving." 
We hope you love this slushie recipe as much as we do!
Apple Cider Slushie Recipe
If you are a lover of fall and all things apple-flavored, then we have the perfect recipe for you. You have to try this apple cider slushie.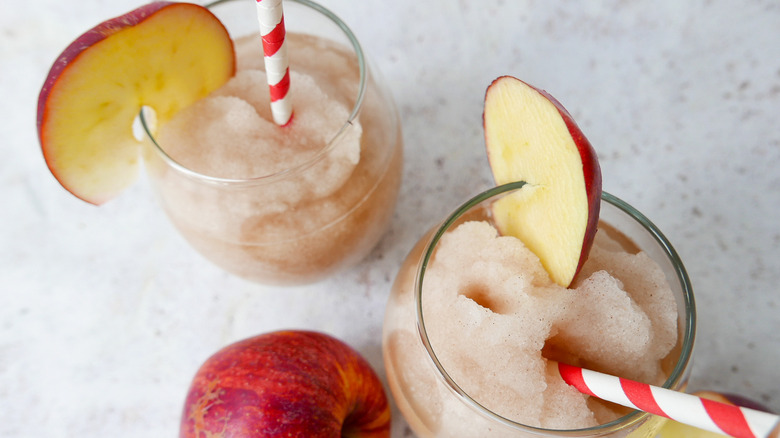 Ingredients
4 cups apple cider
6 cups ice
1 teaspoon cinnamon
¼ teaspoon nutmeg
1 lemon, juiced
Directions
Put all the ingredients into a blender. Blitz until smooth.
Serve in glasses and enjoy.
Nutrition
| | |
| --- | --- |
| Calories per Serving | 121 |
| Total Fat | 0.4 g |
| Saturated Fat | 0.1 g |
| Trans Fat | 0.0 g |
| Cholesterol | 0.0 mg |
| | |
| --- | --- |
| Total Carbohydrates | 30.0 g |
| Dietary Fiber | 1.3 g |
| Total Sugars | 24.2 g |
| Sodium | 24.5 mg |
| Protein | 0.4 g |