Aldi Shoppers Have Mixed Feelings About These Garlic Knots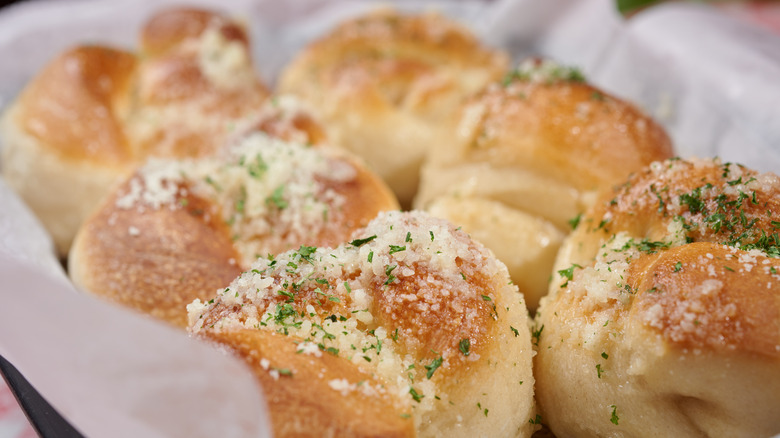 Konstantin Goldenberg/Shutterstock
How much do we love Aldi? The answer — a lot. This German-imported grocery store chain is known for its low prices and wide selection of items ranging from fresh produce to wine to baked goods. Since arriving on U.S. shores back in 1976, Aldi has been steadily growing its American presence, now counting more than 2,000 stores across 36 states (via Aldi). We're all for having this grocery chain near us, where we can find cult favorite products such as smoothie-ready frozen fruit blends, fresh butternut squash ravioli, and buttery brioche buns.
Aldi stores offer an intriguing and expansive selection of breads, from croissants to ciabatta rolls to multigrain flatbreads. They also sell a tempting option any of us would remember from childhood trips to the local pizzeria — garlic knots, both in a shelf-stable option and a frozen one. Recently, a Reddit thread discussed the former, sold by L'Oven Fresh, with some Redditors singing the knots' praises and others finding fault with them.
Reddit users can't decide if they like these garlic knots
A Reddit user recently shared some praise of L'Oven Fresh heat-and-serve garlic knots, writing, "These are amazing!!! Made lasagna and was gonna make garlic bread but saw these. I ended up getting full dipping them in sauce." And while some commenters agreed with the original poster, some begged to differ. "I love these, very tasty!" one commenter agreed. "We love these!" wrote another user. 
But some Aldi shoppers were less than impressed. "I bought these for the first time a few weeks ago. I thought they were semi ok," a Redditor wrote. "I've had these before and they were tasty but the garlic butter coating was very inconsistent and a lot of it rubbed off in the bag," commented another. "The bread was also pretty dense." Sounds like from these reviews that it's a draw. We'd still be happy to give 'em a go dipped in some hot marinara, though.