Chef Aarti Sequeira Dishes On Cooking With Carl Ruiz And Cat Cora - Exclusive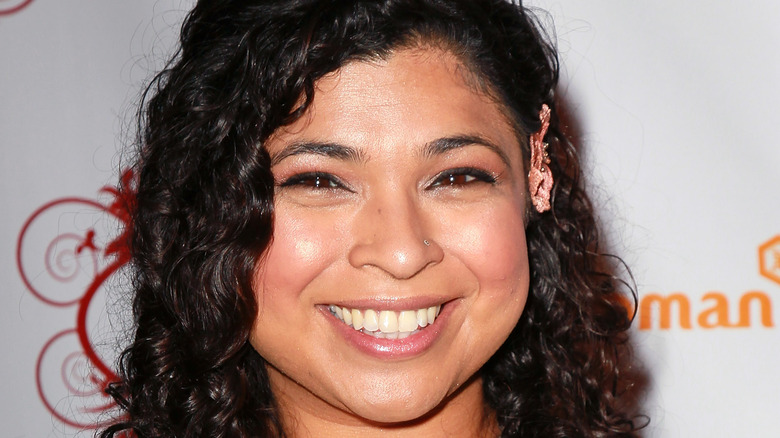 David Livingston/Getty Images
We may receive a commission on purchases made from links.
You might not know it by the ever-present smile on her face, but chef Aarti Sequeira takes some things in life quite seriously. In fact, it's when she's focused on a recipe that her otherwise ubiquitous grin tends to drop, replaced by a look of concentration. During an exclusive interview with Mashed, Sequeira revealed that TV producers have had to tell her to remember to smile when she's cooking on camera on numerous occasions.
But despite how serious Sequeira may be (and may look) about cooking, it has also been while working on TV shows that the chef, author, and media personality has had some of the most fun moments in life. She dished on a couple of the best moments and people she's worked with.
"When I shot 'Cutthroat Kitchen,' I think I was six months pregnant with my youngest," Sequeira described. "I ended up getting paired up with Cat Cora and we were both on the same set of — like, I don't know if they were skis or snowboard skis ...  but in that moment, it wasn't just the two of us tied up together. It was the three of us tied up together, me, her, and a baby between us, trying to cook stew at the stove and carry hot food back to our stations. She was so cool and so gracious about it all. That's really one of my favorite memories."
Aarti Sequeira fondly remembers Carl Ruiz
Aarti Sequeira also recalled working with her friend chef Carl Ruiz, who died in the fall of 2019 at just 44 years due to atherosclerotic cardiovascular disease (via Today). "Shooting 'Grocery Games' with my friend Carl Ruiz, who passed away a couple of years ago, it was always fun because even when it was a cooking competition and it felt like it was the most important thing in the world, he had a way of injecting humor into it and lightening the mood. And so anytime that I got to shoot with him was probably the most fun on set I've ever had," she explained.
Of course, Ruiz and Cora are but a few of the many food celebrities that Sequeira has worked with, whether that be in the form of competing against them, having her work judged by them, sharing judging responsibilities, or just sharing a laugh. She recalled the stress of having her dishes tasted by Bobby Flay, Michael Symon, and Masaharu Morimoto when she was on "Food Network Star." Sequeira has also hosted Q&A sessions with "The Pioneer Woman" Ree Drummond. Most recently, she's served as a judge on "Halloween Wars." On that show, she is serious in her role judging the bakers, but jokes around with co-judges Eddie Jackson and Shinmin Li.
To watch Sequeira pal around with fellow chefs, catch her on "Halloween Wars" on Food Network. You can order a copy of Aarti Sequeira's "My Family Recipe Journal" from DaySpring or Amazon.