Easy Chicken Sausage Sheet Pan Recipe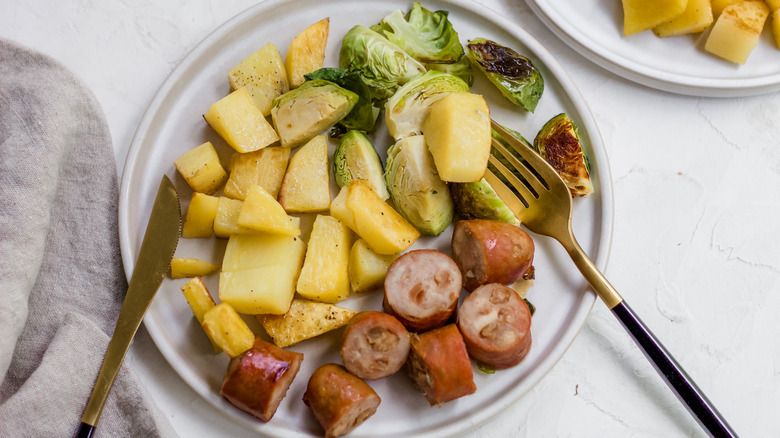 Jaime Shelbert/Mashed
It can be easy to opt out of cooking when you think of the piles of dishes you will have to clean. Thankfully, there are better options than calling for take-out every night or slurping down yet another bowl of instant noodle soup. Sheet pan recipes are simple, versatile, and best of all they are cooked on a single baking tray. Instead of contending with multiple pots and pans, the entire meal is made on the same sheet pan. This recipe, created by dietitian and recipe developer Jaime Shelbert, is no exception.
Shelbert created this easy chicken sausage sheet pan recipe so that you can enjoy a healthy and satiating meal without spending ages in the kitchen before and after eating. Who wants to take care of a seemingly endless round of dishes after dinner, anyway? Shelbert is a fan of the one-tray meal method and remarks that you just "Pop it in the oven and dinner is on the table in 30 minutes." She recommends it for busy weeknights, but once you get on board with this simple approach to cooking a well-rounded meal, you might start serving it on a regular basis. 
Gather the ingredients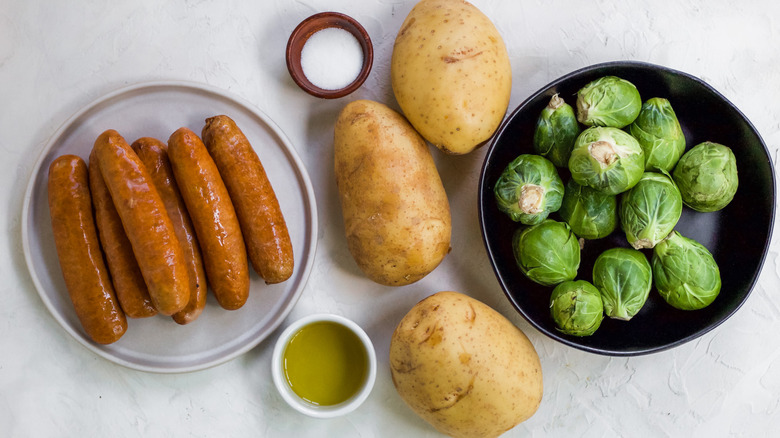 Jaime Shelbert/Mashed
You won't need much to prepare this wholesome chicken sausage sheet pan recipe. The three main ingredients are Yukon potatoes, Brussels sprouts, and chicken sausages. Yukon potatoes have a firm texture that is great for roasting, producing a creamy flavorful result. Brussels sprouts are a nice option for a sheet pan bake since they won't cook too quickly and therefore won't run much of a risk of burning. As for the sausages, Shelbert specifies, "I actually used apple chardonnay chicken sausages here," but she adds that "any sausage will work." You will need about 18 ounces of sausage, whatever variety you choose. Here, that came out to 6 sausage links.
Similarly, the other items are also flexible, Shelbert notes. "I've used sweet potatoes, broccoli, carrots, kale, butternut squash, cauliflower ... anything you typically roast," she says. To that end, you might soon find yourself making a variety of sheet pan dishes on rotation! 
Finally, to assist in the roasting process and add some extra flavor, make sure you also have some extra virgin olive oil and salt.
Prepare and roast the potatoes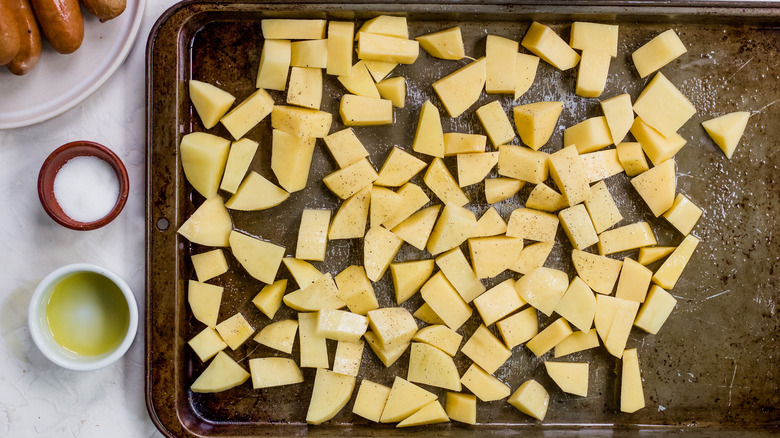 Jaime Shelbert/Mashed
First of all, preheat your oven to 425 F so that the oven is ready to go when it's time and the ingredients can properly roast. Next, prepare your trusty rimmed sheet pan by spraying it with olive oil to prevent sticking. 
Now, it's time for the potatoes. While this recipe is definitely straightforward, Shelbert warns to "make sure to give the potatoes a head start since they take the longest to roast." Accordingly, prepare the potatoes by peeling and slicing them into 1 to 1½-inch chunks.
Once the potatoes are ready, transfer them to the baking sheet, drizzle with 1 tablespoon of olive, and a sprinkle of salt for flavor. When your oven has reached 425 F, transfer the tray to a rack and roast the potatoes for 10 minutes.
Slice the Brussels sprouts and sausages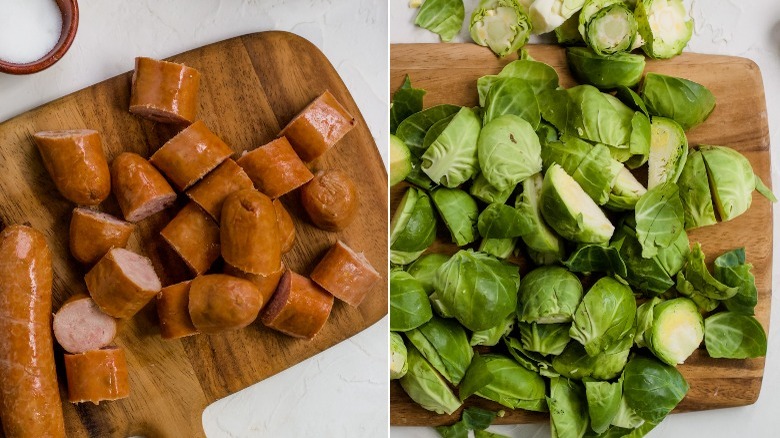 Jaime Shelbert/Mashed
While the potatoes are roasting in the oven, you can take the time to prep the remaining two main ingredients of your sheet pan recipe. First, turn to the Brussels sprouts. Depending on the size of your sprouts, you'll want to slice them in half or in quarters if they are especially large. Make a point to keep the pieces relatively uniform in size so that they roast more or less evenly. 
Next, slice the 6 sausage links into 1 ½-inch chunks. 
Add the Brussels sprouts and sausages to the pan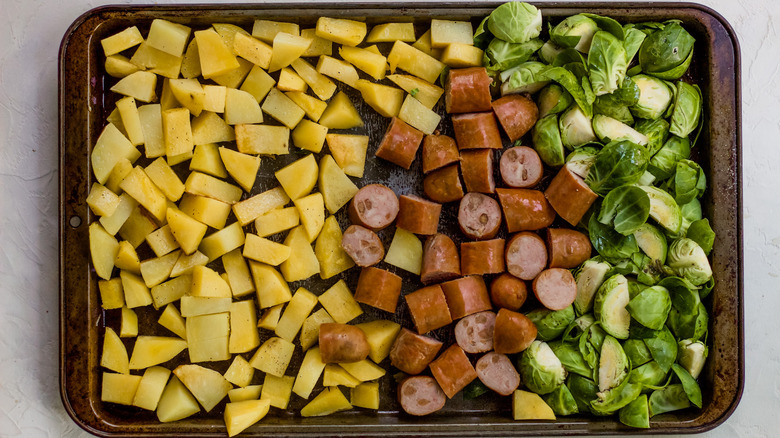 Jaime Shelbert/Mashed
At this point, the potatoes should be nearing the end of their 10-minute roast time. Remove the tray from the oven and give the potatoes a toss to make sure that they're roasting evenly. 
Then, use a spatula to push the potatoes over to one side of the sheet pan. Add the chopped Brussels sprouts to the pan and drizzle another tablespoon of olive oil on top with another sprinkle of salt. Finally, make some space in the middle of the pan for the sausage. Once everything is on the baking tray, return it to the oven and roast the contents for another 15 minutes. 
Serve this tasty chicken sausage sheet pan dish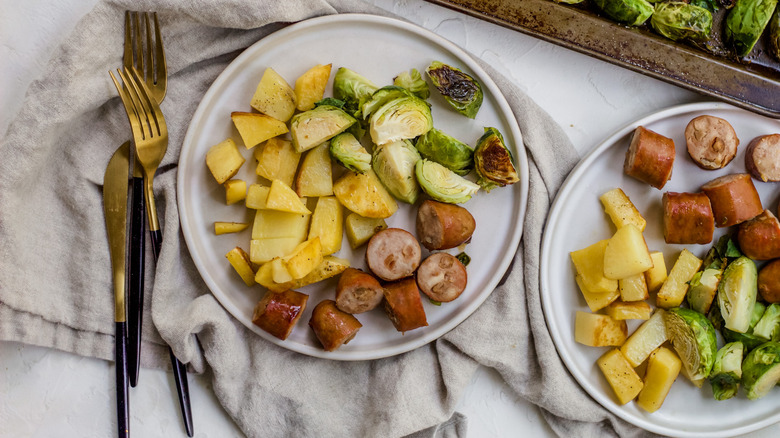 Jaime Shelbert/Mashed
After 15 minutes the vegetables and sausage should be nicely roasted. To be sure everything's at the right doneness, you can test the potatoes and Brussels sprouts with a fork to ensure they have cooked to your liking. The potatoes should yield relatively easily to a fork.
Once you give this supremely easy and very satisfying sheet pan bake a try, you will have to agree that it's an instant classic. Even better, as Shelbert says, "This recipe is pretty fail proof." 
If you have any leftovers, those can be kept in the fridge for up to 4 days, making them an easy dinner or lunch option for another day of the week.
Easy Chicken Sausage Sheet Pan Recipe
This easy chicken sausage sheet pan recipe is great for busy weeknights, but it's so beautifully simple that you might start serving it on a regular basis.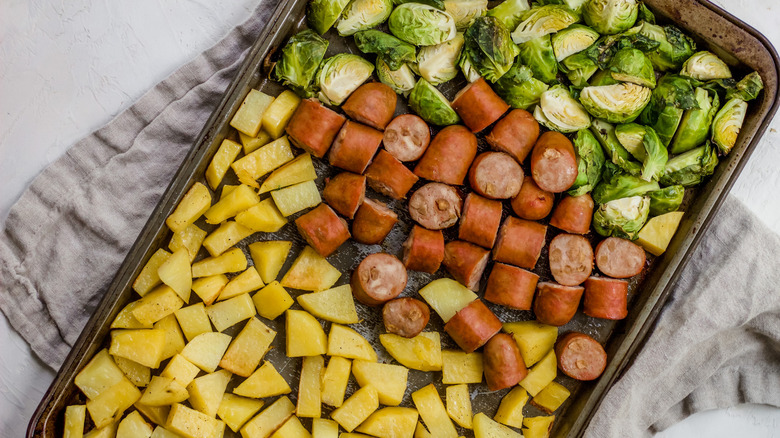 Ingredients
3 large Yukon potatoes
2 tablespoons extra virgin olive oil, divided
Salt
1 pound Brussels sprouts
6 chicken sausage links
Directions
Preheat the oven to 425 F and spray a large rimmed sheet pan with olive oil.
Peel and slice the potatoes into 1 to 1 ½-inch chunks.
Place the potatoes on the prepared baking sheet and drizzle them with 1 tablespoon of olive oil and a sprinkling of salt.
Roast the potatoes in the oven for 10 minutes.
Meanwhile, evenly slice the Brussels sprouts in quarters if they are large or in halves if they are small. Slice the sausage links into 1 ½-inch chunks.
After 10 minutes, remove the potatoes from the oven.
Toss the potatoes and move them to one side of the pan.
Add the Brussels sprouts to the pan. Drizzle with the remaining tablespoon of olive oil and sprinkle with salt. Tuck the sausage pieces between the potatoes and the Brussels sprouts.
Return the pan to the oven and roast the contents for an additional 15 minutes.
Nutrition
| | |
| --- | --- |
| Calories per Serving | 472 |
| Total Fat | 18.3 g |
| Saturated Fat | 3.7 g |
| Trans Fat | 0.1 g |
| Cholesterol | 64.8 mg |
| | |
| --- | --- |
| Total Carbohydrates | 60.3 g |
| Dietary Fiber | 10.7 g |
| Total Sugars | 5.0 g |
| Sodium | 1,079.9 mg |
| Protein | 19.9 g |