What Really Happened To The First Restaurant On Diners, Drive-Ins And Dives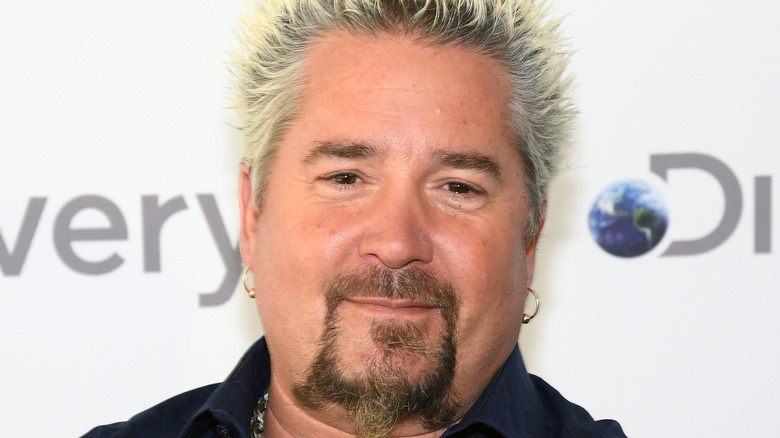 Dimitrios Kambouris/Getty Images
In 2006, Guy Fieri put himself on the map when he entered Food Network's competition show, "The Next Food Network Star." The chef's cooking chops, combined with his upbeat attitude and signature spiky blond hair, helped him emerge as the winner — and got him several opportunities to host successful shows of his own (via Food Network). 
One of those programs was the popular "Diners, Drive-Ins and Dives." That same year, the network aired Fieri's pilot episode, a one-hour special showcasing old-school restaurants in the Midwest and on the East Coast, per IMDb. The first-ever spot to be filmed for the series was the Bayway Diner, a popular, classic, no-frills eatery in the city of Linden, New Jersey. A decade after Fieri made his first appearance there, Food Network filmed the star visiting the diner once more in 2018, as a clip on the website shows. And it turns out plenty had changed since the Mayor of Flavortown's initial visit.
Bayway Diner's business has boomed since Fieri's visit
Those familiar with this New Jersey eatery might know that the Bayway Diner, owned by Mike Giunta, isn't exactly a large establishment. The small space only has nine stools at its counter, and after Giunta first appeared on "Diners, Drive-Ins and Dives," its popularity skyrocketed (via Food Network). So many people wanted to taste the diner's burgers and sandwiches that Giunta added a tent with outdoor seating to accommodate the overflow of customers. When Guy Fieri revisited the diner in 2018, Giunta revealed that he'd had customers come from all over the country. "It has been a dream," the owner said. 
Being featured on "Diners, Drive-Ins and Dives" helped Giunta afford to continue feeding his best customers. Prior to Fieri's initial visit, Bayway Diner mostly catered to employees working at the nearby oil refinery. But when a change in government rules affected the employees' ability to leave for lunch, Giunta put some of that Triple D income toward purchasing a food truck. "Since they can't come to me, we just bring it to them," he told Food Network, adding that he restocks the truck twice per day.
Bayway Diner opened a catering business, too
The Bayway Diner's television fame helped Giunta launch yet another leg of his business: catering. "I'm the type of guy that never says no," Giunta told Food Network, describing the day a customer asked him if his restaurant catered. The expansion has Bayway catering roughly 100 events per month for clients as lucrative as the New York Jets.
In order to handle the increase in business, Giunta also had to create more room for ingredients and prep. He added a 40-foot storage container to the diner's property and outfitted it with electricity to accommodate additional refrigeration. Though it's been 15 years since the Bayway Diner first appeared on "Diners, Drive-Ins and Dives," business has not stopped booming. Notably, despite the diner's fame, customers still seem to feel welcome at the cozy, old-fashioned eatery, based on their words in the Food Network clip.