The Burger King Bacon Burger You Have To See To Believe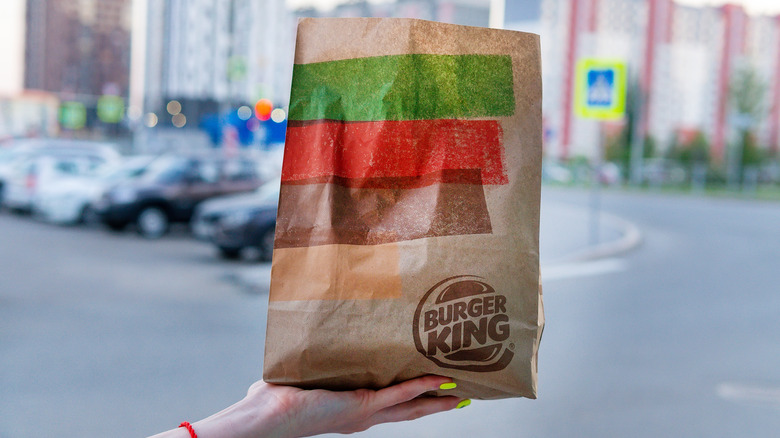 darksoul72/Shutterstock
No matter where you order a bacon cheeseburger, whether it be a Bacon King from Burger King or a Baconator from Wendy's, you can pretty much expect the same thing. In its most basic form, this type of cheeseburger consists of a beef patty topped with bacon and cheese, sandwiched between two buns — and sometimes there's some sort of barbecue sauce, too. 
If you love bacon, you'll know that the more of it on a cheeseburger, the better it tastes. That's exactly why Burger King Germany released the Bacon Lover Burger in 2020 (via Brand Eating). The bacon-loaded sandwich was added to the menu for a limited time and was available in three varieties, the Bacon Lover Beef, the even bigger Bacon Lover Double, and the Bacon Lover Chicken. Not only were the patties stacked with the crispy fried meat, but bacon was also incorporated in the dough of the buns, making for quite possibly the most multi-dimensional bacon flavor possible in a cheeseburger.
Will the Bacon Lover Burger come to the US?
According to Brand Eating, the Bacon Lover Burger wasn't originally made for Burger King Germany. In 2019, a year before the burger was released in the country, Insider reported on the promotional item being available at Burger King locations in France and Switzerland. However, the Bacon Lover Burger ended up becoming so much more successful in Germany, that a year later after its initial release, the company followed it up with the release of the Cheesy Bacon Lover in early 2021 (via Instagram). 
The new sandwich, available in chicken and double beef varieties like the original, featured extra cheese in the form of a creamy sauce. The Cheesy Bacon Lover was then brought to the UK in summer 2021, though without the bacon-studded bun (via the Daily Star). The burger seems to be making its way around Europe, but could it come to the U.S., too? Only time will tell, but so far the only bacon cheeseburger on the Burger King menu in the U.S. is still the Bacon King.