Chocolate Milk Fans Won't Want To Miss This New Hershey Collab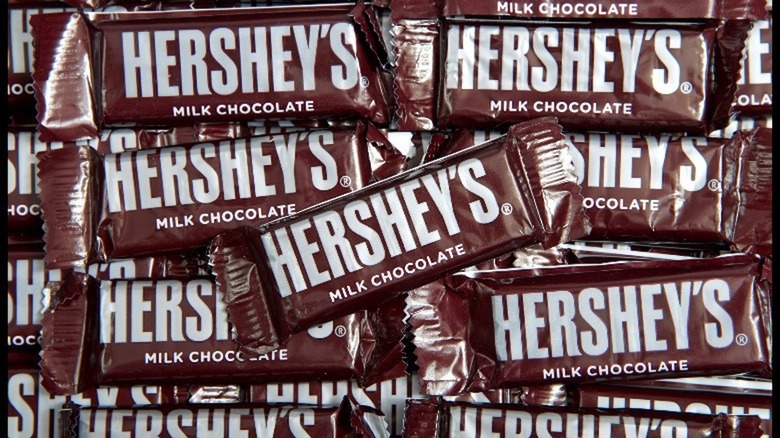 Sheila Fitzgerald/Shutterstock
Few things are better than a glass full of rich chocolate milk when you need a delicious pick-me-up. Well, chocolate giant Hershey definitely appreciates this and has teamed up with The a2 Milk Company for a sweet chocolate-filled surprise. According to PR Newswire, the two companies will release a brand new product in January 2022. 
The chocolate milk will reflect the classic Hershey's flavor and provide around 8 grams of protein in each serving. What's more? The chocolate milk will be made without artificial flavors and preservatives. Blake Waltrip, The a2 Milk Company's CEO, said that consumers who are looking for high-quality chocolate milk want to ensure that the products the buy are not only delicious, but also made with natural ingredients. He said, "Partnering with the iconic Hershey's brand, and using Hershey's well known cocoa in this new product guarantees great chocolate taste." Waltrip added that a2 Milk "may help some consumers avoid stomach discomfort," making it the ideal option for many families.
The a2 Milk Company only uses milk from certain cows
According to the official website of The a2 Milk Company, the brand was started back in 2000 in New Zealand by a scientist named Corrie McLachlan and his business partner, Howard Paterson. The company says that while many cows provide milk that is made up of two kinds of beta casein protein, A2 protein and A1, McLachlan and Paterson have ensured that their milk is only sourced from cows that have been selected to naturally produce only the A2 protein. For some consumers, this has been shown to help reduce the digestive troubles that they've previously experienced while drinking milk.
As far as the Hershey company is concerned, working with The a2 Milk Company is a good way to provide more options to their customers. Ernie Savo, The Hershey Company's Senior Director of Global Licensing, said, "Partnering with The a2 Milk Company not only aligns us with a brand that is synonymous with quality and rapid growth but also selling a product that is a staple in almost every family's refrigerator" (via PR Newswire). He's optimistic about the future and believes that Hershey fans will love sipping on the new chocolate milk. It will be available in two options: 59-ounce refrigerated milk cartons and 8-ounce containers available in single, 6-pack and 18-packs.