Instagram Is Loving Rachael Ray's Sweet Halloween Dog Pic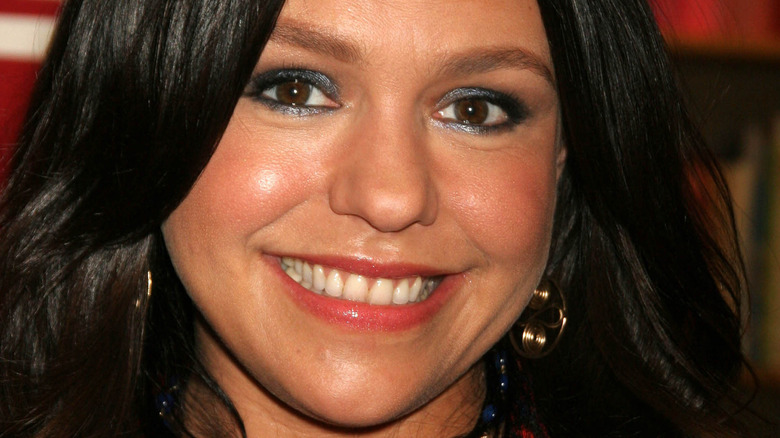 s_bukley/Shutterstock
Rachael Ray does it all. The celebrity chef started cooking from an early age and went on to host multiple television shows, founded a lifestyle magazine, authored a ton of cookbooks, and even stars in a daytime television series based around her, per Food Network. And while Halloween can inspire anyone to combine their love of food with costumes and decorations, Ray took this ethos to the next level. In fact, the TV personality can now claim "dog Halloween costume stylist" as a new title in her bio.
In fact, if you need some inspiration for your own pet's next costume, it can't hurt to take a page or two from Ray's playbook. In a recent Instagram post, the star showed off a picture of her dog, Bella, wearing a Halloween costume even sweeter than some candy — and fans absolutely went wild for it. Followers couldn't get enough of the candy-themed outfit, and it just makes sense that the chef's pet would inspire a ton of love and melt some hearts in the process.
Rachael Ray's dog dressed up as a fan-favorite candy
On Halloween, Rachael Ray posted two pictures of her dog, Bella, dressed in a Tootsie Roll costume. "No trick, all treat Happy #Halloween!" she captioned the photo. Bella's costume created an internet sensation, and Ray's followers couldn't get enough of how cute the dog looked in the costume's long-collared jacket emblazoned with the candy's label.
Replies to the post have ranged from exclamations like "Love it!" all the way to declarations such as, "So cute!!! She is a doll-baby!!!!" Others loved the fact that Ray has such an adorable pet, with one replying, "Beautiful dog!!" and another gushing, "She's so cute and the costume is great. Happy Halloween." One follower summed up the sentiment best: "Bella is looking as cute as ever in her Halloween costume."
Ray shares dog Bella with her husband, musician John Cusimano, and she regularly posts about their pup on social media. Weeks before revealing Bella's Halloween costume on Instagram, the celebrity chef shared a series of photos of Bella at the pumpkin patch. "#BellasBigLife," Ray captioned the images.