Instant Pot Butternut Squash Soup Recipe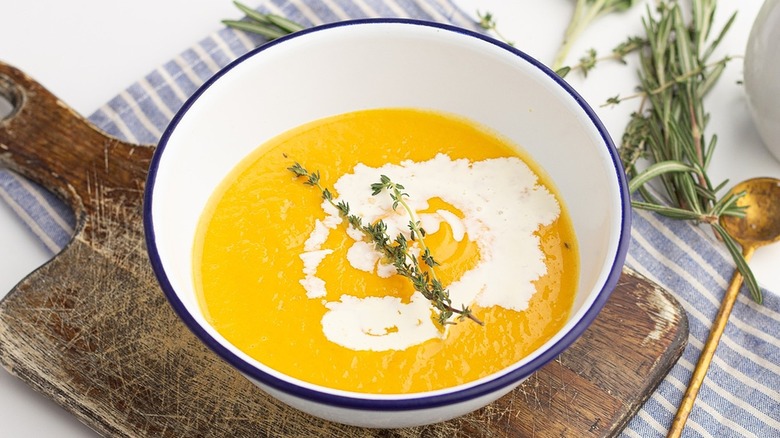 Susan Olayinka/Mashed
Squash seems to never get any love. Every fall, should you stroll through the aisles of your favorite grocery store, you're likely to see a plethora of pumpkin products: pumpkin pasta sauce, pumpkin pizza, pumpkin empanadas...it's a veritable pumpkin-palooza! Meanwhile, squash is also readily available and encompasses the best flavors of fall, but gets very little attention.
Recipe developer Susan Olayinka of The Flexible Fridge is giving squash its time to shine with this Instant Pot butternut squash soup recipe. While pumpkins are all the rage in the US, Olayinka notes that in the UK, it's a little bit different. "Here in the UK [pumpkin is] hardly ever eaten...we only copied you guys in the USA," she explains. Butternut squash, however, is quite popular across the pond, and this is the type she chose to make this wonderfully warming soup. "I am such a soup lover," she says, "especially during the fall time." If you love squash and want to steer away from the pumpkin craze, then this soup recipe is definitely for you — keep reading to learn how to make it.
Gather the ingredients to make Instant Pot butternut squash soup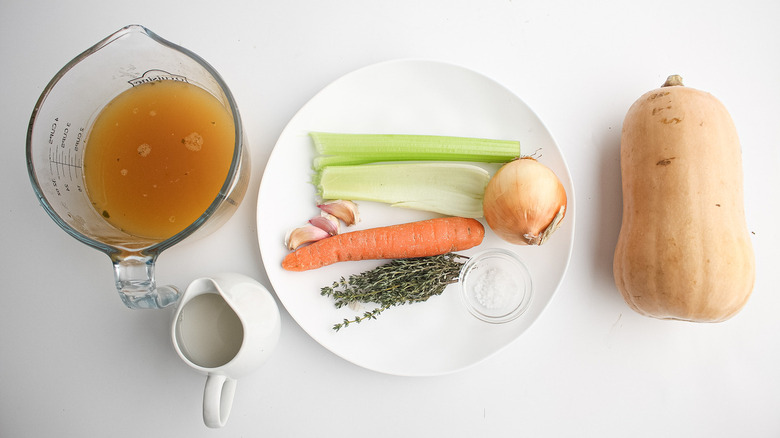 Susan Olayinka/Mashed
This soup is chock full of all sorts of veggie goodness. There's the butternut squash, of course, but it also includes celery, carrots, an onion, fresh garlic, and thyme. You're also going to need some stock or broth as a base — Olayinka says she used vegetable stock, but chicken stock would work just as well.
As a finishing touch, you'll be adding some cream. Olayinka says she used something called "double cream," which she says is like a slightly less heavy version of whipping cream. If you live in an area where light cream is still sold, you could always use that. If not, Olayinka says that either whipping cream or half and half would work, depending on whether you want your soup thicker or thinner.
Prepare the veggies for the soup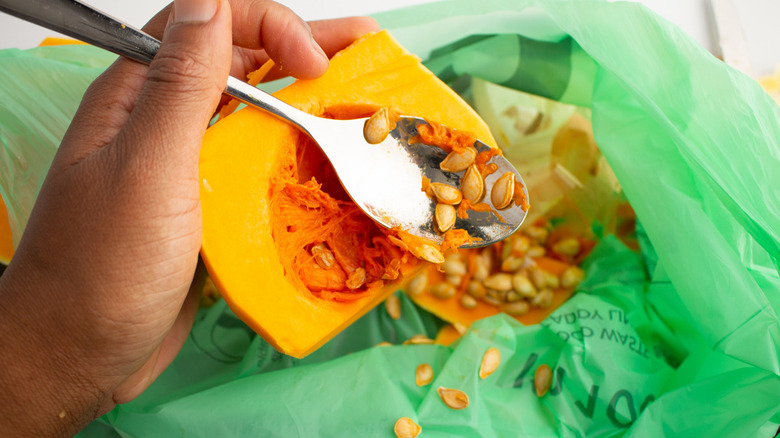 Susan Olayinka/Mashed
Before you can cook the butternut squash, you'll need to peel it and scoop out the guts. "I usually use a big spoon to spoon it out and just dig deep and keep scraping," Olayinka advises. Once it's de-seeded, chop the squash into 1-inch cubes. No need to be too precise, though, since they're just going to wind up in a blender. (Foreshadowing!) Additionally, peel the carrots, onion, and garlic, then chop them all up, along with the celery.
The soup will cook quickly in the Instant Pot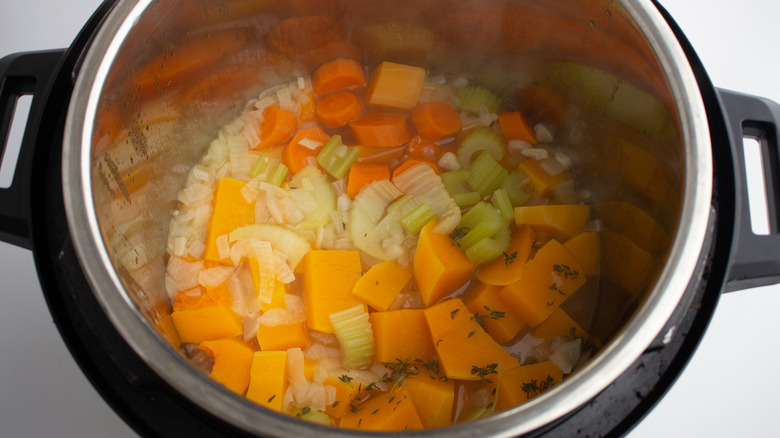 Susan Olayinka/Mashed
Add all of those chopped-up veggies to the Instant Pot, then pour in the stock. Put the thyme in there, too, as well as a teaspoon of salt. Now set the Instant Pot to cook on high pressure, and the timer for eight minutes. Once the cooking time is up, you will need to do a manual release of pressure, then let the soup sit in the Instant Pot and cool down for at least 10 minutes.
Add the cream and blend the soup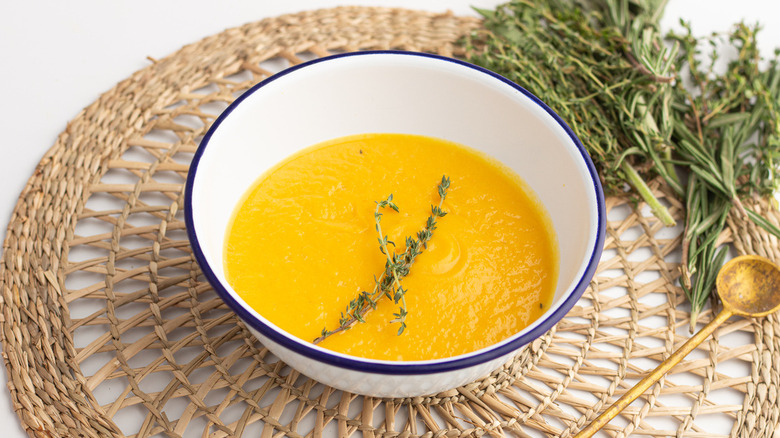 Susan Olayinka/Mashed
Once the soup has cooled down, carefully pour it into a blender. Add the cream, then blend the mixture on high for about 10 seconds, until it is smooth. Olayinka says she likes to serve her soup in bowls topped with a swirl of extra cream. "I also love to have it with some bread and butter, preferably sourdough," she says of good pairing options.
As for other garnishes, she suggests herbs, sunflower seeds, pumpkin seeds, crispy onions — anything that may add a little bit of crunchy texture to an otherwise smooth dish. Of course, you can also pair this soup up with your favorite sandwich, or simply eat it all on its own. Considering how easy it is to whip up, you may be returning to this Instant Pot butternut squash soup recipe all throughout fall and winter!
Instant Pot Butternut Squash Soup Recipe
Recipe developer Susan Olayinka is giving squash its time to shine with this Instant Pot butternut squash soup recipe.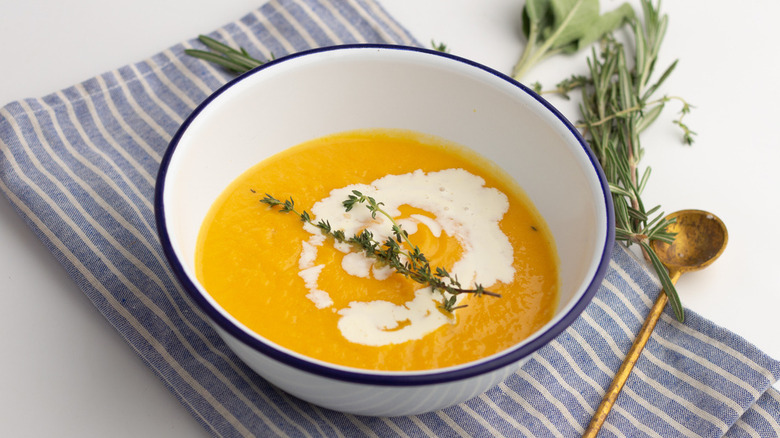 Ingredients
1 butternut squash
1 celery stalk
2 carrots
1 yellow onion
2 cloves garlic
2 cups chicken or vegetable stock
2 ½ ounces fresh thyme
1 teaspoon salt
½ cup whipping cream or half and half
Directions
Peel and chop the squash into 1-inch cubes.
Dice the celery, carrots, and onion, and mince the garlic.
Add the vegetables to the Instant Pot along with the stock, thyme, and 1 teaspoon salt.
Cook the soup on high pressure for 8 minutes.
Manually release the pressure.
Let the soup cool for 10 minutes.
Pour the soup into a blender along with the cream and blend on high for 10 seconds.
Serve with an extra dash of cream and enjoy.
Nutrition
| | |
| --- | --- |
| Calories per Serving | 233 |
| Total Fat | 11.2 g |
| Saturated Fat | 6.3 g |
| Trans Fat | 0.0 g |
| Cholesterol | 36.8 mg |
| | |
| --- | --- |
| Total Carbohydrates | 30.7 g |
| Dietary Fiber | 6.6 g |
| Total Sugars | 8.5 g |
| Sodium | 800.3 mg |
| Protein | 6.7 g |