Paul Hollywood's Blue Eyes Are Perfect For His Game Of Thrones Costume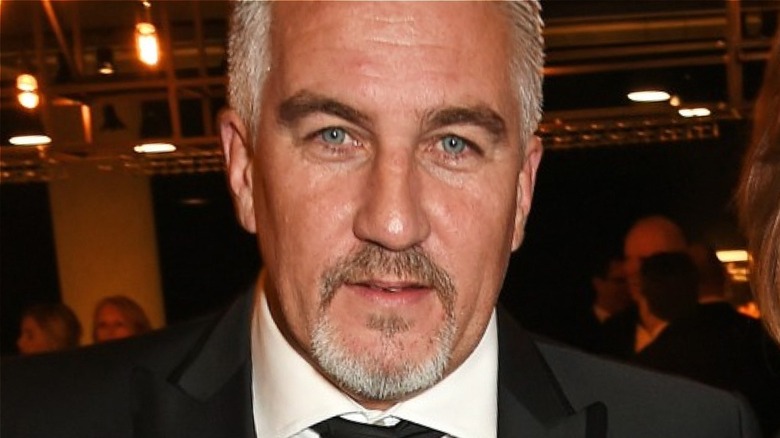 David M. Benett/Getty Images
Paul Hollywood may be a leading authority on bread, having written seven books on the topic (via Delish), not to mention a bestselling cookbook author and one of the top artisan bakers in the United Kingdom, according to the official "Great British Bake Off" website. However, accomplishments aside, the celebrity chef — famous in the United States for his judging on "The Great British Baking Show" — also gets a lot of attention for his striking looks.
In particular, Hollywood's vivid blue eyes have received a lot of press, with some sources questioning whether or not they are real. (They are, and he inherited them from his grandfather, as he revealed to Planet Radio.) The baker's piercing blue eyes, silvery hair, and what some consider to be a villainous personality on television have garnered Hollywood more than one comparison to the Night King, the leader of the White Walkers from the series "Game of Thrones," per Good Housekeeping. Hollywood himself acknowledged the similarities in a 2017 tweet, posting side-by-side photos of himself and the Night King with the caption, "Ok yea I do see the resemblance now ..."
Hollywood's blue eyes inspired his Halloween costume this year
For this year's Halloween, Hollywood decided to put his bright blue eyes to good use by dressing up as a White Walker, complete with a long white wig. He shared a photo of his scary costume on Instagram, along with the caption, "Happy Halloween ... #whitewalker," in case there was any confusion among non-"Game of Thrones" viewers. The post has received nearly 20,000 likes and hundreds of comments in just a day.
Fan reactions included, "Absolutely brilliant!" and "Wicked good!" Several fans wrote "I knew it!" and others remarked how handy it was that he didn't have to use contact lenses to round out the costume. Unsurprisingly, some comments were baking-inspired, such as, "Over baked. Definitely dry," "OMG this is terrifying — look at that laminated skin!" and "Finally, I know what overproofed and underbaked looks like." No word on why Hollywood went as a random White Walker and not the Night King himself, but he certainly played the part to perfection. This shouldn't be surprising since Hollywood's prior dress-up looks have shown that he's willing to go all out for a convincing transformation.