This Pasta Dish Is 1 Of Andrew Zimmern's Favorites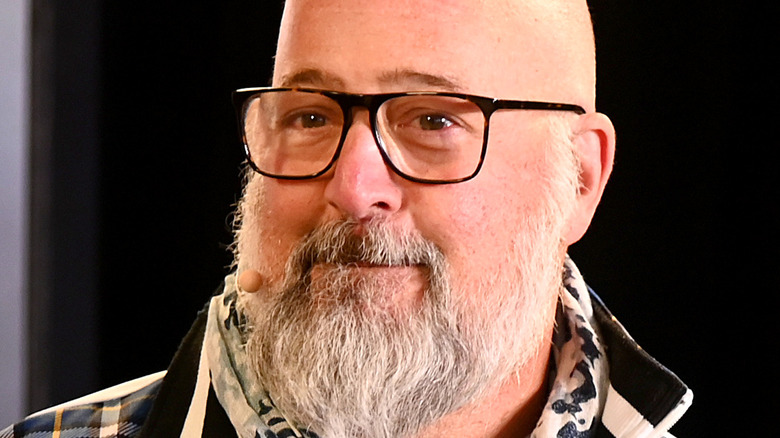 Dave Kotinsky/Getty Images
If you've watched your fair share of food television, you're more than likely familiar with Andrew Zimmern, former host of the Travel Channel show "Bizarre Foods," on which the chef and TV personality chowed down on gut-churning edibles such as deep-fried Cambodian tarantulas and sautéed Samoan coral worms. Or maybe you know Zimmern from his YouTube cooking show "Andrew Zimmern Cooks," where he shares recipes for steaming, hearty dishes like pasta carbonara and risotto milanese. Perhaps you've browsed his Instagram account, where he shares drool-inducing photos of creations such as pasta Bolognese and Japanese fried chicken.
However you know Andrew Zimmern, we're willing to bet you've noticed his love of pasta, which he incorporates into all manner of dishes, from fettuccine primavera to shrimp scampi. But the chef is also a fan of non-Italian noodles, such as an Asian-inspired dish he once called "a favorite meal in the Zimmern household" in an Instagram post.
Cold peanut sesame noodles are an Andrew Zimmern favorite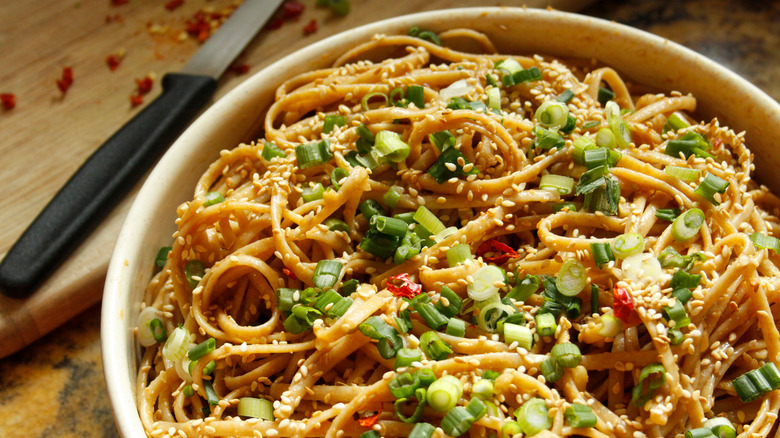 Stephen VanHove/Shutterstock
Do you love pasta? If so, it might make a regular appearance on your dinner plate cloaked in marinara or meat sauce. But if you're looking to expand your pasta palate beyond Italian flavors, take a page from chef and television personality Andrew Zimmern's book and whip up chilled peanut sesame noodles that are sure to please everyone at your table.
Pasta lover Zimmern has shared favorite noodle recipes such as four-cheese macaroni and rigatoni carbonara. But for a lighter, fresher take on pasta, he loves these cold sesame peanut noodles featuring fresh Chinese egg noodles swathed in a luscious sesame-and-peanut sauce that is flavored with rice vinegar, soy sauce, garlic, and ginger. While the noodles are the star of the dish, Zimmern also folds in cucumber, scallions, and cilantro, resulting in a creamy, peanutty bowl of goodness.
"It's a simple, approachable dish with complex flavors that speak to kids and adults," Zimmmern noted in the Instagram video of himself making the meal. We want to eat it right now.