Trader Joe's Fans Are So Excited For Its Returning Winter Wassail Punch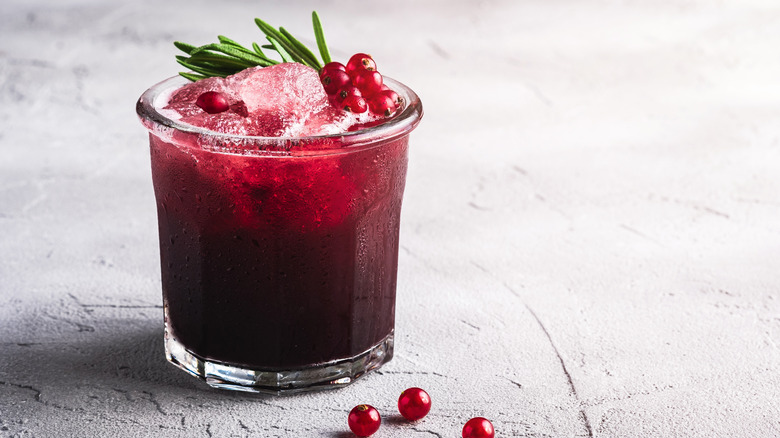 Rodion Kutsaev/Shutterstock
Anyone who loves trying Trader Joe's signature products has most likely sampled Winter Wassail Punch in the past. According to Become Betty, this drink doesn't taste great on its own, but shines as a cocktail mixer thanks to its punch of spice. Others state that the beverage tastes delicious on its own, and liken the flavor to that of a holiday scented candle, per What's Good at Trader Joe's. Whether you love to mix the drink with your favorite spirit or drink it straight as a holiday treat, the time has come to celebrate, as the beverage has finally returned to shelves.
Instagrammer @traderjoeslist recently spotted bottles of Winter Wassail Punch during one of their recent shopping trips and had to pick it up. They posted the find alongside the caption, "IT'S BACK WINTER WASSAIL PUNCH • $3.99 • Move over pumpkin spice... I can't wait to make a holiday cocktail with this punch! Will you be adding this to your #traderjoes holiday haul?" Naturally, followers couldn't hold back their excitement and couldn't wait to share their enthusiasm for the festive drink.
A Trader Joe's drink to celebrate the holidays with
Followers couldn't wait to respond to the post and flooded the comment section. Replies rained in that ranged from, "I mixed this with red wine last year and warmed it up for an easy and delicious mulled wine," all the way to, "I love this! One of my holiday favorites! I make a champagne punch with it on Christmas" (via Instagram). Others have yet to enjoy the punch but can't wait to try it, writing, "I make wassail every year. This could be a great easy shortcut! Definitely gonna check it out," and "Cool I'll try thank u."
If you can't imagine going a year without this festive punch, make your way over to Trader Joe's and stock up while you can. With this secret ingredient, you can tackle any festive cocktail or just drink it straight for an experience likened to drinking a scented candle. Either way, the time has come to rejoice and grab a few bottles of this festive mixer that can help make the season shine.