Costco Shoppers Are Divided On These Gingerbread Decorating Kits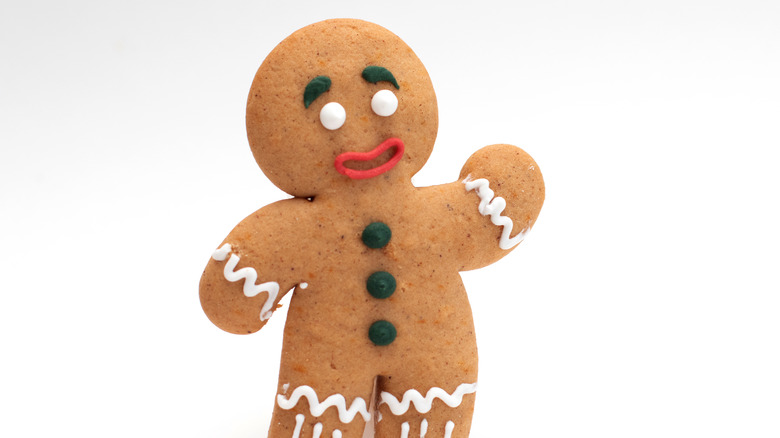 Epov Dmitry/Shutterstock
The holidays are coming and seasonal products are heralding their advance. Yesterday, Costco Buys, the Instagram account that covers the various things to be found at Costco, uploaded a picture of a newly found Stockmeyer Gingerbread Decorating Kit. It features three pre-made gingerbread men and candies to smudge onto their baked bods. "This 3-pack gingerbread decorating kit looks SO FUN!" they exclaimed. "It's just $9.79 and is sure to be a hit with the kiddos!"
As of this writing, more than 2,300 people have liked the post in apparent support of the Costco kit. An emblematic comment for this sentiment is "That is so cute!!!" One Costco shopper picked up a kit and was pleased with the results, writing, "Got these for my kids, they're so fun!!" Someone else exclaimed that the kits were "actually egg-free!" And multiple people shared their desire to buy them. However, there were a few more written-out responses that expressed dislike of the gingerbread decorating kit. 
Some people questioned the taste or texture
At least one person questioned whether the kits were worth the price. "Wow," they wrote, "more than $3 per cookie. Doesn't seem like a good deal" (via Instagram). But as noted on the box, each whole gingerbread is worth eight 32-gram servings for a total of 24 servings in a container. All that said, the $3 each also includes decorations and the fun for children is probably more the mess of creation than the actual cookie. Even so, the price wasn't the only gripe that came up. 
One user complained, "They didn't taste too good last year." Another thought the gingerbread would be "hard as a brick." Perhaps the comments against the Gingerbread Decorating Kit have made you wary of the product. Perhaps, also, you still want to infuse your winter holidays with some gingerbread men. If so, you could make gingerbread men at home. This has the added benefit for childhood memories of being even more hands-on and messy. Another plus is that making them is easy.
The BBC offers a recipe that after 303 ratings still hovers at 4.5 stars. What you need is flour, baking soda, ginger, cinnamon, butter, brown sugar, some eggs, and golden syrup, which Kitchenous says you can substitute with honey. After mixing and chilling the ingredients, roll the dough, cut out the gingerbread men, and bake until they turn a light golden brown. Once they've cooled off, decorate as you will.