Your Furry Friends Deserve These Aldi 2021 Advent Calendars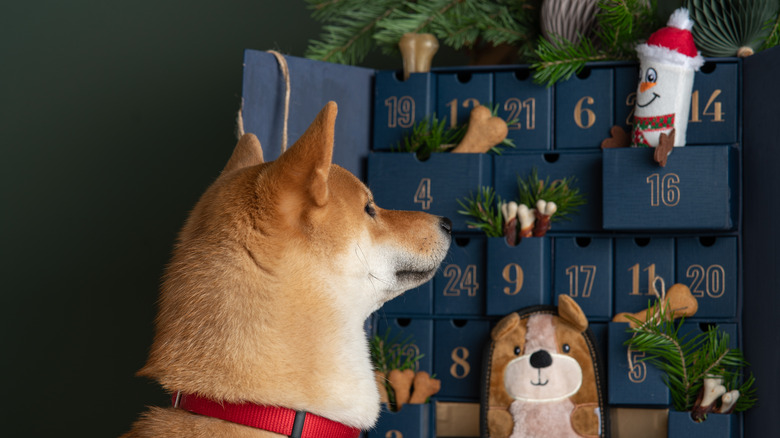 Egrigorovich/Shutterstock
Hang onto your waistbands, folks: It's officially holiday season, and it's going to be a packed few months of eating, drinking, and being merry. From Thanksgiving turkey to Hanukkah latkes to Christmas eggnog, the holidays bring with them some of the most delicious — and calorie-dense — foods and drinks we'll enjoy all year.
If you celebrate the holiday season, you may have purchased an Advent calendar or two in your day. Adapted sometime in the 19th century by German Lutherans to mark the days leading up to Christmas, Advent calendars begin the countdown on December 1st and are typically marketed towards children (via Vox). The calendars come in all styles and sizes and are made out of a range of materials from wood to plastic to felt. However, the ones that are typically the most prized by children are the chocolate Advent calendars, which reveal a piece of candy for every day on the countdown. That's all well and good if you've got kids in your life, but what if your children are fur babies? That's where budget supermarket chain Aldi comes in: They're stocking two fun Advent calendars loaded with pet-friendly treats for cats and dogs alike.
Pure Being Dog Advent Calendar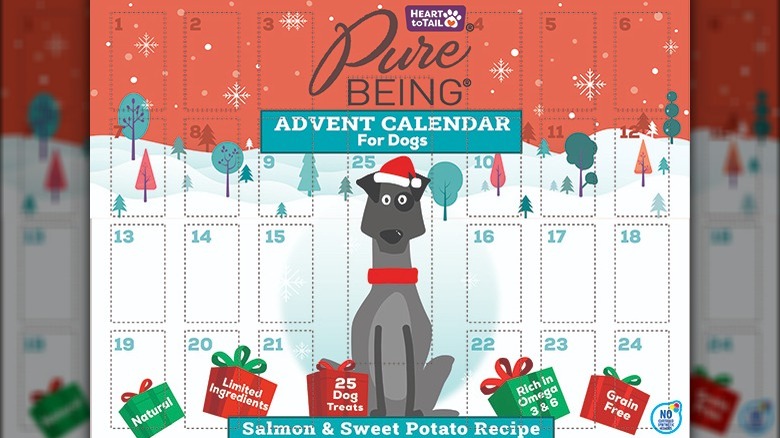 Aldi
If you've got a Fido at home, spoil him this holiday season with this Pure Being dog Advent calendar. On each day from December 1 until December 25, reward your pet with a natural, grain-free salmon and sweet potato treat that he'll eat right up. The calendars will become available on November 3 at just $5.89 each.
Pure Being Cat Advent Calendar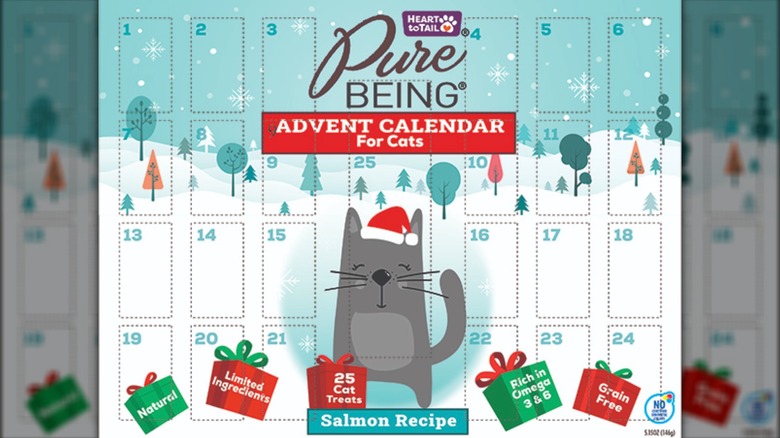 Aldi
If there is a special kitty in your life, the Pure Being cat Advent calendar is just what you need. Like the dog version, there are 25 cat treats, one for each day leading up to Christmas, and another for December 25 itself. They are natural and grain-free with a salmon flavor that your kitty is sure to appreciate. Starting on November 3, you can pick up one of these calendars at your local Aldi for $5.89.