Chef Mattia Agazzi's Risotto Camouflaged As Pizza Recipe - Exclusive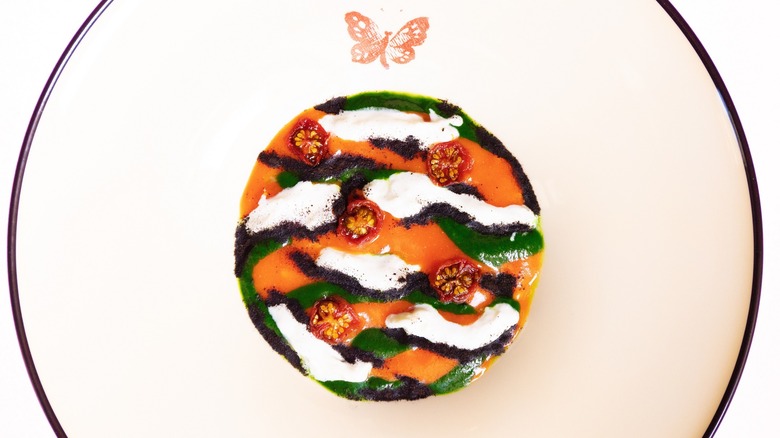 Gabriele Stabile
Massimo Bottura's credentials are obviously no joke — we're talking three Michelin stars and the title of World's Best Restaurant for his groundbreaking Modena restaurant Osteria Francescana. But the superstar chef is well-known for showcasing his patented brand of humor both inside the kitchen (his signature creations include the whimsical Oops! I Dropped the Lemon Tart and Beautiful Psychedelic Veal, Not Flame-Grilled) and out. Chef Mattia Agazzi, who has worked for Bottura at Osteria Francescana, shared with Mashed one such hilarious moment, recounting the time that his boss asked him to take the lead on Bottura's first foray into the American dining scene. "Come on Mattia, get ready quick!" said Agazzi, recalling the frantic instructions he received from Bottura. "We're going to Beverly Hills to open a pizzeria!"
While Bottura's U.S. debut did, in fact, end up with a 90210 zip code, it was never intended to be a humble pie joint. Far from it. Instead, the restaurant turned out to be an outlet of the swanky Gucci Osteria da Massimo Bottura (yes, it's located inside the namesake luxury Italian retailer's Rodeo Drive store), which recently earned a coveted Michelin star in just a little over year after opening its doors.
On the menu, you'll find Agazzi's fabulous homage to Bottura's prank, the cheekily named Risotto Camouflaged as Pizza. "We wanted you to prepare a risotto that makes you think about pizza," said Agazzi. "How do we do it? Using the main ingredients of a classic pizza turned into a different form, to work as risotto. The burnt capers would bring you back the texture and taste of a typical pizza crust. The tomato water is the evolution of the tomato sauce spread over the stretched dough, while the basil cream is the final touch." The result, according to the chef, "tastes more like pizza than pizza itself."
Sounds delicious, right? Well, if you can't make it over to the Hills of Beverly to sample Risotto Camouflaged as Pizza at Gucci Osteria, you can simply (well, maybe not so simply) make the Michelin worthy dish yourself. Follow chef Agazzi's recipe below and master his culinary sleight of hand in your own kitchen.
Chef Mattia Agazzi's Risotto Camouflaged As Pizza Recipe - Exclusive
If you can't make it to Gucci Osteria to sample Risotto Camouflaged as Pizza, you can make the Michelin-worthy dish yourself with chef Mattia Agazzi's recipe.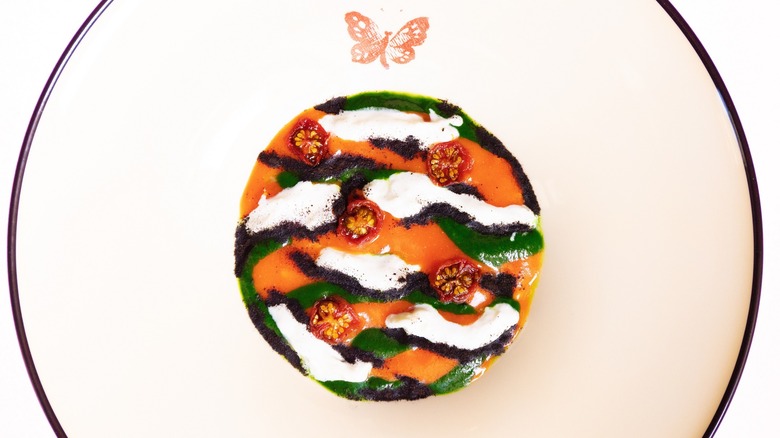 Ingredients
11 pounds of Roma tomatoes
5 cups of cherry tomatoes, divided
Pinch of dried oregano
Salt, to taste
2 Tablespoons olive oil, divided
Freshly picked basil leaves from one bunch of basil
1 cup rinsed and dried salted capers
½ teaspoon oregano powder
Sugar, to taste
1 cup carnaroli rice
1 ounce unsalted butter
1 ounce Parmigiano Reggiano, grated
1 tablespoon of Wildflower Honey
Directions
To make the tomato water, blend Roma tomatoes and strain through a fine mesh cloth overnight. This should yield about 4 cups of tomato water.
To make the pomodorini, add 2 ½ cups of cherry tomatoes, a pinch of dried oregano, a pinch of salt, and 1 tablespoon of olive oil to a baking dish. Cook in the oven at 480 degrees F for 15 minutes, then blend everything. Season and strain. Keep it in the fridge.
To make the basil cream, blanch the basil leaves. Then, using an immersion blender, blend with water (as needed) and emulsify with olive oil, to taste. Strain. Keep it in the fridge.
To make the burnt caper powder. rinse salted capers under water for 30 minutes. Then, dry overnight in a dehydrator or in the oven at low temperature. Toast in a hot, non-stick sauté pan until capers are smoking and evenly charred. Allow to cool and pulverize in a blender.
To make the dehydrated cherry tomatoes, blanch and peel the remaining 2 ½ cups of cherry tomatoes, chilling them in iced water. Then cut them in half, and season with even amounts of salt and sugar to taste, and a touch of olive oil. Dehydrate them for 6 hours at 130 degrees F.
To cook the rice, toast the rice in a wide bottomed pot (dry, without any fat). Deglaze with 2 ½ cups of warm tomato water and stir. "Risottare" for about 14 minutes, until the water has been absorbed by the rice and the bottom of the pan is visible as you stir. Finish with honey, butter and Parmigiano Reggiano. Salt to taste. Remove rice from the pot and pour into a tray to cool.
To plate the risotto camouflaged as pizza, pour caper powder lightly into the middle of the plate, then place risotto over the caper powder. Finish the top surface of the rice by disguising it as a pizza with the pomodorini, basil cream, the stracciatella of the burrata and dehydrated cherry tomatoes. Have fun with it and enjoy!