Burger King Indonesia's New Burgers Come In A Shocking Color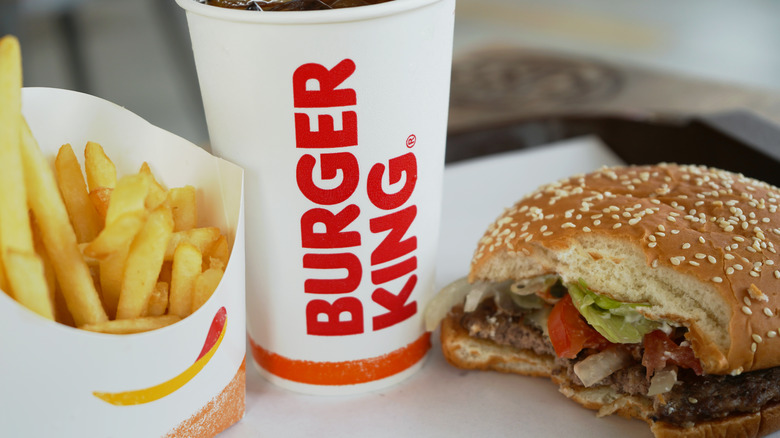 NP27/Shutterstock
Sometimes, ordering the same old thing at your local Burger King gets old and you crave a bit of novelty. The fast food chain has come up with a ton of items over the years that address this particular issue. According to The Recipe, products like the Sprout Surprise Whopper, Bacon Sundae, or Whopperito have offered new spins on classic offerings, but just couldn't win over enough diners to stick around on menus. The fast food chain now has an unusual product that can get anyone ready to explore something new.
Chew Boom reports that Indonesian Burger Kings now offer a ton of Purple Seoul products that come in their namesake color. Customers can try out new Purple Seoul Beef Burgers and Purple Seoul Chicken Burgers alongside Blueberry Sundaes, Purple Fusions, and Blueberry Superfloats. The purple-bunned burgers truly give diners something to talk about. The beef burger comes with Australian beef patties, mozzarella, purple cabbage, extra long slices of beef bacon, and a Korean sweet and spicy sauce inside a soft purple bun. If this item can't get you in the door, the purple chicken burger just might do the trick.
Burgers for everyone who loves the color purple
If you want to avoid red meat, Indonesian diners can pick up Purple Seoul Chicken Burgers that feature crispy chicken filet, purple cabbage, the same Korean sauce, shredded mozzarella, and beef bacon inside a purple bun, per Brand Eating. Both burgers come with a suggested retail price of 40,000 Indonesian rupiahs, the equivalent of $2.81 (via Chew Boom). Burger King plans to keep the items on menus until November 30, so make sure to make your way to Indonesia in the coming weeks to sample these items. Otherwise, you have to keep your fingers crossed that these items prove popular enough to make it over to North America sometime soon.
Burger King didn't forget about dessert and also found some great purple treats to end a meal with. The creatively-named Purple Fusion features vanilla soft serve ice cream with blueberry yogurt, while the Blueberry Superfloat comes with soft serve vanilla ice cream loaded with Sprite and fresh blueberries. The chain rounds out these sweet offerings with the Blueberry Sundae, featuring soft serve vanilla ice cream loaded with blueberry sauce. These festive colors hopefully make enough of an impact on diners to avoid succumbing to the same fate as the Whopperito, but for now, only time can tell what happens to these spectacularly purple new menu items.