Trader Joe's Adorable Thanksgiving Pie Truffles Are Turning Heads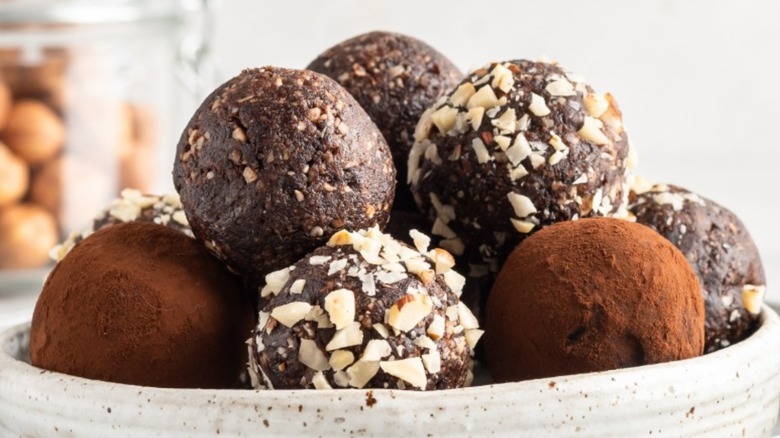 Alena_Kos/Shutterstock
With Thanksgiving only a few weeks away, people are already gearing up for the best day in November. On the fourth Thursday of the month, families and friends around the nation will gather together to give thanks, watch truckloads of football, and snuggle up in front of the Macy's Day Parade. As if this doesn't already sound like a homebody's dream come true, there's always time in the day to sneak off for a mid-afternoon nap. And let's not forget about the fabulous food you get to enjoy on this special day (via USA Today). From mashed potatoes and homemade stuffing, to apple pie and sweet potato casserole, there are many Thanksgiving enthusiasts who have been waiting all year long to take their first bite of roasted turkey. 
While no one can deny that Thanksgiving is the food holiday of the year, sometimes it can be tricky to find ways to mix things up — especially when there's practically a set menu of traditional mains and Thanksgiving sides. Looking for ways to spice up your turkey day? Trader Joe's has got you covered. Whether you are looking for a cute gift to bring to a Friendsgiving, or are searching for the perfect complement to your Thanksgiving pies, this grocery store chain has got the ideal holiday dessert for you: Thanksgiving Pie Chocolate Truffles.
Trader Joe's is helping make Thanksgiving extra sweet this year
According to Trader Joe's, in each package of these holiday-themed truffles, lucky customers will find four flavors of Belgian-made chocolate, all in the shape of pie slices — how cute is that? 
 Upon unwrapping the bright orange box, expect to find apple pie flavored truffles, which feature caramel apple cinnamon filling with a milk and white chocolate shell. The next festive flavor is pumpkin pie, which has a cranberry ginger cinnamon stuffing, and is wrapped with a milk and dark chocolate case. The third flavor of the bunch? A pecan caramel pie truffle, which includes a salted caramel pecan filling wrapped in a milk and dark chocolate outer layer. Last but not least is a traditional truffle flavor for all the chocolate lovers out there: Silk Mousse Pie. This variety features a chocolate and vanilla creme filling, encased with milk and white chocolate. To top that off, every truffle is sprinkled with biscuit crumbs, milk chocolate pieces, caramelized pecan nuts, and brownie cookie crumbs, respectively.
And we're not the only ones excited about these fall-flavored treats. User @traderjoesobssed took to Instagram to share their excitement about these festive chocolates, stating that "they did not disappoint." Trader Joe's fans mimicked the same excitement in the comment section, with responses ranging from "Love these" to "Running to try these babies because they sell out fast."