Krispy Kreme's New Donuts Feature These Classic Thanksgiving Flavors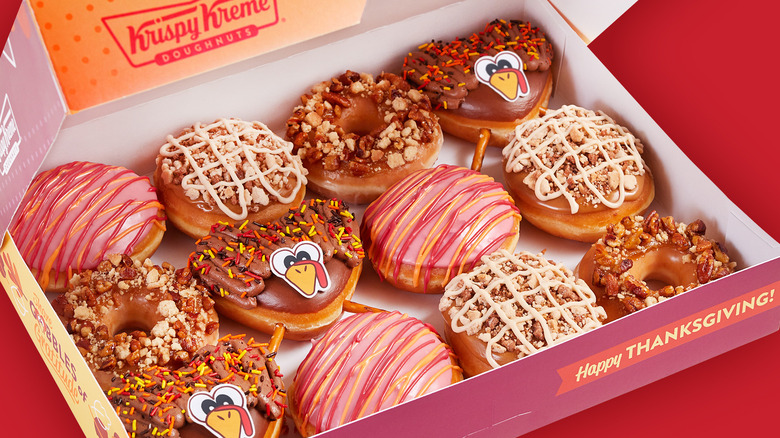 Krispy Kreme
When it comes to celebrating Thanksgiving with holiday flavors, you have a few options at your fingertips. Items like Starbucks' Pumpkin Cream Cold Brew or the Del Taco Caramel Apple Shake all invoke the spirit of fall, but don't necessarily tap into the joy of Thanksgiving. Krispy Kreme plans to go a step further with a new set of doughnuts that not only take inspiration from fall, but also draw creativity from the upcoming holiday. According to a press release sent to Mashed, the doughnut chain plans to release a new series of confections starting today in a custom gratitude box. 
Krispy Kreme now has four new selections to choose from, including the Pecan Pie Doughnut, Cranberry Orange Doughnut, Dutch Apple Pie Doughnut and the Gobbler Doughnut. For a limited time at participating locations, shoppers can pick up variety boxes featuring these items that guarantee to win over anyone with a sweet tooth that craves something seasonal. If the names alone can't win you over, the flavors can definitely inspire more doughnut love this holiday season.
A season for Krispy Kreme doughnuts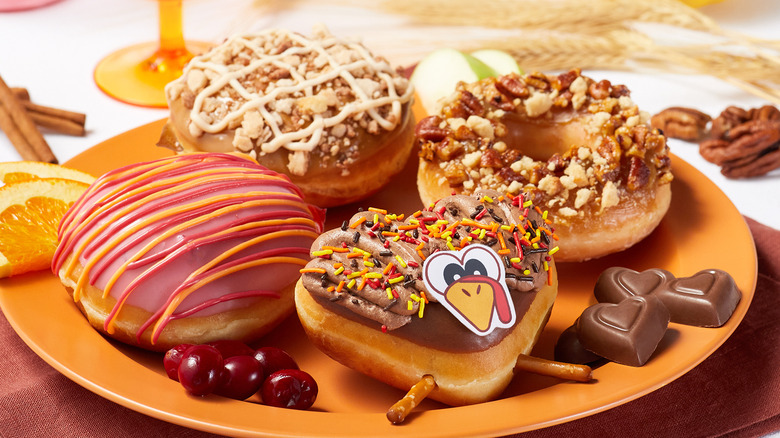 Krispy Kreme
If you want to get your hands on any of these new flavors, make sure to move quickly. According to the press release, the Pecan Pie Doughnut starts off as an original glazed confection that gets dipped in a butter tart filling and topped with candied pecans and pie crumbles. On the other end of the spectrum, patrons can try the Cranberry Orange Doughnut that comes with cranberry orange icing, or the Dutch Apple Pie Doughnut, featuring an apple pie filling and then gets dipped in caramel icing and topped in cinnamon and icing. The Gobbler Doughnut rounds out the group and comes in the shape of a heart that gets dipped in chocolate icing and decorated with chocolate Thanksgiving sprinkles, and a turkey fondant piece.
The items even come in a special gratitude box that lets diners write a custom note of thanks on top if you decide to gift the new selection of pastries to someone special. If you have been on the lookout for an exciting new way to celebrate Thanksgiving, see if these Krispy Kreme offerings can live up to their bold flavors. With any luck, these treats can put you in the mood to spread some cheer this holiday season and can inspire some new memories.