Instagram Is Raining Hearts On This Pic Of Giada De Laurentiis And Daughter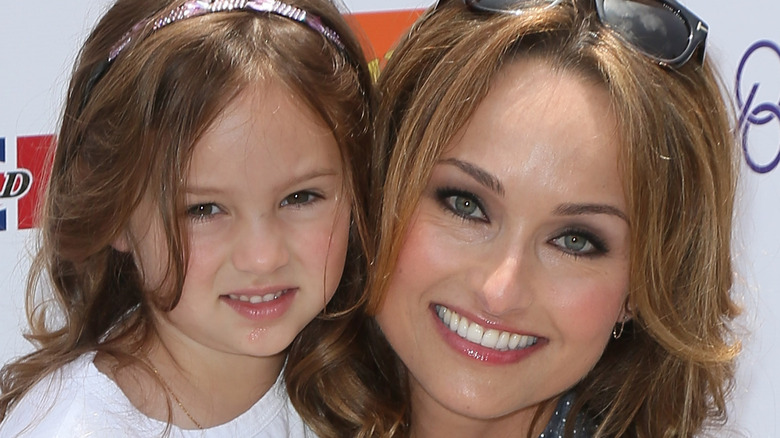 David Livingston/Getty Images
For celebrity chef Giada De Laurentiis, her daughter Jade is her anchor. The famous cook wasn't sure about having kids because she dealt with the tragic loss of her brother when he was just 29 years old (via Delish). "My brother's passing made me afraid, I think because I was afraid that we could have a child and lose him or her too," she explained. "I didn't know if I could go through that kind of pain with anybody else the way I did with my brother."
However, De Laurentiis decided to take a leap of faith when she realized that she may regret never having a kid of her own. Now her daughter is like her mini-me, even exploring the kitchen as a baby. The cookbook author explained at the time, "I give her little tastes of the food and she's like, 'Mmm!' Sometimes there's nothing on the spoon and she still goes, 'Mmm!'" But these days, little Jade is all grown up. The chef recently posted an adorable photo of herself with her daughter, much to the delight of her fans.
Fans are amazed at how big she's gotten
De Laurentiis posted a colorful, happy picture of herself and Jade on Instagram, as they dug into a delicious breakfast in New York City recently. She added that it feels great to get back to filming once more. Fans were absolutely blown away by the latest update and were thrilled to catch a glimpse of Jade. Someone marveled at how much the Food Network star's daughter has grown and wrote, "How can it be that tiny little Jade has become so big, so grownup, so fast? It feels like just a couple of years since I used to see little Jade eating with you on your shows!"
Another fan joked that the chef still needed to eat the food on her plate, while her daughter was done with hers. Meanwhile, an Instagram user wrote that the duo look like they could be sisters. A fan remarked, "She is your twin. Adorable."