Apple Spice Cookies Recipe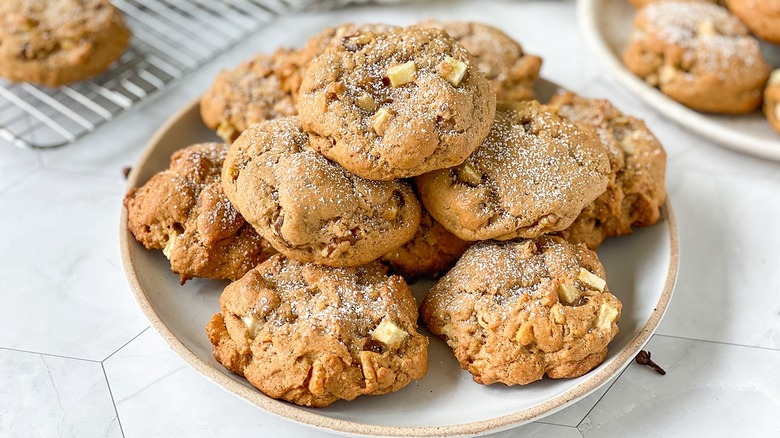 Hayley MacLean/Mashed
Are you one of those people who find the experience of biting into a freshly picked apple to be the very essence of fall? If so, come huddle with us as we explore this recipe for apple spice cookies, which recipe developer and nutritionist Hayley MacLean promises will envelop you in a full-on fall sensory experience. Her recipe for apple spice cookies is pure autumn poetry from that first magical moment when the scent of buttery baked apples, sugar, and cinnamon come wafting from your oven. And, of course, the first bite of one of these cookies is pretty exciting as well.
"These cookies are so wonderful because they represent all the best parts of fall," MacLean says. "From the warming spices to the soft apple pieces, they are the absolute best treat for this time of year." And while a tall glass of milk or a steaming pumpkin spice latte would be a perfect accompaniment, MacLean recommends serving these with a cup of slow cooker hot apple cider. Let's not waste anymore time — keep reading to learn how to make this wonderful fall treat!
Gather your ingredients to make apple spice cookies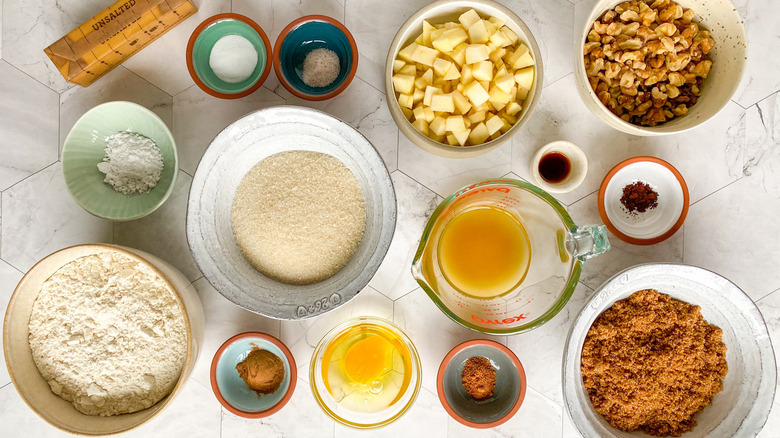 Hayley MacLean/Mashed
If you bake frequently, then there's a good chance you already have most of the ingredients for MacLean's apple spice cookies recipe on hand. For starters, you'll need white sugar, brown sugar, all-purpose flour, baking soda, salt, vanilla extract, ground cinnamon, unsalted butter, and an egg. You may not have ground nutmeg and ground cloves, but you'll need a bit of each as well. There's also a pretty good chance that you have apples in your fridge, and you'll need one. MacLean does suggest that you go with one of the more tart varieties of apples, such as Granny Smith. To hone in on that wonderful apple flavor, you'll also want to have some apple cider on hand. And please note, ideally your refrigerated ingredients will be at room temperature when you start your prep — that includes the apples and apple cider, along with the butter and egg.
Finally, MacLean has included chopped walnuts as an optional ingredient, because what goes together better than apples and walnuts? Of course, you can simply omit the walnuts altogether and still get an amazing cookie. As for garnish, you may want to add a little bit of powdered sugar to top off the cookies.
Mix the wet and dry ingredients separately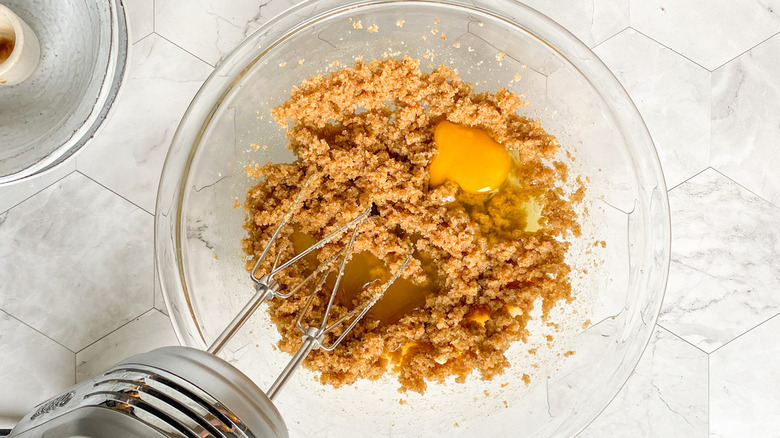 Hayley MacLean/Mashed
Start by setting your oven to 350 F. Now, grab yourself a large mixing bowl, and use it to cream together the butter, the white sugar, and the brown sugar until it is the consistency of wet sand. Then beat in the egg, the vanilla extract, and the apple cider to form a loose batter. Now, grab a separate bowl and add in the flour, baking soda, cinnamon, nutmeg, cloves, and salt, then whisk these all together. "The wet and dry are mixed separately to make sure that they evenly disperse throughout the dough so everything bakes properly," MacLean explains of the process. 
Finish making the batter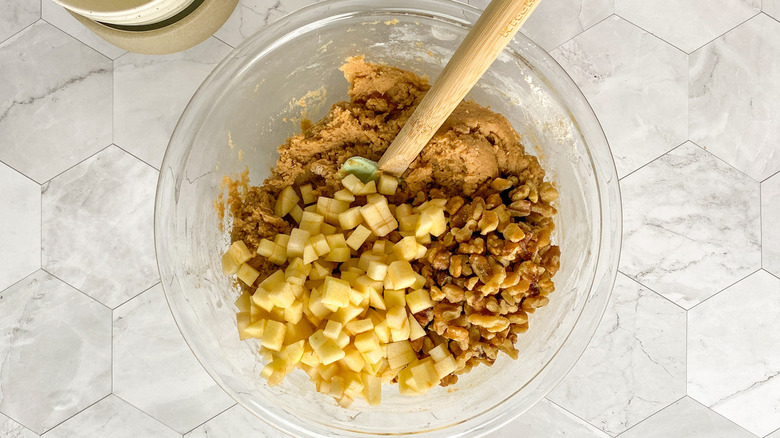 Hayley MacLean/Mashed
Now that you've mixed the wet and dry ingredients separately, you can finally combine them. Gradually add the dry ingredients to the wet ingredients, mixing just until combined. Once you have a uniform cookie dough, go ahead and add in your chopped apples — MacLean says you should aim to make them like "tiny uniform pieces." Also, if you're opting for the optional walnuts, go ahead and toss those in at this point as well. Gently fold these ingredients into the cookie dough.
Bake the cookies and enjoy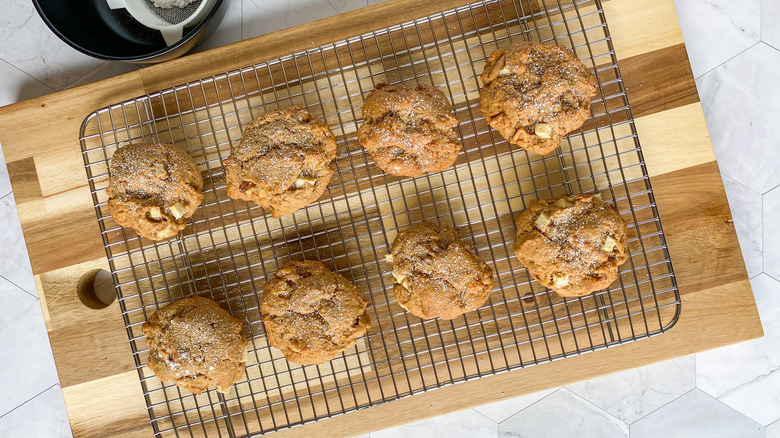 Hayley MacLean/Mashed
Now, you're finally ready to bake! Drop the dough by heaping teaspoonful onto greased or parchment-lined cookie sheets, with two inches of space between each. If desired, form the cookies into balls, recognizing that doing so will result in a "less rustic-looking" baked cookie.
Assuming your oven has preheated fully, pop the cookie sheet onto the middle rack of your oven, bake for 13 minutes, and then check to see if they are beginning to turn golden brown. If not, let them bake for another minute or two. In either case, remove from the oven, transfer to a wire baking rack to cool, and serve, dusted with powdered sugar. Each bite will have the crispy, refreshing flavor of apple along with an irresistible crunch from the walnuts — these apple spice cookies really are the perfect fall treat!
Apple Spice Cookies Recipe
If you're looking for the perfect fall cookie, then look no further than these delicious apple spice cookies, courtesy of recipe developer Hayley MacLean.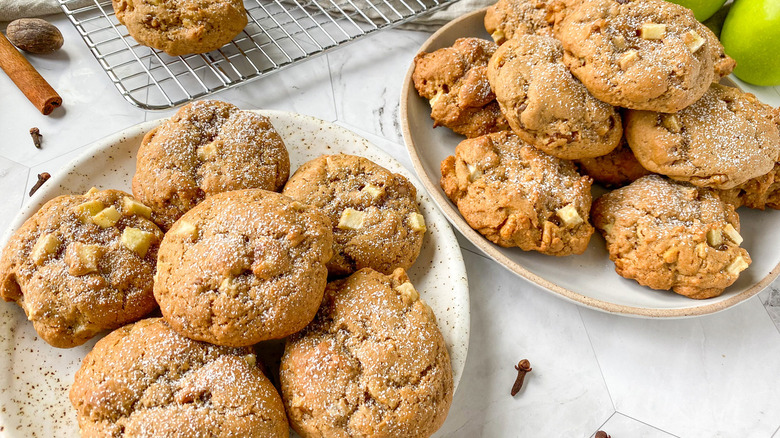 Ingredients
½ cup unsalted butter, softened
⅔ cup white sugar
⅔ cup brown sugar
1 egg
1 teaspoon vanilla extract
¼ cup apple cider
2 ¼ cups all-purpose flour
1 teaspoon baking soda
2 teaspoons ground cinnamon
1 teaspoon ground nutmeg
½ teaspoon ground cloves
½ teaspoon salt
1 cup Granny Smith apple, peeled and chopped
Optional Ingredients
1 cup chopped walnuts
powdered sugar for garnish
Directions
Preheat the oven to 350 F.
In a large mixing bowl, cream together the butter, white sugar, and brown sugar. Then, beat in the egg, vanilla extract, and apple cider.
In another mixing bowl, whisk together the flour, baking soda, cinnamon, nutmeg, cloves, and salt.
Gradually add the dry ingredients to the wet ingredients, mixing just until combined.
Fold in the chopped apples and optional chopped walnuts.
Drop the dough by heaping a spoonful onto a greased or parchment-lined cookie sheet, about 2 inches apart. Form the spoonfuls into balls if you desire a less "rustic" looking cookie.
Bake the cookies for 13 to 15 minutes, or until they begin to brown.
When they're done baking, place the cookies on a wire rack to cool.
Dust the cookies with powdered sugar before serving.
Nutrition
| | |
| --- | --- |
| Calories per Serving | 121 |
| Total Fat | 4.2 g |
| Saturated Fat | 2.5 g |
| Trans Fat | 0.2 g |
| Cholesterol | 16.8 mg |
| | |
| --- | --- |
| Total Carbohydrates | 19.6 g |
| Dietary Fiber | 0.6 g |
| Total Sugars | 10.2 g |
| Sodium | 82.9 mg |
| Protein | 1.5 g |