Aldi Is Trying To Make Thanksgiving Affordable. Here's How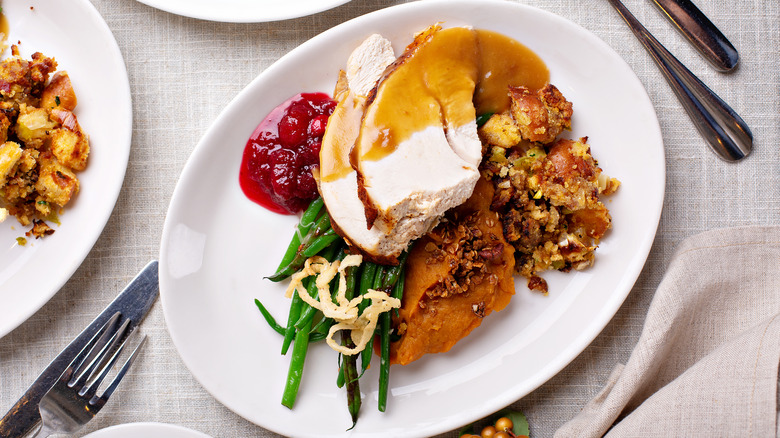 Elena Veselova/Shutterstock
Discount grocery retailer Aldi is getting even more affordable this holiday, thanks to price cuts on popular Thanksgiving items, per Grocery Dive. The move isn't limited to mushy canned peas, either. Aldi has slashed prices on Thanksgiving necessities like Butterball turkeys, sweet potatoes, side dishes, and pumpkin pies. Deals are available both in stores and online.
The move is allegedly the chain's best effort to push back against food-related inflation that's happening all over the country right now, Grocery Dive says. In fact, Aldi's Turkey Day deals are so good that a family of 10 will be able to nosh on a full meal for less than $30, the company shared in a press release. This represents a 40% savings compared to what shoppers usually spend, according to a customer survey. "With these savings, they can add more people to their guest list or round out their feast with festive extras like delectable drinks, savory appetizers, satisfying desserts, and cheerful seasonal décor," Aldi suggests.
Aldi's other Thanksgiving plans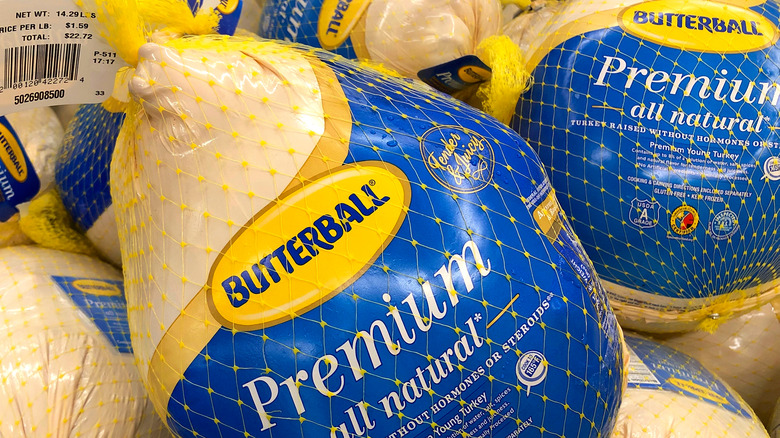 Sheila Fitzgerald/Shutterstock
The significant cost savings aren't the only way that Aldi plans to celebrate Thanksgiving. After a couple of pretty challenging years, Aldi is once again giving every employee two $30 gift cards to cover Thanksgiving meal costs, according to the press release. The idea behind this is, "one to keep, one to give." Employees who are feeling extra charitable may choose to give two meals.
"The culture of kindness that exists among the Aldi community is nothing short of remarkable," says Dave Rinaldo, co-president of Aldi U.S., noting that the chain's shoppers and employees are always helping other people out. "We're proud to carry that tradition forward this Thanksgiving and pay-it-forward in our communities."
The move is well timed, as food costs are rising at rapid-fire pace. The food-at-home price index increased by 1.2% in September, and then by another 0.9% in October, according to the Consumer Price Index posted at the U.S. Bureau of Labor Statistics. This is more of the same, unfortunately, as food prices have steadily risen all year long. While that's not something to be thankful for, the generosity of companies like Aldi certainly is.