Tom Colicchio Was Almost On This Classic HBO Show
Lev Radin/Shutterstock
Tom Colicchio is a household name on account of his long-running foodie classic, "Top Chef." But long before he was given his flours for "Top Chef," Colicchio was almost featured in another top-rated TV show. But this one wasn't on a food network. According to The Hollywood Reporter, Colicchio was about to appear on the pilot of HBO's "Sex and the City," but a bout of bad luck the day prior screwed up his chances.
According to Colicchio, a scene was scheduled to be filmed at his iconic New York City restaurant, the Gramercy Tavern. Colicchio was asked to operate the grill in the background, but a series of unfortunate events put a stop to that. "It was shot in my restaurant when I had Gramercy Tavern, and they wanted me by the grill. Two things happened: I screwed up my leg, so I was on crutches, and we had a fire in the restaurant the night before, so we couldn't light the grill," Colicchio explained. But fortunately for the chef, he would have another shot to act in a major television series.
He was also cast in 'Treme'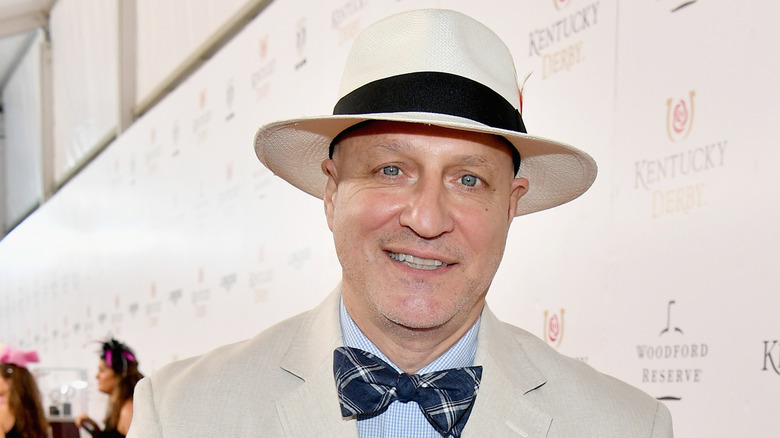 Dia Dipasupil/Getty Images
The "Top Chef" judge may not have gotten the chance to be part of "Sex and the City," but years later, he received a call from a certain television creator that made him want to participate in a different show. In a Q&A session with The Hollywood Reporter, Colicchio recalled a phone call from David Simon's office, who wanted to cast him in a new show he was producing for HBO. He already knew Simon's work from "The Wire," so his interest was piqued. The scene would feature Colicchio and a handful of other notable chefs, namely Eric Ripert, Wylie Dufresne, and David Chang.
As opposed to playing a relatively unknown chef in the background, Colicchio and company would be featured as themselves. He accepted the role, and the scene captured the four chefs dining in Janette Desautel's New Orleans restaurant, a major character in the series. Colicchio loved her food and offered her a business card to mentor her when she moved to New York. Colicchio enjoyed the experience, especially since he got to meet up with his chef friends. "The great thing is that we are all so busy, but we get to fly down to New Orleans and spend the day and have a good time. I can't deliver lines, but I can talk about food all night long," he said. Perhaps now, with some more acting credits, he'll be able to make it into the "Sex and the City" reboot!