The Problem Aldi Shoppers Have With Its Organic Heavy Whipping Cream And Half And Half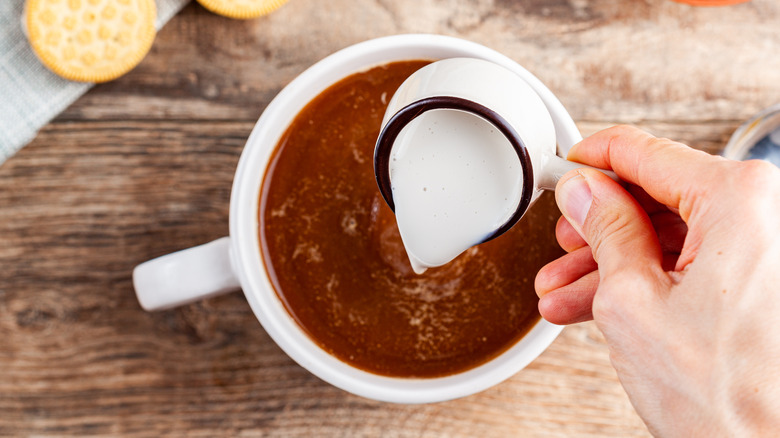 grandbrothers/Shutterstock
For many shoppers, Aldi is a great place to find fresh fruits, healthy vegetables, and plenty of organic offerings at low prices. Recently, the grocery store has added even more organic options to its shelves with the release of its new Simply Nature-brand organic heavy whipping cream and organic half and half, both of which are available for $3.69, according to Aldi's website. 
One Aldi fan was so excited about these new organic items that they even made a social media post alerting their followers to check them out. "Organic Half and half and Organic Heavy Cream are here for the holidays," wrote @aldifavoritefinds on Instagram, which had fellow Aldi fans pleased to see the grocery store adding more organic offerings to its dairy section. However, many of them expressed one key complaint about the products. The Simply Nature organic items are a part of this week's Aldi Finds, which are special, limited-time offerings that are stocked in smaller quantities and only sold for a short amount of time, per Aldi Reviewer.
Aldi fans wish the organic dairy products were permanent offerings
Unfortunately for lovers of organic dairy products, the heavy whipping cream and half and half's status as Aldi Finds mean they're unlikely to remain in stores for very long. This comes to the disappointment of many shoppers, who expressed wishes on Instagram that the store would make these organic offerings permanent items. "I've been looking for this for so long...so excited. I hope they have it at my local Aldi. I wish it was going to stay permanently though!!" raved @tatormadeco. "Finally!!!!!!! I hope they keep it!" posted @katie.alvis.
Another user asked, "Is there a way to request a product to be carried?" According to @aldifavoritefinds, there is a way to request a specific item at Aldi by filling out the survey at the bottom of your receipt. Perhaps, if enough shoppers request that these organic items be added to store shelves long-term, the organic whipping cream and half and half may become permanent Aldi offerings. In the meantime, fans will just have to stock up on all the organic goods they can while supplies last.