Aldi Fans Are Loving These Fall Eggnog Flavors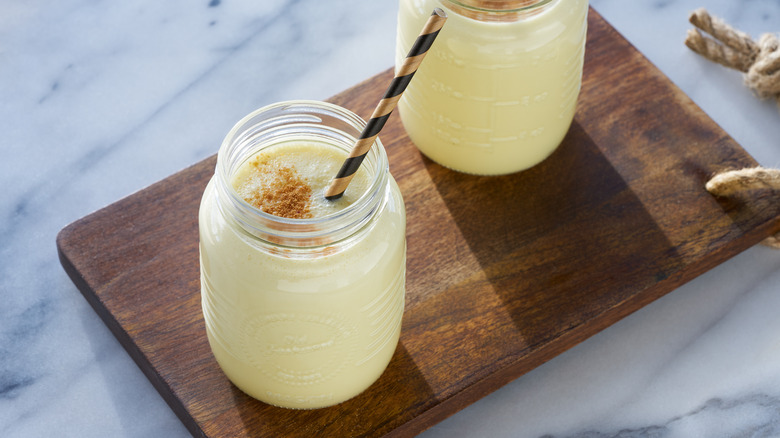 loomitz/Shutterstock
As the temperatures continue to drop, stores have taken note, selling seasonal beverages like eggnog. According to TIME, the drink goes back to early Medieval England and stemmed from a hot, ale-like beverage called posset. Fast-forward a few hundred years and the drink made it to America, where it became associated with winter festivities thanks to its warmth and spices like nutmeg and cinnamon, per Insider. No winter festivity feels complete without this iconic beverage, but not everyone has time to whip up their own batch. Luckily, Aldi now has new fall eggnog flavors perfect for anyone who doesn't have the time to make their own version at home.
Instagrammer @aldi.mademedoit discovered a pumpkin spice eggnog and pecan pie eggnog during their recent Aldi run and couldn't help but show off the find. "I can't handle these eggnog flavors!! @shamrockfarmsmilk not only brought pumpkin spice but, now has pecan pie eggnog," the post caption read. Their followers went wild — excited responses poured in, like "The pumpkin spice eggnog is amazing. It tastes like a Pumpkin spice Cheesecake but in a drink to me." Fans truly love using these eggnog flavors as coffee creamer, with multiple users commenting about how good both festive flavors taste in their morning brew.
The perfect drink for the season
@theamazingaldi, another Aldi fan account, found the eggnog at the same time and couldn't resist posting a photo of the new product (via Instagram). They captioned their post with, "I am so excited Shamrock Farms' new seasonal eggnog flavors will be @aldiusa for the holiday season! @shamrockfarmsmilk Pumpkin Spice Eggnog is rich and creamy with just the right amount of pumpkin spices making it the most delicious drink you'll have all season! Seriously, it's SO good! Be sure to keep an eye out for the Shamrock Farms' Pecan Pie Eggnog coming to Aldi stores soon!" and fans joined in by celebrating the new find with a bunch of love.
The response from followers was largely positive, but some didn't immediately take to the idea of a pumpkin spice eggnog, replying with, "I'm waiting for eggnog ice cream... no pumpkin spice. Enough with the pumpkin spice....every darn year." If you love eggnog, try out this beverage and see if it lives up to the hype. At the very least, you might discover a much easier alternative than brewing your own eggnog at home.