Trader Joe's Snowman Hot Cocoa Bombs Are Almost Too Cute To Eat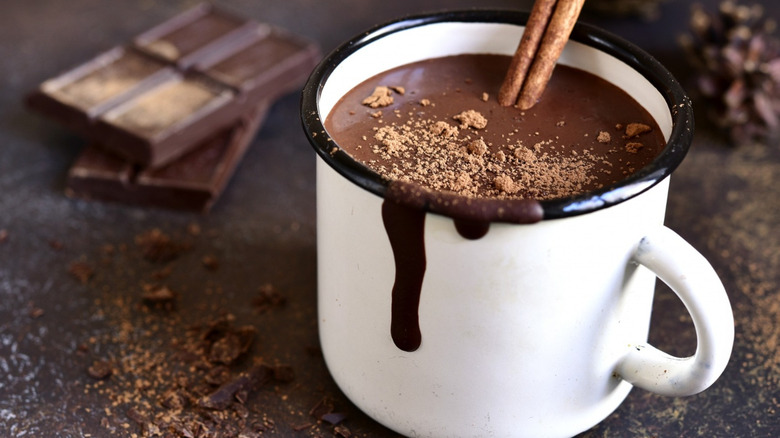 Liliya Kandrashevich/Shutterstock
What could help you get into the holiday spirit more than snuggling under a blanket with a mug of sweet, delicious hot cocoa warming your hands? Perhaps nothing — unless that hot cocoa also happened to come in the shape of a cute, festive snowman. Trader Joe's has just the thing to make your winter even merrier with its adorably delicious snowman hot chocolate bombs, which just returned to store shelves for the 2021 holiday season.
This delightfully delectable sweet treat costs $1.99 and is shaped like a friendly snowman, and once it is popped into a cup of warm milk, it melts into a rich, gooey mug of indulgent hot cocoa, complete with a burst of mini marshmallows that are released into the cup for the perfect finishing touch, describes Tinybeans. The cocoa bombs were such a hit last holiday season that they sold out astonishingly fast, with some shoppers reporting that they had seen them being resold on eBay at staggeringly high prices. To prevent that from happening again this year, some stores appear to be limiting the number of hot cocoa snowmen to five per customer, according to a shopper on Instagram. 
These hot cocoa snowmen sell out fast
To say these snowmen are popular is a bit of an understatement, with many Trader Joe's fans quick to flock to social media to celebrate the return of these sweet holiday treats. "THE HOT COCOA SNOWMEN HAVE ARRIVED," announced @traderjoesobsessed on Instagram, warning their followers, "These usually sell out!" Meanwhile, the @traderjoeslist account shared a post reading, "This is one of the most entertaining ways to make hot cocoa and also makes me really sad because the snowman melts, but then I drink the hot cocoa and all is good in the world!"  
Fellow Instagram users were excited to see these snowmen back on shelves — and to start strategizing their plans to get their hands on some this year. "I picked up two finally after 3 years. Now I know that I need to go beginning of Nov to find them," one user replied. "Omg the hot cocoa snowman is only for 1.99$ wow," another fan raved. If you've been looking for an even more festive twist on hot cocoa, be sure to run, not walk, to your local Trader Joe's before these are sold out for good.