Costco Shoppers Are Thrilled About These Vegan Colby Jack Shreds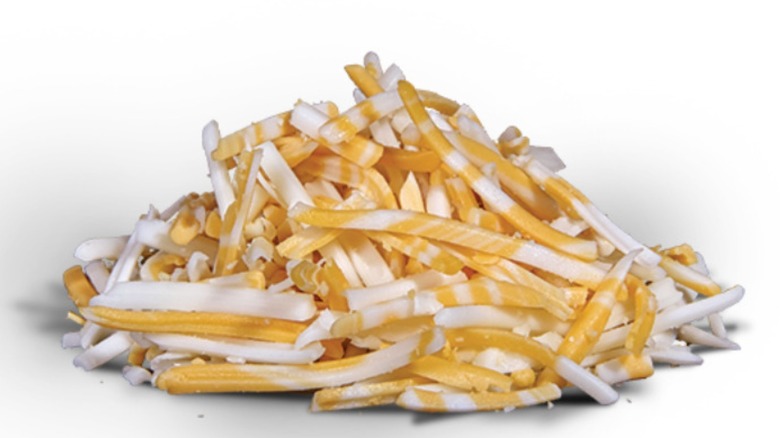 Violife
If there is one thing vegans love, it's options. Although we are far from the early days of veganism, with more and more plant-based options and veggie alternatives hitting the market seemingly every day, it can still be difficult at times for those following a vegan diet to find food that is both completely plant-based and still tastes great. It can be especially difficult to find good vegan substitutes for dairy foods like cheese, which is why we can't blame people for celebrating when they finally find something that is both delicious and fulfills their dietary needs. And if that thing also happens to be on offer at Costco for a great price, well, that's even more of a reason to celebrate. 
That's exactly what happened recently when one shopper stumbled across 100% vegan Violife Colby Jack shreds at their local Costco. They were so excited to see Costco was selling this product that they made an Instagram post to inform fellow fans of plant-based meals. "Violife 100% Vegan Cheese is at Midwest Costco's in a huge Costco exclusive 26.5 oz bag! I made quesadillas with this cheese alternative and they came out fantastic! @violife_foods cheese melts perfectly and tastes amazing. I'm thinking of nachos next time!" @costcohotfinds wrote.
Fans raved about these Violife vegan cheese shreds on social media
Made from coconut oil and organic ground sunflower kernel, with added beta carotene and B12 vitamins, according to the Violife website, this cheese alternative is completely dairy- and soy-free, but "melts great!" Many fellow Costco fans expressed their delight at the vegan find on Instagram. "VIOLIFE AT COSTCO??!!!? OMG," raved @brainfreeblog, while another follower called it "the BEST Alternative cheese on the market." "They were handing out samples of this in quesadillas when I went last time and it was so good! I can't believe it's cheese alternative!" agreed @lounolan.
The Violife Colby Jack vegan cheese can be found in the refrigerator section of Costco, and it is currently going for a steal at just $8.99 for a hefty 26.5-ounce package at the location where @costcohotfinds found it. This could be the perfect item to grab for all your vegan mac and cheese, tacos, grilled cheese sandwiches, or just about any other meal that can be perfected with the mouthwatering addition of gooey, melty cheese. So if you abstain from eating dairy but still want to enjoy the same savory goodness that only a hearty bowl of cheesy pasta can bring, then you'll definitely want to keep an eye out for these new Violife vegan cheese shreds at your local Costco.