Instagram Is Loving Sunny Anderson's 'Random' Encounter With A Fan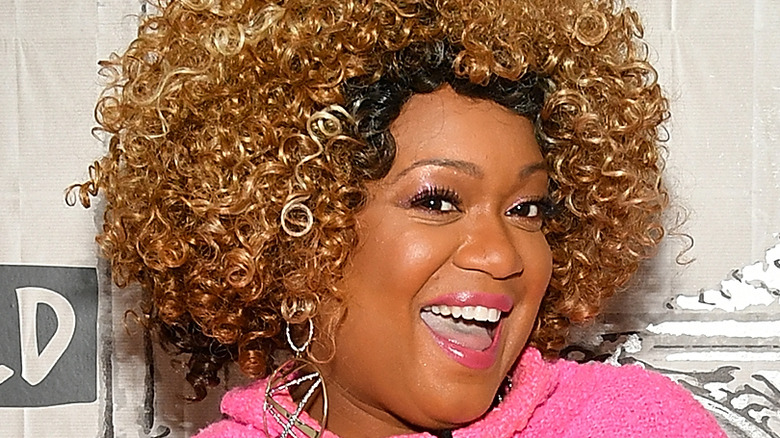 Slaven Vlasic/Getty Images
Food Network personality Sunny Anderson likes keeping her fans in the loop and being vocal about her thoughts on a variety of topics. And yes, she is quite active on Instagram and has a robust fan following. Recently, she shared her love for Mexican food and wrote that she's partial to enchiladas and chimichangas. The star also said that "margarita with a sugar rim is a must." 
In another relatable post, Anderson spoke about how tough it can be to tend to your garden. "It ain't easy being green," she wrote. "Dodged some [bees] to harvest some rosemary, basil, mint, oregano, and the final 3 [chillies] from the patio garden." Wow. She then asked her followers to chime in with their tips and tricks. The television personality also shared a really wholesome post yesterday, and this time around, she had an old friend for company. Her fans were really touched by Anderson's post and shared their own stories with the star.
It's an adorable story
Here's the scoop: Sunny Anderson ended up finally meeting an old friend that she got to know through the internet. She was over the moon and wrote on Instagram, "I JUST MET @shirleypattersonmoore! ... If you've ever made a friend online?? Have you met them yet?" She added that it was really special for her to meet Anderson, and the meeting was "the cherry on top of an awesome, unforgettable day." Also, she wrote that she doesn't believe that anything is truly random and that their meeting was destined to happen.
For Shirley Patterson Moore, it was one of the most memorable meetings of her life. She wrote that Sunny Anderson is "adorable" and "lovely." She added, "I am truly blessed!" Others were moved by this little anecdote and wrote about their own virtual friendships. One fan could relate to Anderson and said that she's met many friends from different parts of the country online and is still in touch with them. Another commentator said that they met their husband on the internet. Amazing!