Salsa Verde Chicken Tortilla Soup Recipe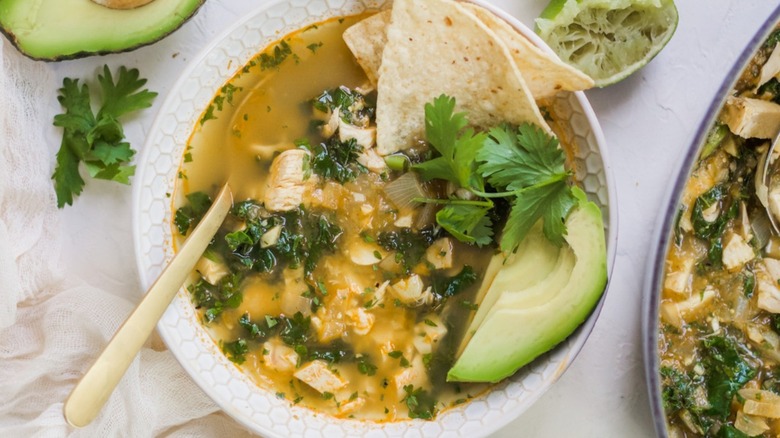 Jaime Shelbert/Mashed
This season, we love finding new adaptations for our favorite dishes. This time, we've transformed the popular salsa verde into a mesmerizing soup! Recipe developer Jaime Shelbert from Wholly Nourished came up with this salsa verde chicken tortilla soup recipe, and she even found a clever way to slip kale into the dish. This delicious recipe has a hearty broth base and delicious chunks of chicken. Set about an hour ahead, and you'll have dinner prepped and cooking in no time!
According to Mexican Authentic Recipes, tortilla soup is "one of the most representative dishes of the Mexican gastronomy." In Mexican culture, soup is a great way to bring the family together. The simplicity of the dish offers guests the option to enjoy a customized dish. Shelbert uses tortilla chips here but the options are endless, and you could easily use corn tortillas instead. The soup itself is quite simple and has a savory, subtly spicy flavor — perfect for dinner on a chilly night!
Gather the ingredients to make salsa verde chicken tortilla soup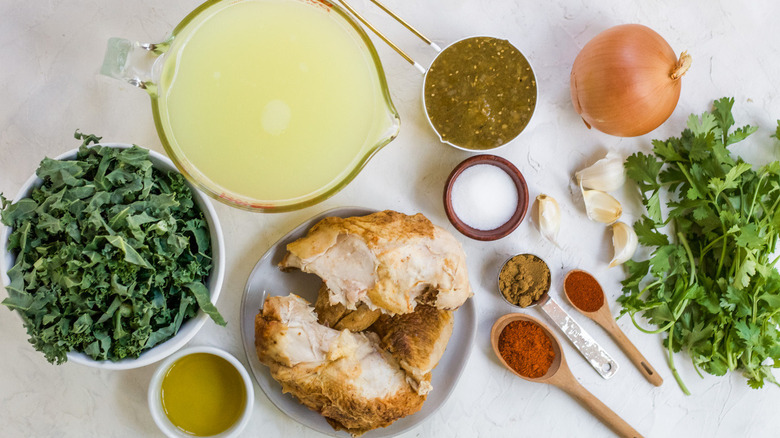 Jaime Shelbert/Mashed
Your ingredient list is fairly simple for this dish. Start with some extra virgin olive oil, a small onion, minced garlic, cumin, chili powder, smoked paprika, and some salsa verde. Additionally, you'll need some chicken broth and rotisserie chicken. "I used 2 breasts and 1 thigh, diced into bite-sized pieces," Shelbert says of the chicken. Lastly, prepare some shredded kale, cilantro, and a little bit of lime juice. The soup can be customized with extras like fresh avocado, tortillas, chips, or sour cream.
Sauté garlic and onions together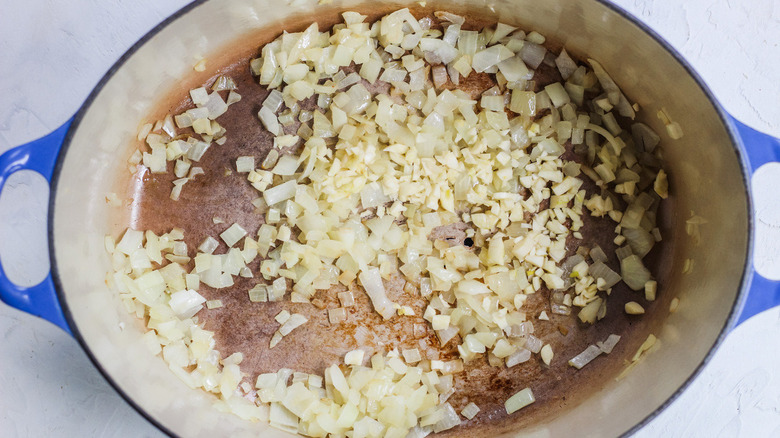 Jaime Shelbert/Mashed
In a large stockpot or dutch oven, heat the olive oil over medium heat. If you prefer, Shelbert says that "you can definitely substitute avocado oil or even coconut oil." Once the oil sizzles, wash, dice, and drop in the onions. Sauté them for about four minutes. Mince the garlic and add it in to sauté for one minute. Sautéing the onions in oil caramelizes them, enhancing their unique flavor. And, once you toss in the garlic, you get a truly aromatic experience in your kitchen!
Spice up the soup and add the salsa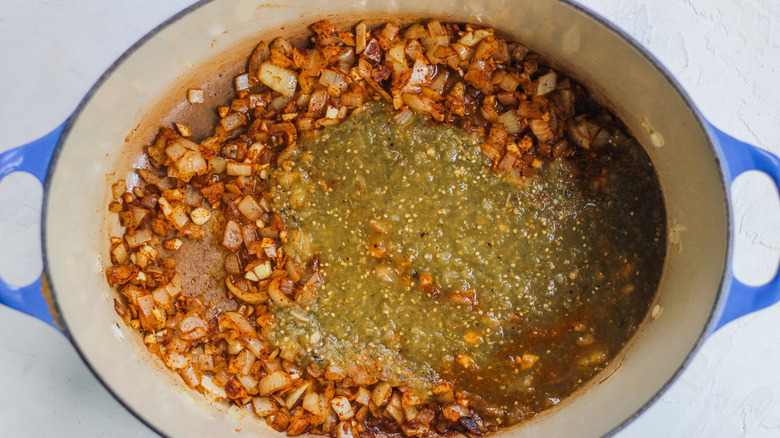 Jaime Shelbert/Mashed
Sprinkle in the cumin, chili powder, and smoked paprika and stir for about a minute until the flavors release. Next, pour the salsa and chicken broth into the pot. Choose your favorite type of salsa verde to fit your family's spice preference. "For me I used the Trader Joe's brand. The heat of your soup will definitely depend on the heat level of your salsa," Shelbert explains, noting that her choice of salsa was "on the milder side." Bring the mixture up to a boil, then reduce the heat down to a simmer for about 10 minutes.
Stir in the chicken, kale, and cilantro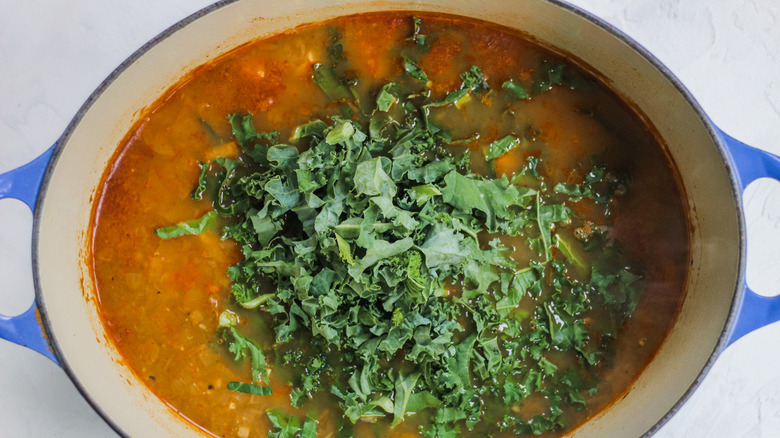 Jaime Shelbert/Mashed
Drop in the juicy chunks of cooked chicken. Cook the chicken in the broth and seasonings for about two minutes, until warmed. Next up, add in your chopped kale. "If you aren't a fan of kale try spinach as an alternative," Shelbert notes. Your final step is to toss in the cilantro and lemon juice. These two ingredients are commonly found in Latin and Mexican-inspired dishes, especially soups. This dish is quite close to having a full meal in a bowl. Now, is the perfect time to taste test and adjust the seasonings as needed.
Serve it warm and enjoy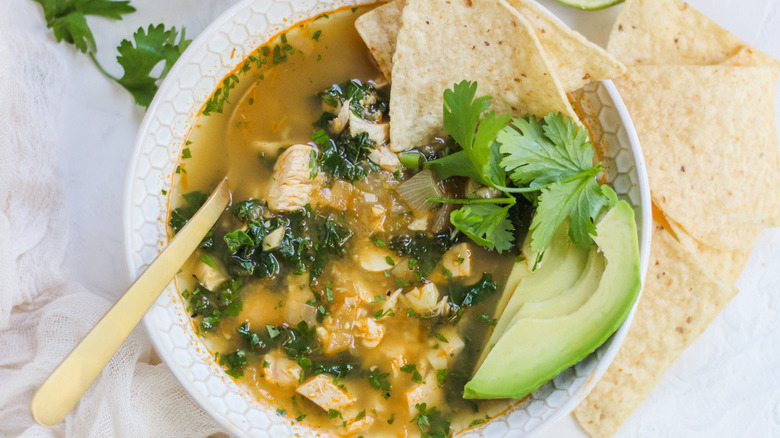 Jaime Shelbert/Mashed
And there you have the ideal meal. A warm, brothy, and satisfying stew. Grab a bowl and serve it to your liking. Your family will definitely be back for seconds! "You can absolutely use warmed tortillas in place of the chips," Shelbert notes of a potential serving option. "Other sides that work well with us are quesadillas and rice." And, if you have any leftovers, Shelbert says that you can store them "in an airtight container for up to five days in the refrigerator."
This meal is simply perfect for any day of the week. "This is an easy, week night meal that comes together quickly, especially if you use a rotisserie chicken. I love that it's a tasty way to sneak those greens in as well," Shelbert says. We hope you enjoy this flavorful salsa verde chicken tortilla soup recipe!
Salsa Verde Chicken Tortilla Soup Recipe
Recipe developer Jaime Shelbert came up with this salsa verde chicken tortilla soup recipe, and she even found a clever way to slip kale into the dish.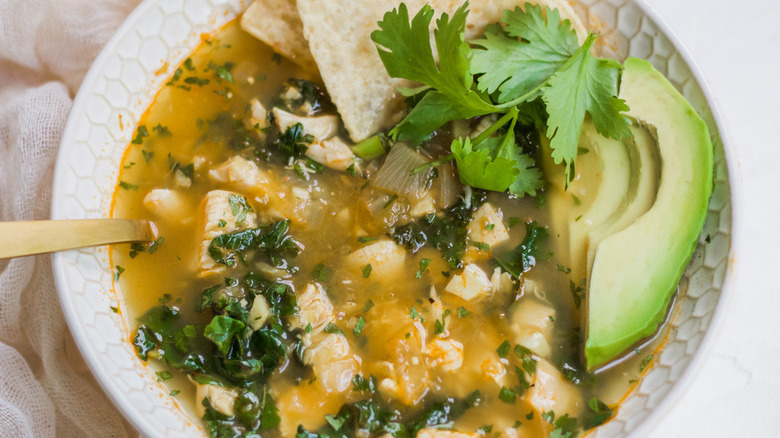 Ingredients
1 tablespoon extra virgin olive oil
1 small onion, diced
4 cloves garlic, minced
2 teaspoons cumin
1 teaspoon chili powder
½ teaspoon smoked paprika
1 ½ cups salsa verde
4 cups chicken broth
2 cups rotisserie chicken, diced
2 cups shredded kale
½ cup cilantro, chopped
juice from ½ a lime
Optional Ingredients
avocado
tortilla chips
sour cream
Directions
Heat the olive oil in a stock pot or dutch oven over medium heat.
Add the onion and sauté for 4 minutes, then add the garlic and sauté 1 minute more.
Add the cumin, chili powder, and smoked paprika, and stir for about a minute until the flavors release.
Pour the salsa and broth into the pot, then bring everything to a boil. Reduce the heat and simmer for 10 minutes.
Toss in the chicken and cook for 2 minutes, until the chicken is heated.
Add the kale and stir until just wilted, then add the cilantro and lime juice. Adjust seasoning to taste.
Serve with desired toppings like avocado, tortilla chips, and sour cream.
Nutrition
| | |
| --- | --- |
| Calories per Serving | 261 |
| Total Fat | 14.5 g |
| Saturated Fat | 3.4 g |
| Trans Fat | 0.1 g |
| Cholesterol | 47.8 mg |
| | |
| --- | --- |
| Total Carbohydrates | 15.5 g |
| Dietary Fiber | 2.5 g |
| Total Sugars | 6.5 g |
| Sodium | 767.1 mg |
| Protein | 17.0 g |