Trader Joe's Chicken & Chimichurri Empanadas Have Fans Excited
Trader Joe's is a popular grocery chain, but it isn't just loved by fans because of the high-quality produce and wide selection of vegan offerings. While the store does have all of these things, many shoppers keep coming back again and again specifically for the great Trader Joe's brand items that cannot be found anywhere else. From their sauces and canned goods to their wide selection of frozen dishes, Trader Joe's is the perfect place to grab quick and convenient meals that also taste great and won't break the bank. 
Recently, one shopper stumbled upon one such great freezer find at a local Trader Joe's, and they could not resist sharing the news with their followers on Instagram. User @traderjoesfoodreviews made a post alerting followers to the Chicken & Chimichurri Empanadas, rating the new item an 8.5 out of 10. "I love an amazing empanada, so I was so excited to see these brand-new chicken and chimichurri empanadas in the frozen section! They were surprisingly extremely flavorful," the caption stated.
These empanadas can be prepared quickly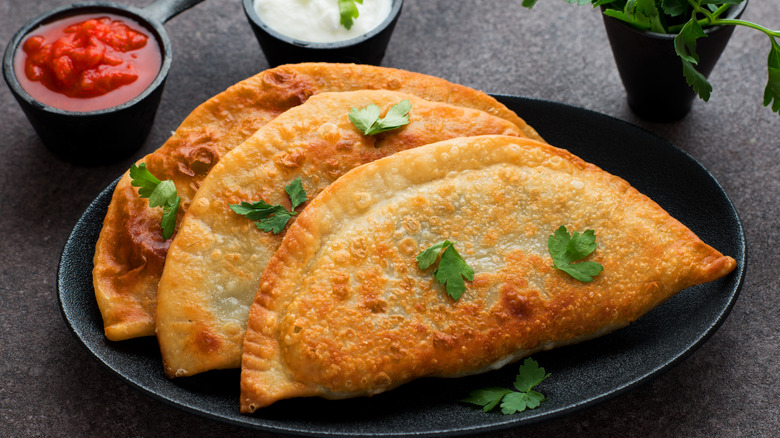 Gorenkova Evgenija/Shutterstock
The Trader Joe's Chicken & Chimichurri Empanadas come in a box of two for just $4.29. Each empanada is made with boneless chicken and lots of tasty veggies, including carrots, green cabbage, onions, red bell peppers, and diced tomatoes, and topped with chimichurri sauce and flavorful spices like garlic, paprika, and thyme, all folded into a flaky pastry crust, according to Trader Joe's Reviews. Many other Instagram users were equally excited by this quick and delicious Trader Joe's find. "I love empanadas! Excited to try these," posted @airiseats. Meanwhile, @cookingmywayy agreed, "Yum! This looks so good!" "I'm always looking for something good to throw in the air fryer," replied @f.hux.
Best of all, these chicken and chimichurri empanadas don't take long to prepare at all, so they are perfect for a quick snack or dinner on a busy night. They simply need to be popped in an oven to be ready to eat in under 30 minutes, or they can go from freezer to plate in just 15 minutes when cooked in an air fryer. So, if you've been looking for some convenient frozen meals to have on hand for hectic days, then you won't want to miss out on this new Trader Joe's item.