This Cozy Merch Is The Perfect Gift For Your Dunkin' Obsessed Friend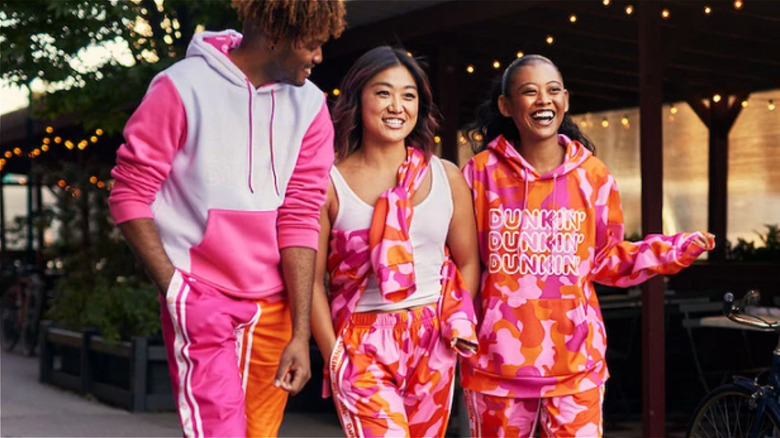 Dunkin Shop
With the holidays coming up, many of us are trying to start crossing people off of our gift list. And this year, Dunkin' is making holiday shopping easier than ever with the launch of its cute and colorful new merch. The company has just released a collection loaded with the perfect new items to get cozy in this holiday season, including great giftable items like sweatpants featuring the famous Dunkin' logo, a warm Dunkin' Sprinkles Wearable Blanket, and a set of fuzzy slippers in the brand's iconic orange and pink colors. These new items will be available for a limited time online at Shop Dunkin beginning on November 18 at noon EST.
This new merch drop was inspired by a fun new TikTok trend where users use the hashtag #TellMeWithoutTellingMe to show their feelings about something without having to say a word. Indeed, this new Dunkin' merchandise is sure to let everyone know how their fans feel about the brand. In honor of all Dunkin' lovers on TikTok, the company will even be announcing a TikTok exclusive "Tell Me Your Dunkin' Order Without Telling Me Your Dunkin' Order" mini collection, which is set to launch next week on the app, according to a press release sent to Mashed.
The new Dunkin' collection features items for the bride and groom to be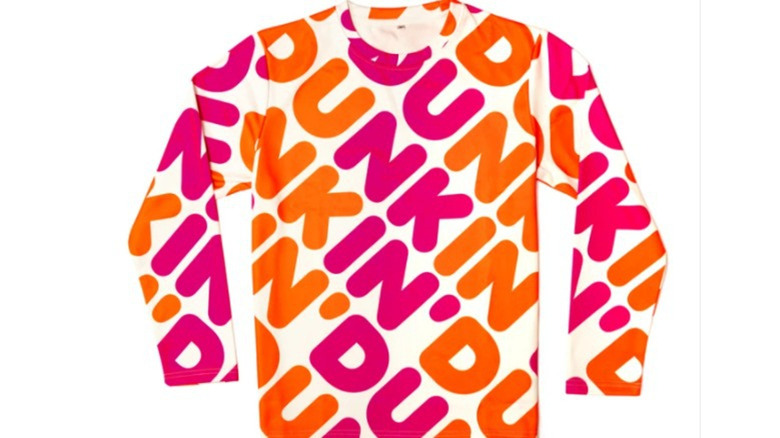 Dunkin Shop
Any Dunkin' lover in your life would probably be delighted to find a Dunkin' tee, adorable Dunkin' dog bandana, or a cozy Can't Hide My Dunkin' Love hoodie under the Christmas tree this year. And since love is the central theme of this cozy merch, Dunkin' fans have the chance to show off their love for both their favorite coffee and their loved ones with the cute addition of fun, wedding-themed items.
This new collection also features just about everything a bride- or groom-to-be needs to help them prepare for their big day while still showing off their Dunkin' Love. The couple could sport matching This Bride/Groom Runs On Dunkin' Tumblers, a sweet Together Tee, or He/She Knows My Order shirts. The bride-to-be could even sport her favorite brand on the big day in a lovely satin bridal robe with "This Bride Runs on Dunkin'" embossed on the back, or by sporting a colorful "Something New" Dunkin' Veil. There is definitely something for everyone in this new collection, and now, just in time for the holidays, all orders are shipping for free (per Shop Dunkin'). But this limited-edition merch won't last long, so you certainly don't want to wait to snag the perfect gear or gift for the Dunkin' lovers on your list.