This A24 Cookbook Is A Must For Horror Fans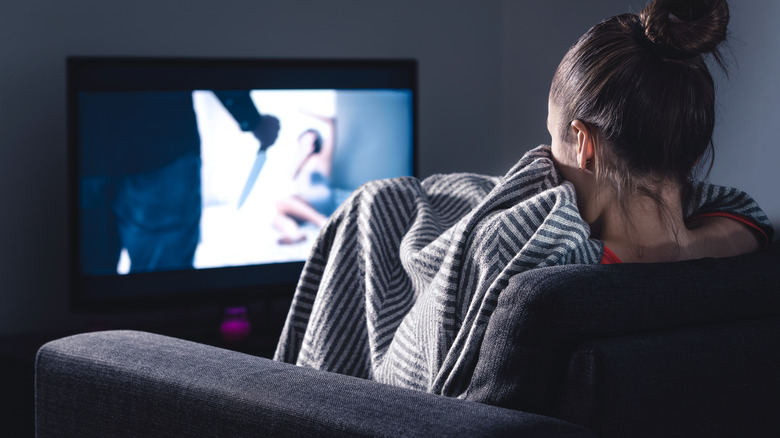 Tero Vesalainen/Shutterstock
Anyone that loves scary movies has probably watched a film or two produced by A24 Films. According to the production house's website, the company takes credit for helping create popular horror flicks like "Midsommar," "The Witch," and, "Hereditary." While you may love watching these movies, it might seem harder to imagine eating meals inspired by them. That sentiment hasn't stopped A24, though, as the company plans to launch a cookbook inspired by their roster very soon.
GrubStreet reports that the movie company plans to release this cookbook and complementary essay collection, called "Horror Caviar," as of November 30 (though pre-sales are going on now on their site). The hardcover book contains 29 recipes inspired by A24 gems as well as classic horror movies like "Suspiria" and "The Shining." The collection also features writings by a mix of chefs, food stylists, and artists, and a foreword by director Ti West. The book is divided into multiple categories, featuring sections for first courses, main courses, desserts, drinks, and snacks, making it a great resource if you need to plan a terror-filled meal for any occasion. The book retails for $65, but you get your money's worth, especially after exploring every grotesque and gory recipe.
These meals will be a real scream
The recipes found in the new "Horror Caviar" collection from A24 take disturbing meals to the next level. According to GrubStreet, chef Krystal Mack contributes a recipe for sorghum-stuffed beef heart with glazed carrots and duck-fat potatoes inspired by "Ganja & Hess," while other meals in the book require brain-shaped dessert molds. Home cooks can even try to replicate the ättestupa-style lamb chops with marigold jelly from "Midsommar," as well as a "Pet Semetary"-themed baked rabbit in clay designed to look like a dead cat. There's also Baker Lexie Smith's "Audition"-style bone-and-pork dumplings complete with a syringe of squid ink.
If you ever wished your food would look that much more horrifying, you can't go wrong with this modern take on some truly insidious meals. Even if you feel turned off from the idea of cooking up some very grotesque meals, you might enjoy the voluminous essays and dark food photography, courtesy of Justin JWee (via A24). Even though Halloween has come to an end, you can still spread some fright throughout the year thanks to this collection that any horror aficionado can love. Books start shipping November 30 but you can order now through the official website.