Whole Foods Fans Can't Wait To Try Its Hot Cocoa Ice Cream Sandwiches
Hot cocoa is a cold weather staple. Once the weather starts to get chilly, there are few things more satisfying than warming your hands on a mug of sweet, rich hot cocoa, especially if it happens to be topped with whipped cream or marshmallows. While there is no shortage of delicious drinks to enjoy this time of year, from eggnog to Glühwein, there is just something soothing about this classic beverage, which has been beloved by kids and adults alike from as far back as 500 B.C., when the Mayans first devised the precursor to the hot cocoa we know today. 
According to The Spruce Eats, the original hot chocolate recipe was made with ground-up cocoa seeds, water, cornmeal, and chili peppers, mixed into a thick foam. The chocolate drink eventually made its way to Europe, where it became trendy in England as an after-dinner beverage, and the rest is history. But what if you could enjoy this classic beverage in ice cream form? This marriage of hot and cold treats may seem like an oxymoron, but Whole Foods has done just that with the release of its new Organic Hot Cocoa Flavored Ice Cream Sandwiches.
Many fans 'need' these ice cream sandwiches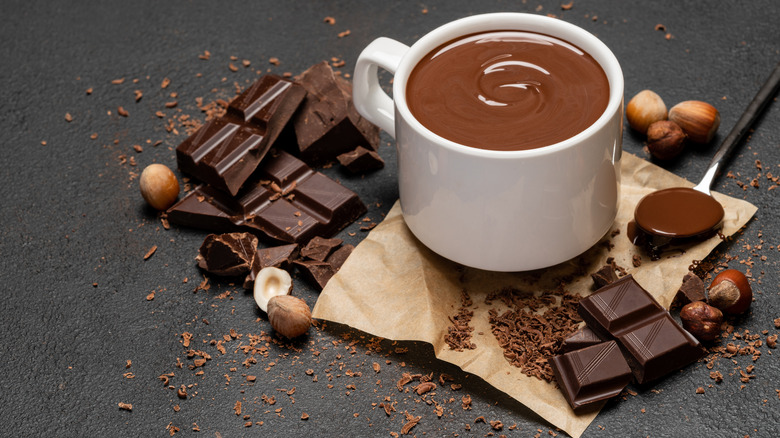 RESTOCK images/Shutterstock
The popular Instagram account @wholefoodshype was so excited about the debut of this limited-edition seasonal release, they made a whole post dedicated to this sweet new item. "You guys, I am SO EXCITED about these organic Hot Cocoa Ice Cream Sandwiches!! Seriously, how amazing do these sound?!" the caption read. 
Each treat is made with completely organic, rich hot cocoa flavored ice cream, sandwiched between two sweet, soft organic chocolate flavored wafers, combining the best of both ice cream and hot cocoa into a perfectly creamy, indulgent dessert. Many Instagram followers were also quick to express their excitement over this decadent new treat, with quite a few people replying to say they "need" this new item. These rich Organic Hot Cocoa Flavored Ice Cream Sandwiches are on sale now for just $3.99 for a box of six ice cream sandwiches. So if you've been looking to add something different to your dessert options, or are just a big fan of hot cocoa, then you definitely won't want to miss out on this sweet new release at your local Whole Foods.